Carlin Isles Partners with Performance Insole Makers
Carlin Isles Partners with Performance Insole Makers
Carlin Isles Partners with Performance Insole Makers
February 8, 2017, Wilton, Connecticut -- VKTRY Gear (www.VKTRYgear.com), makers of VK Insoles, the world's first carbon fiber performance insole, is pleased to announce its partnership with USA Rugby National 7s team player Carlin Isles.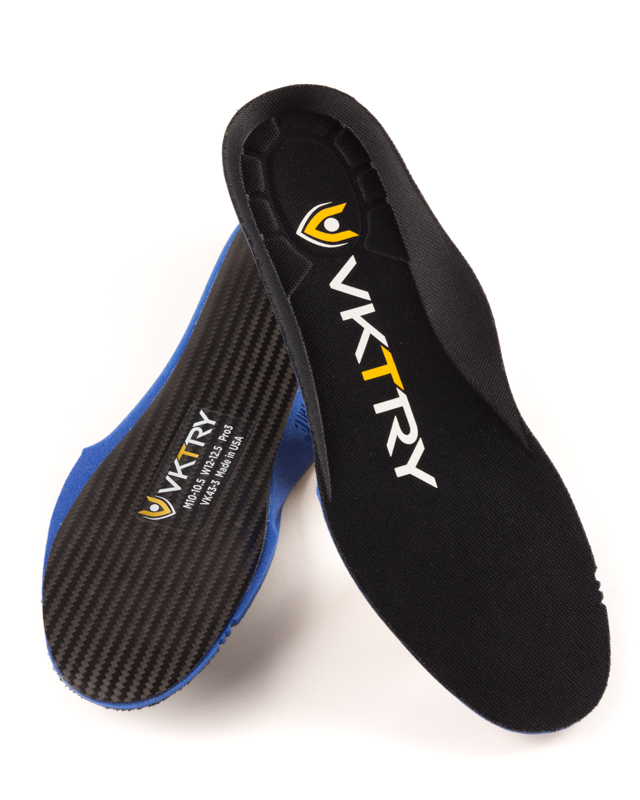 Touted as the 'fastest rugby player in the world,' Isles was an All-American in the 60-meter dash at Ashland University, running a personal best of 6.68 seconds. Isles was also an All-GLIAC selection on the Ashland University football team and still holds school records for most kickoff return yardage in a game and longest kickoff return for a touchdown. 
The VKTRY Performance Insoles, developed by Matt Arciulo, Certified Pedorthist of the USA Olympic Bobsled Team, are designed to help athletes in 3 ways: improve performance, protect from injury and improve injury recovery, a distinction Isles says has made all the difference in staying injury-free.  "I have struggled with nagging injuries like turf toe in the past, and the difference that VK Insoles have made in keeping me healthy while also improving my explosive burst has been incredible. With VKs, I am able to push off the ground with more stability and power." 
Isles, who once ran the 100 meters in 10.15 seconds and qualified for the 2016 U.S. Olympic Track and Field Trials, led all Olympians in tries scored for the U.S. Rugby Olympic team in Rio last summer.
"We are thrilled to have Carlin representing the VKTRY brand," says Arciulo. "Carlin is a tremendous athlete with the heart of a champion.  His leadership and dedication aligns perfectly with our company's mission to improve an athlete's overall performance.  We are truly honored to welcome him to the VKTRY family." 
VKTRY Gear recently partnered with Major League Lacrosse Number One overall pick Myles Jones.  Jones is one of hundreds of professional athletes using the VK Performance Insoles.
About VK Insoles
Made from aerospace-grade carbon fiber, from heel-to-toe, VK Insoles were invented by Matt Arciuolo, Certified Pedorthist for the USA Olympic Bobsled Team. VKs have been scientifically proven to help athletes increase their explosiveness (+12%). More than 50 professional and collegiate sports teams are now using VKs to gain a competitive edge. VKTRY Gear proudly makes VKs in the USA. For more information visit:
See more at: www.VKTRYgear.com/rugby-performance-insoles
You can also follow Team VKTRY at @teamvktry on Instagram, Facebook and Twitter.