Cal Welcomes 14-Player Freshman Class
Cal Welcomes 14-Player Freshman Class
Tom Dixon for The Woodlands. Mike Myers photo.
Berkeley, Calif. (Cal Rugby Release) —The California rugby program has added 14 incoming freshmen to the 2020-21 roster. The class includes seven former team captains, 11 recruits who attended a total of 22 combined Cal Rugby Summer Camps and 11 U.S. passport holders.
"We are so pleased these young men and their families have joined us," head coach Jack Clark said. "There is so much potential in this class, we can't wait to work with them. Only time will tell, but this might be a program-formative recruiting class. Either way, they're ours and we are honored to have them join our University and rugby team."
Pat Deely
Born in San Francisco and raised in Danville, Calif., Pat Deely comes to Berkeley after graduating from San Ramon Valley High School. A two-time participant of the Cal Rugby Summer Camp, he earned the Most Improved Player Award in 2019.
 
Deely, a 6-4, 230-pound backrow/lock, is a U.S. citizen, has played rugby for the last nine years and is one of three incoming recruits to join from the Danville Oaks Rugby Club. His team won the high school club national championship in 2018. In 2019, it finished fifth at the same tournament with a 2-1 record overall. Danville came back in the lower bracket however, defeating Granite Bay and then Lamorinda in the final moments. 
 
The Oaks' coaching staff is chock full of Cal rugby alumni, including: David Liebowitz (former Cal national champion and All-American), Jon Beck (former Cal national champion and All-American), Kort Schubert (former Cal national champion, All-American, 49 appearances with the U.S. national team, and a professional career with the Cardiff Blues), and Chris O'Brien (U.S. International, and former assistant coach at Cal).
 
A force on the hardcourt, Deely also played basketball for 12 years and was selected to five all-tournament teams. He also earned an all-league team spot in 2018-2019 and was the team captain in his junior and senior campaigns. Last season, the four-year varsity starter capped off his prep career with a deep run into the North Coast Section and state playoffs. Despite garnering some interest to play basketball collegiately, he decided to pursue rugby. Deely was also a two-time recipient of the AP Scholar Award at San Ramon Valley and was a scholar-athlete all four years for garnering a GPA above 3.5.
 
Deely's older brother, Jack, is currently a junior at Cal and a member of the men's water polo team. His father, Mike, is a retired San Francisco police officer and a graduate of San Francisco State University from which he received a degree in criminal justice. His mother, Peg, earned her bachelor's degree from Cal Poly and her master's degree in education from USC. She is currently a special education teacher at San Ramon Valley.
 
"I am excited to play rugby at Cal because I will get the unique opportunity to compete with the best rugby team in college, receive a world-class education, and meet lifelong friends," Deely said. "I had the opportunity to chauffeur a few alumni to and from a team reunion last fall and I saw the camaraderie the guys shared even after 20 years out of school. That it is something I really look forward to being a part of."
Tom Dixon
Player Spotlight: Tom Dixon, The Woodlands
After moving to The Woodlands, Texas, in 2016 from Northallerton, England, Tom Dixon joins the Bears after graduating from The Woodlands High School.
 
A 6-4, 220-pound backrow/lock, Dixon, a citizen of Great Britain, has been playing rugby for the last 12 years. He most recently competed for The Woodlands Rugby Club in Texas, where he earned Coaches' Player of the Year in 2019 and was team captain each of the last two seasons. With the club, he led his team to two state championships (2017 and 2019). Furthermore, he was invited to compete for the Texas Rugby High Performance Program in both 2017 and 2018. He also participated at the LA Sevens Tournament in 2020 for Eagle Impact. Back in England, he was a member of the Mowden Park Rugby Football Club.
 
Apart from rugby, Dixon was an avid wrestler in high school. In 2019, he was the champion of both the Bryan Invitational (220 division) and Woodlands High School Invitational (also 220 division). However, he continued to hone his craft in rugby as he attended the Cal Rugby Summer Camp each of the last two years. Dixon also had a strong focus on academics, participating in both the science and history National Honor Societies, and was an AP Scholar.
 
Dixon's mother, Sallyanne, is formerly a finance director and she received her Law and Accounting degree from University of Manchester, for which she also played netball. Dixon's father, Michael, is a vice president in finance and received his Economics and Accounting degree from Loughborough University.
 
"I'm excited to get to know my teammates and get to play rugby for such a great school at the next level," Dixon said. "I can't wait to finally get back on the pitch after the quarantine."
Brett Dowgiewicz
Player Spotlight: Brett Dowgiewicz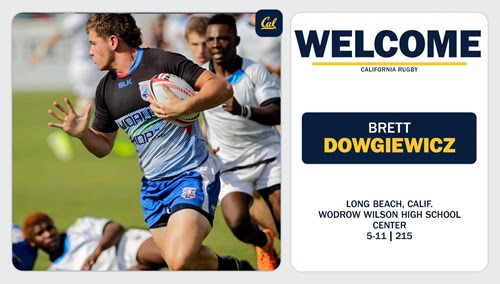 Brett Dowgiewicz, from Long Beach, Calif., joins the Bears after serving as captain of the Woodrow Wilson High School rugby team. 
 
Dowgiewicz primarily plays center and began his rugby career eight years ago with the Belmont Shore Youth Rugby Club. Since then, the U.S. citizen was selected to play for the U18s as a High School All-American in 2019.
 
Dowgiewicz was a three-sport athlete in high school as he also competed in football and wrestling. As a linebacker, he was selected Woodrow Wilson's most valuable player in 2019 and received all-league honors his junior and senior years. An accomplished wrestler, he was a back-to-back Moore League Wrestling Champion (2019 and 2020 at 195 pounds), was a CIF and Masters State Qualifier in 2019 and 2020, was named First-Team All-Moore League in each of his last two seasons and earned the team's Most Valuable Wrestler award. His high school team competed from December to February, then he captained the Belmont Shore Youth Rugby Club from February through August in both 15s and 7s. 
 
Dowgiewicz graduated with high honors, was a member of the Distinguished Scholar Honors Program for all four years of high school and was named to the CIF Academic Team for wrestling and football from 2017-2020.
 
Dowgiewicz's father, Kevin, is a retired U.S. Naval Aviator and served 20 years as a search and rescue helicopter pilot. He is now in his second career as a logistics manager for BNSF Railway and is obtaining his doctorate at Pepperdine. His mother, Dr. Tami Dowgiewicz, is a principal at a school for students with special needs. His brother, Ryan, is attending Cal Poly San Luis Obispo, where he plays on the Mustangs rugby team. 
 
"I am excited to play rugby at Cal because of the program's businesslike mentality and constant desire to improve," Dowgiewicz said. "I thrive in a structured setting that has strong leadership and high expectations, which Cal rugby offers."
Josh Mao
Josh Mao joins Cal from Victoria, British Columbia, Canada.
 
Mao is a 5-11, 233-pound prop/hooker and graduated from St. Michaels University School in the spring. The citizen of Canada has been playing rugby for the past nine years, attended the Cal Rugby Summer Camp in 2019, and was named the 2019 British Columbia Commissioners XV Best Player at loosehead prop while also earning 'AA' Best Player. He served as his school's first XV captain from 2018-2020.
 
In the classroom, Mao was on the honor roll for three consecutive years and also earned National AP Scholar and AP Scholar with Distinction recognitions. In addition to serving as a member of his school's prefect council, during graduation he was given the headmaster's award for all-around excellence in academics, athletics, service and leadership.
 
Josh also led his teams to the BC Club Rugby Provincial Championship, U18 and U19. In 2019, his school placed second in the British Columbia Secondary Schools Rugby Union League. In addition, he has made the roster with the Canadian National U18 Rugby Team in each of the last three years.
 
Josh also practiced Shotokan Karate and earned his first-degree black belt.
 
Josh's father, Yida, is from Shanghai, China, and his mom, Cory Li, is from Beijing, China. They have both lived in Canada for over 20 years. Yida has a B.S. from the University of Victoria in computer science, an M.S. in computer science from McGill University, and an MBA from the University of Victoria. He is the founder of CompuClever, a consumer software company. Cory graduated from LaSalle College in Montreal and oversees operations and risk management of multiple branches of HSBC in the greater Victoria region.
 
"The coaching staff has put a great emphasis on the development of great young men, and I want to be a part of that journey and process," Mao said. "I hope to succeed as an athlete by contributing to the team. In addition, I hope to progress as a student, a member of the community, and I wish to better myself and those around me."
Dominic Paga
Dominic Paga is a 6-0, 205-pound flanker from Menlo Park, Calif. The U.S. citizen and two-time Cal Rugby Summer Camp attendee is one of two Golden Bears to join this year's team from Menlo-Atherton High School alongside fellow recruit Uate Uhila. Paga is the son of former Cal rugger Shaun Paga, a former Cal national champion and All-American with 15 appearances for the U.S. national team. Shaun is also Cal's liaison to the Big C Letterman Society.
 
Dom attended Auckland Grammar School and Saint Kentigern College for two years in New Zealand before attending Menlo-Atherton (MA) his junior and senior years. The time spent in New Zealand was to focus on rugby while experiencing the culture of his Samoan family background. Upon his return to the U.S., he joined the inaugural MA rugby team with his father as his coach. Dom was vice captain of MA in 2020. In July, Dom attended the International Rugby Academy New Zealand (IRANZ).
 
Paga also played on the varsity football team during his two years at Menlo-Atherton, primarily as a defensive end and linebacker. The MA Bears went on to win the Peninsula Athletic League (PAL) title in 2018 as well as the CIF Division 3-AA State Championship. His team won the PAL crown his senior season as well. Paga also performed well academically, earning the President's Award, which is given to seniors who were nominated by their teachers for excellence in the classroom.
 
Along with his coaching duties, Paga's father is also the vice president of sales at Soul Machines while his mother, Kristin, is a labor and delivery nurse in San Francisco. Dom also has two siblings, Kaila and Max. Both of Dom's parents attended UC Berkeley and he is the third member of his family to join the Cal rugby team as his uncle, Matt Fowler, also played for the Golden Bears from 2001-2002.
 
"Playing rugby at Cal has always been my dream," Paga said. "Growing up watching my dad play really inspired me to pursue this as a career. There is no better environment than Cal to improve as a rugby player. I am very excited to be a part of the top collegiate rugby program for the next four years, and for all of the opportunities that come with being a part of the program."
Clayton Seastrand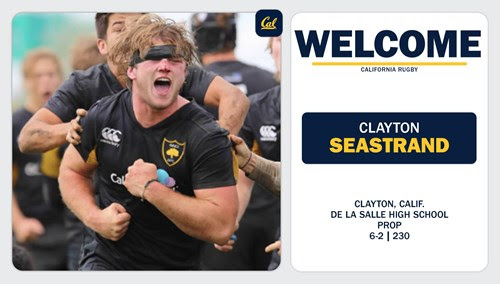 Clayton Seastrand is one of two players in this year's class to join the Bears from De La Salle High School. The U.S. citizen is one of the latest to continue the long-standing tradition of Spartans alumni playing Cal rugby, including four others on the current roster.
 
Seastrand is a 6-2, 230-pound prop from Clayton, Calif., who began playing rugby two years ago when fellow recruit Matt Vranesh encouraged him to join the sport. After two weeks of practicing with Vranesh and the Danville Oaks, he was hooked and joined the club full time. In 2019, the Oaks finished fifth at the high school club national championship. Danville earned their fifth-place finish, defeating Granite Bay and Lamorinda. Seastrand scored the winning try in the final moments against Lamorinda to break a 24-24 tie. During his time with the Oaks, he played alongside current Cal rugby players and former Oaks Cal Liebowitz, Nick Leusing, Luke Freeman, Jason Severance, and Luke Ogburn.
 
Seastrand spent the last seven years playing football as both a tight end and defensive end and competed for three years on the varsity squad of the storied Spartans' team. In fact, he started on both sides of the ball his senior year and recorded 16 sacks during the regular season. For his efforts, he was named First Team All-League. Seastrand also helped his team win three consecutive league championships and to a runner-up finish in the Open Division State Championship all three years as well. Also performing well in academics, he earned scholar-athlete honors.
 
Seastrand's mother, Kerry, graduated from Chico State in 1994 and received her bachelor's degree in media communications. She currently works for Hewlett Packard as a regulatory compliance manager. Seastrand's cousin is a rising junior on the ice hockey team at the University of Denver, and his two younger siblings compete in football, swimming, baseball and softball.
 
"After watching many of my teammates ahead of me play rugby at Cal, I began to understand their rich tradition of a strong, tight-knit community," Seastrand said. "That is what attracted me most to UC Berkeley. I am excited to elevate my rugby game and be a part of something special."
Will Shankland
Will Shankland, a resident of Great Britain, and an Italian and Australian passport holder, arrives on Berkeley's campus from London, England, after graduating from Harrow School.
 
The 5-11, 170-pound flyhalf has been playing rugby since he was 7 years old. He has been playing for 12 years, first for St. John's Beaumont Preparatory and then as a starter for Harrow School, one of the most historic rugby schools in England. He competed on both the 7s and XVs teams, competing on the first 7s team the last two years and in the first XV this past season. Furthermore, he served as Boarding House Monitor, which is a position of leadership. Shankland is also a cricket bowler.
 
In 2018, he was selected to the England Lambs roster of 50 from a pool of over 200 prospects. His Harrow School 7s squad won the Middlesex 7's Cup Championship in March of 2020. Shankland attended the Cal Rugby Summer Camp in 2018 and 2019 where he was selected the Best & Fairest. His brother, Marcus, is currently a senior and two-year starter on the team.
 
Shankland's mother, Caterina, is a homemaker. His father, Martin, is a senior executive for Adidas; he is a graduate from the University of New South Wales in Australia, where he earned a bachelor's degree of commerce in accounting.
 
 "The history of rugby at UC Berkeley is extraordinary," Shankland said. "It is a culture that I can't wait to be a part of, and I am excited for the challenges it will bring."
Emilio Shea
A resident of Santiago, Chile, Emilio Shea graduated from The Grange School, attended Cal Rugby Summer Camp in 2019, and holds three passports: U.S., Chile, and Belgium.
 
Shea is a 5-11, 223-pound backrow/hooker who has been competing in rugby for the last 10 years on his school club, Old Boys. In his junior season, he was granted half color, and full color his senior year. Only first-team players are eligible for half and full colors, with half colors given to the top 10 players and full colors awarded to the top three or four. In 2019, he was also awarded the Old Grangonian club prize – an award given to the player who best portrays the values of the club and school. His junior year, his team won the Invitational Cup, a tournament in which the best rugby schools from Chile compete. They also reached the final in the National Sevens Club Tournament the same season.
 
Shea was also selected to compete for the Chilean U18 National Team, training with the U18s from September through December. However, an ankle injury prevented him from traveling with the team to compete in tournaments around the continent. Before the injury, he was able to compete in both London and Dublin on a UK tour with his school.
 
Shea's father, Cristian, is an attorney and a partner at Equitas Management Partners S.A. He received degrees from both Universidad Diego Portales in Santiago and Yale Law School. Shea's mother, Gaelle, is both the owner and manager of Clean Beauty Company and has a master's degree in International Business from HEC Brussels in Belgium.
 
"Rugby, for me, is a lot more than just a sport," Shea said. "It is where I met all of my closest friends, it is an escape whenever I feel stressed, and it has given me incredible memories. So to become part of Cal rugby is extremely exciting, and I really cannot wait for the season to begin."
Jafer Snipes
Jafer Snipes, a U.S. citizen and four-time Cal Rugby Summer Camp attendee from Kentfield, California. He joins the Golden Bears after graduating from St. Ignatius College Prep in San Francisco.
 
A center standing at 6-feet tall and 190 pounds, Snipes joins the Golden Bears with 10 years of rugby experience, having played the sport since he was 8 years old. Snipes played for the Marin Highlanders Rugby Club from 2010-2014, then after a brief stint with the North Bay Wildcats, he rejoined the Highlanders in 2017 and has been with them since.
 
In addition to rugby, Snipes is an accomplished football player. He spent four years wearing the red and blue of St. Ignatius College Prep, and in 2019, the Wildcats were crowned WCAL champions and reached the semifinals of the CIF Central Coast Section Playoffs. Snipes' dominant 2019 season led to First-Team All-WCAL, All-Central Coast Section, and All-Metro selections as a linebacker.
 
Rugby runs in the Snipes family, as Jafer's father, Jeff, is a business consultant and a graduate of Southern Methodist University in Texas, where he played rugby. Sally, Jafer's mother, attended USC and graduated with a degree in psychology and currently works as a psychologist. Not only do elite athletes run in the Snipes family, so do elite academics, as Jafer's brother currently plays Ivy League baseball at Cornell University.
 
"I am excited to be a part of a program with such a success and tradition-filled history," Snipes said. "I love the level of competitiveness that the Cal rugby program trains and plays with, and I am excited to do my best to contribute to the success of the team."
Caleb Tomasin
From Pismo Beach, Calif., Caleb Tomasin is a 5-6, 175-pound halfback/center who graduated from Arroyo Grande High School. Having competed in rugby for nine years, the U.S. citizen played for Arroyo Grande Youth Rugby Club. Tomasin also won the championship of the 2020 Elite U18 LA 7s Invitational with Eagle Impact.
 
Tomasin was a three-sport athlete in high school, also competing in football and baseball. During his four years on varsity as an all-purpose back, he was voted the offensive most valuable player in 2018 and the overall MVP in 2019. He was also the leading rusher on the team last season, averaging 127.6 yards per game. Tomasin also played baseball since his youth and was primarily a catcher. In 2018, he was named the team's offensive MVP while balancing going to baseball and rugby practices and competitions. Furthermore, he received the "Best Student-Athlete Award" for being the student who participated in the most sports with the highest GPA.
 
Tomasin's mother, Debra, is a family law attorney, while his stepmom, Nicole, works in solar engineering. His dad, Jim, is a physical therapist and competed on the UC Davis football team as a fullback. Furthermore, his stepdad, Johnny, has coached Caleb in multiple sports since he was 3 years old, including in rugby the last 9 years. The youngest of four siblings, he also has an older sister who is attending San Diego State and two older brothers. One of his brothers, Stephen, plays for the U.S. National 7s team and was set to compete at the Tokyo Olympics before its postponement.
 
"I'm excited to pursue my passion for rugby while being a part of a top-caliber team, and getting a great education along the way," Tomasin said. "I look forward to all of the friends, connections, hard work and memories that lie ahead."
Uate Uhila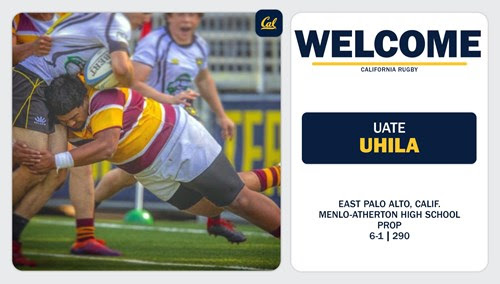 Uate Uhila arrives in Berkeley after playing for Cal rugby alumnus Shaun Paga. Uhila joins fellow recruit and Menlo-Atherton teammate Dom Paga this year.
 
Uhila is a 6-1, 290-pound prop and U.S. citizen from East Palo Alto. He has been playing rugby for the past nine years. After spending his freshman and sophomore seasons with the East Palo Alto Razorhawks, he became part of the inaugural Menlo-Atherton Rugby Club and served as the team's captain. Uhila also spent his last two summers at the Cal Rugby Summer Camp and earned the Golden Bear "Best Camper" Award in 2019.
 
Uhila was a two-sport athlete at Menlo-Atherton, as he spent all four years on the varsity football team. As an offensive lineman, he led his team to the program's first state championship in 2018. In its second trip to the title game in three years, MA pulled through with a 21-7 victory over Lincoln-San Diego in the CIF Division 3-AA State Championship Bowl. Uhila's play earned him First-Team All-Peninsula Athletic League honors.
 
Uhila's father, Kolo, is a wire rope rigger and his mother, Mariela, is a homemaker and takes care of his younger siblings, Fatani, Losaline and Aiesa.
 
"Cal rugby is a brotherhood that I am really excited to join," Uhila said. "I am looking forward to playing and building relationships with others in the program."
Matt Vranesh
From Alamo, Calif., Matt Vranesh, a four-time Cal Rugby Summer Camp attendee, and he joins fellow 2020 recruit Clayton Seastrand from De La Salle High School.
 
Vranesh, a 6-0, 215-pound hooker, joins the Bears after a seven-year career with the Danville Oaks. The U.S. citizen was also an offensive lineman for all four years of high school on the esteemed De La Salle football team and also made the academic honor roll all eight semesters.
 
As a member of the Oaks, Matt played on a 2018 squad that earned both a NorCal Championship and a high school national club championship. The team earned a fifth-place finish in 2019. As a member of the De La Salle football team, he was named First-Team All-League in 2019, while the Spartans were North Coast Section Champions in each of his last three years of high school (2017, 2018, and 2019). They also reached the CIF Open Division State Championship in each of the last three years. With the Bears, Vranesh is reunited with multiple former Oaks teammates, including Luke Freeman, Luke Ogburn, Jason Severance and Cal Liebowitz.
 
Vranesh's parents both attended Cal Poly San Luis Obispo. His father, Mark, is a CFO and his mother, Christine, is a homemaker. High-level athletes run in the Vranesh family as well, as his father played football at Cal Poly and his brother, Joe, is currently in the Los Angeles Dodgers minor league system.
 
"I am excited to play rugby at Cal because I love the sport and I have heard so many great things about playing there," Vranesh said. "I look forward to contributing to such a historic program, and I am especially excited to be part of the atmosphere that surrounds this team. When I attended games in the past, it always seemed like there was a special relationship between everyone there."
Charlie Walsh
Charlie Walsh, a Clearwater Bay, Hong Kong resident and U.S. citizen, joins the Bears as a graduate of St. Paul's Collegiate School in New Zealand.
 
At 5-11, 230 pounds, Walsh primarily plays the hooker position and has been competing in the sport since he was 8 years old. In 2017, he moved from Hong Kong to New Zealand in order to focus on rugby and compete with some of the best high school teams in the world. In 2019, he helped lead St. Paul's Collegiate School to a New Zealand Central North Island (CNI) First XV Championship and also competed in the Waikato Rugby U18s "City vs Country Series." Walsh was part of championship teams in each of the three previous years as well, finishing first at the CNI First XV Championship in 2018 and winning the Hong Kong Rugby "B Grade School" Championship as team captain the two years before.
 
Walsh graduated with honors from St. Paul's Collegiate School and also received a New Zealand merit endorsement.
 
Walsh's parents, Paul and Jacqueline, are both attorneys who met while attending Boston College before graduating in 1990. They both attended law school in Boston, where they initially began their legal careers. Their family moved to Hong Kong in 2000, when Paul accepted a position as the head legal counsel of Asia for PTC, where he remained before starting his own company in 2012. Jacqueline also started her own company in 2008, and her business has offices in eight countries. This year, Walsh joins his older brother, Sam, who is a junior on the Bears' rugby team.
 
"I am excited to play rugby at Cal because the team and coaches drive a culture of excellence on and off the field," Walsh said. "I'm excited to get amongst the team and compete at the highest level. Hopefully my older brother and I will get the opportunity to share the field again."
Evan Weigold
Evan Weigold joins the ranks of Golden Bear rugby from Old Greenwich, Connecticut, as he follows in the footsteps of his brother, Jack, who was a senior on the Cal rugby team last season.
 
Weigold, a 6-0, 180-pound center/wing, is a U.S. citizen and exchanges the cardinal of his alma mater, Greenwich High School, for the blue and gold of UC Berkeley. He was selected to the Connecticut all-state team in his sophomore and junior year campaigns. Also, leading in the classroom, he made the academic honor roll all four years.
 
Weigold joins Cal rugby from the Greenwich Cardinal which won the Connecticut State Championship in 2018. In 2017, 2018, and 2019, Greenwich was also invited to the single school high school championship.
 
Weigold is also an accomplished outside linebacker on the gridiron. He was selected all-conference in his senior year when he led the team in interceptions. He is also tied atop the career leaderboard in interceptions at Greenwich High School. 
 
Weigold's mother, Mary, a graduate from the University of Dayton, is currently a fifth-grade teacher. His father, John, is a graduate from the U.S. Naval Academy, a retired two-star rear admiral and is now working in California as a town manager. Weigold has two brothers - Connor, a senior on the UCLA rugby team, and Jack, who spent the last five years as a Cal rugby student-athlete.
 
"I am excited to play rugby at Cal because I am eager to compete at a high level," Weigold said. "I am ready to challenge myself physically and mentally to become the best player I can be."