Cal Rugby Welcomes 13 Freshman for Fall 2021
Cal Rugby Welcomes 13 Freshman for Fall 2021
Kealan O'Connell scores for SFGG. Alex Goff photo.
BERKELEY, Calif. (Cal Rugby Press Release)– California rugby will have 13 new faces for the 2021-22 season, a class headlined by eight Californians (including seven from NorCal), two players from Connecticut and three internationals from Australia, Canada and South Africa. Get to know each of the new Golden Bears below.
"We have traditionally accomplished most of our recruiting at our high school rugby summer camp," head coach Jack Clark said. "With summer camp 2020 canceled due to Covid and recruits not allowed to visit our campus these last 15 months, landing this class has been difficult. Tom [Associate Head Coach Tom Billups] was instrumental in identifying and finalizing the class." 
"In combination, the class addresses some medium and longer term needs and just might have some really good performers. For certain, these boys are a great fit for us. They are excellent students, school leaders and athletes with serious potential. We cannot wait to have them on campus."
Dougie Brown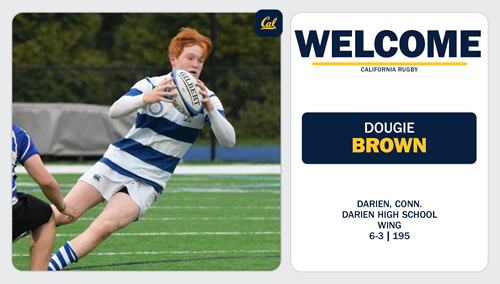 A 6-3, 195-pound wing, Dougie Brown joins the Golden Bears out of Darien High School in Connecticut. Brown spent the last two seasons on both his high school and club teams (Aspetuck Rugby Club) and was invited to the Tier 1 Club Nationals in 2021. The U.S. citizen was a 3-time Connecticut All-Star and he led his squad to a 2019 Northeast Regional Cup Tournament championship in 2019. He was also a three-sport athlete in high school, competing in football as a tight end and running the 55 meter and 4x200 events on the track team.
 
Brown was very active in other extracurricular activities on campus which included serving as the saxophone section leader in the school's wind ensemble. Furthermore, he was the publicist for the National Music Honor Society and also the media director for the TILE club which brought in local business owners and entrepreneurs to give students advice about working in different industries.
 
Brown's father (David) received a degree in politics from the University of Durham in the UK and played rugby as a No. 8 on the university team. He currently works in the marketing technology industry for Knotch. Meanwhile, his mother (Louise) is a homemaker and played netball at Kingston University. She earned her degree in business.
 
"Cal has the most competitive and intense rugby program in the country and I'm more than excited to challenge myself in that environment," Brown said. "The culture and history of Cal Rugby is something that I am eager to be a part of and contribute to."
David Hause
From Carmichael, Calif., David Hause keeps the strong collegiate pipeline alive from Jesuit High School as he joins the Golden Bears from JHS. The 5-9, 170-pound scrumhalf/flyhalf played for his high school team the past four years and helped the Marauders win the Boys National Single-School Championship in 2019. Hause will rejoin former teammate and current Cal rising junior Max Schumacher as the two competed on the same squad at Jesuit High.

 
Also a strong performer in the classroom, the U.S. citizen earned a spot on the honor roll for three-consecutive years and was placed on the high honor roll his senior year.
 
Hause's mother (Lisa) earned her degree at Indiana University and is currently a registered nurse. Meanwhile, his father (Don) received a doctorate from USC and is now a surgeon in Sacramento. Hause's cousins Kirk and Kyle Khasigian were both All-American rugby players at Cal while Kirk went on to play for the U.S. National Team.
 
"I am beyond excited to play rugby at Cal," Hause said. "I will strive to enhance my academic and rugby career to live up to what my past family members were able to accomplish there. The Cal Bears are renowned for their competitiveness and extensive success in the collegiate rugby scene, and having the opportunity to be a part of the team is a childhood dream come true."
Greg Hemming
From Orinda, Calif., Greg Hemming grew up attending Cal rugby games as a kid and will now get the chance to compete at Witter Rugby Field as he joins the Golden Bears out of Miramonte High School. The 6-3, 215-pound flanker attended the 2019 Cal Rugby Summer Camp and has played for the Lamorinda Rugby Club for the past nine years where he was the 2021 varsity team captain.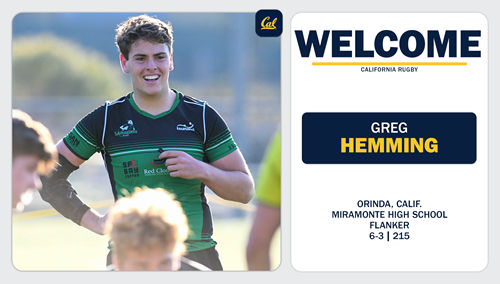 Hemming was also captain of the Miramonte High School football team with whom he twice earned Scholar Athlete honors as well as the Iron Man Award in 2021 for perfect attendance at every game, workout and practice. The U.S. citizen helped lead the Matadors football team to the NCS playoffs in 2019 and 2020 and the team earned the CIF Scholastic Team Award for strong academics the past three seasons. Hemming played both sides of the ball, starting on the offensive line and at defensive end. A three-sport athlete, Hemming also competed on the track team in the 200 and 400-meter events.
 
Hemming's father (Carter) is a Managing Principal in real estate and received his bachelor's degree from University of the Pacific. His mother (Pamela) is a business owner and retail service provider who also earned her degree from Pacific. Meanwhile, his twin sister (Lindsay) will be swimming for Pepperdine next year. Hemming's family has a long history of attending Cal as his grandfather (Everett Merriman Jr. – 1960), great grandmother (Mary Virginia Hard – 1930) and great grandfather (Everett Merriman – 1925) all received their degrees from the University of California.
 
"Growing up so close to Berkeley and attending Cal rugby games, it has always been a dream of mine to play here," Hemming said. "I look forward to being part of such a high-level program with immense history and culture. In addition, I am excited to have the opportunity to continue my studies at such a prestigious university while competing on the field."
Joe Kirsten
The Bears' next recruit stands 6-0, weighs 183 pounds and heads to Berkeley from Cape Town, South Africa. The dual citizen of South Africa and Germany played for his school team, Bishops Diocesan College, and received full rugby colours for competing at the highest level for five years. The fullback led his team to becoming ranked in the top three of the country's interschools system. He was also honored with academic full colours for excellence in the classroom.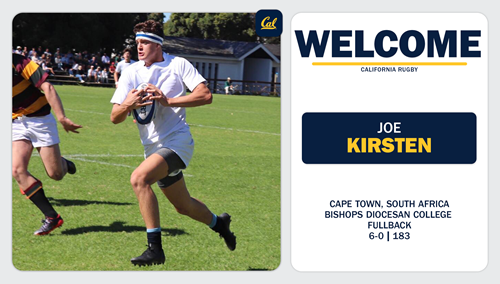 Kirsten also competed in both track (100m and 200m) and water polo. Playing left wing, he excelled in the water and was invited to compete for both the U16 and U18 South African National Waterpolo Teams.
 
Rugby runs in the Kirsten family as Joe's father (Michael) played rugby at Oxford and ultimately joined the professional ranks with Western Province, competing in 98 games overall. He currently works in financial services. Kirsten's mother (Hayley) is a homemaker and received her degree from University of Stellenbosch.
 
"I'm excited to take on a new brand of rugby in the U.S.," Kirsten said. "I'm looking forward to playing under Coach Clark, competing at different venues around the country and getting involved in a new culture."
Tyler Lenk
Tyler Lenk, a Danville, Calif. native joins the Golden Bears as another product from the Danville Oaks. The 5-10, 190-pound scrumhalf and Monte Vista High School graduate played on the Oaks' varsity squad the past three years and captained the team the past two. In 2019, the Oaks finished fifth at the high school club national championship where they defeated Granite Bay and Lamorinda. The same year, the team went on a tour of New Zealand, playing three teams over the course of a week as they traveled throughout the country.
 
The Oaks' coaching staff is full of Cal rugby alumni, including: David Liebowitz (former Cal national champion and All-American), Jon Beck (former Cal national champion and All-American), Kort Schubert (Cal Athletics Hall of Famer, former Cal national champion, All-American, 49 appearances with the U.S. national team, and a professional career with the Cardiff Blues), and Chris O'Brien (U.S. International, and former assistant coach at Cal). In Berkeley, Lenk will rejoin former Oaks teammates Luke Freeman, Pat Deely, Cal Liebowitz, Nick Leusing, Luke Ogburn, Clayton Seastrand and Matt Vranesh.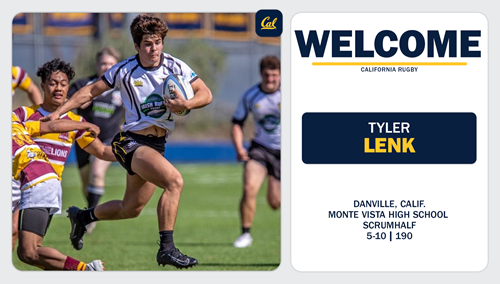 The two-time Cal Rugby Summer Camp attendee was also a running back on the football team at Monte Vista High School. The U.S. citizen also excelled in the classroom as he was on the school's honor roll all four years while earning the Student of Excellence Award in 2018 and 2019.
 
Lenk's father (Jason) is the Head of Partner Sales at Google Cloud and earned his bachelor's degree in Visual Communication at Chico State. His mother (Kate) is currently an educator and also received her degree from Chico State (Liberal Studies).
 
"It has always been my dream to play rugby at Cal," Lenk said. "I am excited to learn new skills, meet new people, and work as hard as I can for the next four years."
Ryan Marshall
A 6-6, 238-pound lock, Ryan Marshall joins Cal rugby out of Redwood High School. The Corte Madera native has been playing rugby for nine years including last season with the Marin Highlanders who reached GRR's Top-25. The Highlanders are coached by former San Diego State player John Vantress and former U.S. Eagle Tim Peterson.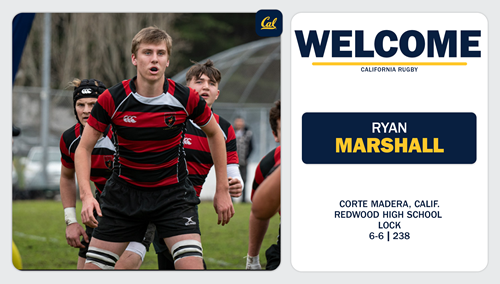 Marshall also competed on the football team at RHS and played on both the offensive and defensive line the past two seasons. The U.S. citizen earned MCAL Honors in 2020 and led his team to the conference title in 2019.
 
Matt Marshall (Ryan's father) earned a degree in Business Management at St. Leo's College and is currently the Chief Revenue Officer at Spiff. His mother (Lisa Marshall) is the Senior Vice President of Innovation and Learning at Salesforce. She received her undergraduate degree from UC Santa Barbara and her master's from Boston College.
 
"I am excited to play rugby at Cal because of the winning attitude and the school's legacy as an institution," Marshall said. "It will be amazing to represent my hometown college, and I am looking forward to playing rugby at the next level and experiencing the atmosphere, as well as the amazing coaching staff."
Kealan O'Connell
Kealan O'Connell is a 6-foot 175-pound flyhalf from St. Ignatius College Preparatory. The San Francisco native is a citizen of the United States and has been playing rugby for the past 13 years.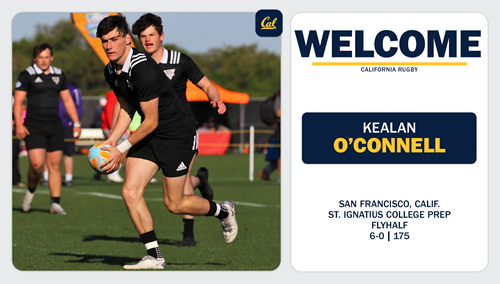 O'Connell played three sports before coming to Cal. He was a long-time member of the San Francisco Golden Gate Rugby Club, competing with SFGG from 2008-2021 under the direction of coaches Tony Wells and Neil Foote. He also competed in Gaelic football, playing for the San Francisco Gaelic Athletic Association the past five years. Furthermore, O'Connell was a member of the St. Ignatius American football team, serving as the team's kicker, punter and wide receiver.
 
O'Connell's mother (Norma) is a registered nurse and his father (Jim) is the Battalion Chief of the SF Fire Department. O'Connell is a second generation Golden Bear as his father graduated from Cal in 1991.
 
"I'm excited to play rugby at Cal because I will get the chance to practice alongside and learn from some of the best in the country while receiving a top-tier education," O'Connell said. "I grew up driving over to Berkeley to watch games and since then, it's  been a dream of mine to attend Cal."
Felix Pollmann
The Bears' next recruit is a Felix Pollmann, a 6-2, 170-pound fullback. Pollmann, a German citizen, was born in Speldhurst, Kent, England and lived in the UK for 11 years before moving to Westport, Connecticut. After playing for Tunbridge Wells Rugby Club in England, Pollmann joined Aspetuck  Rugby Club from sixth through eighth grade before playing for his high school team (Staples High School). In 2019, he was selected to play for the Connecticut All-Star Team where he played with fellow incoming freshman Dougie Brown. Pollmann captained Staples High's rugby team in both his junior and senior seasons.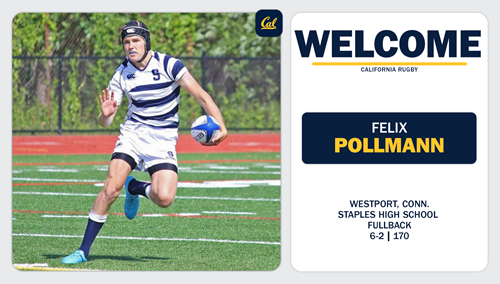 The four-time Cal Rugby Summer Camp attendee made the Honor Roll every quarter in high school, received a bilingual seal in German and also won the German Award his senior year. The honor is given in recognition of academic achievement in German.
 
Strong athletic ability runs in the Pollmann family as Felix's father (Stefan) was an All-American water polo player at UCLA and was also a member of the German national team. He is now a principal in finance and went on to earn an MBA from Harvard Business School after concluding his studies at UCLA. Pollmann's mother (Sophie) received a bachelor of science from Royal Holloway University in the UK. She is now a Development Director.
 
"Cal has been my dream school since I moved to America seven years ago," Pollmann said. "I have always wanted to go to the best rugby and academic school in the country and Cal is the best of both worlds. I want to become the best player I can be and there's no better place to do that than at Cal."
Jon Puckett
At 6-feet tall and 210 pounds, the Golden Bears have another product out of De La Salle High School in Jon Puckett. The U.S. citizen primarily plays the flanker position and played all four years for the Spartans where he was named Rookie of the Year in 2018 and Forward of the Year in 2019. He attended the Cal Rugby Summer Camp later that summer.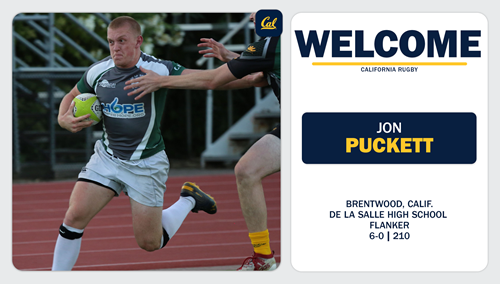 Puckett is the younger brother of Michael Puckett who is currently a rising junior on the Cal rugby team. They played together at De La Salle for two years on both the rugby and football teams. He also competed in football alongside current Cal rugby players Clayton Seastrand, Matt Vranesh and Luke Ogburn. On the gridiron, Puckett played both sides of the ball at center and defensive end. He was voted lineman of the year by his teammates in 2021.
 
Puckett's mother (Maria) is the Chief Financial Officer for Vapor LLC and received an accounting degree at Stanislaus State. Meanwhile, his father (Hal) is a Machinery Breakdown Engineer; he received his degree in International Business from Portland State.
 
"Everything about Cal rugby excites me," Puckett said. "I have heard great things about the program and coaching staff and I look forward to getting started."
Griffin Rudy
Griffin Rudy is the Bears' next recruit, hailing from San Rafael, Calif. and the Marin Highlanders. The 6-4, 180 pound fullback/wing graduated from San Rafael High School in 2020 where he also played football. In his gap year, the U.S. citizen was slated to go on the Amigos de las Americas cultural immersion program in Montevideo, Uruguay where he was hoping to play rugby. However, it was canceled due to the COVID-19 pandemic. Rudy started his first varsity rugby match as a sophomore and was selected to three tours with his team (Canada, Boise and the UK). He was the starting fullback for the Highlanders in 2020 when the team ranked as high as ninth in the nation before the season was cut short due to the coronavirus. Along with Highlanders coaches John Vantress and Tim Peterson, former Cal All-American and U.S. International Jake Anderson coached Rudy.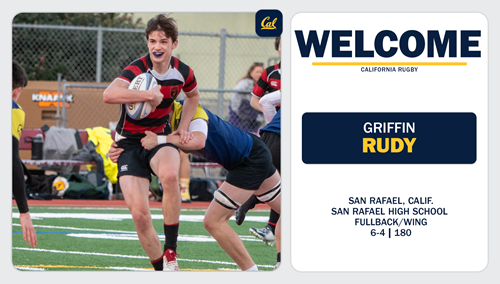 On the football team, Rudy played both sides of the ball as a wide receiver and a safety and was also a member of the special teams squad. He was named the team's Defensive Player of the Year in 2019 and led the team in tackles, receptions and receiving yards his senior season. A durable athlete, he never missed a down due to injury.
 
Rudy was also a strong performer in the classroom: he was a scholar-athlete all four years and twice touted the highest GPA on the football team.
 
Peter Rudy (Griffin's father) lettered in hockey, cross country and track & field at Lawrence University. He later earned an MFA at the University of Iowa's Writers' Workshop. He is now a self-employed creative writer/director. Shauna Rudy (his mother) is a homemaker and community volunteer. She received her bachelor's degree from UC Santa Barbara.
 
"As a Bay Area kid who grew up watching the Bears play on Witter Rugby Field, I never imagined I would one day get the opportunity to wear the blue and gold myself," Rudy said. "I can't wait to get back on the pitch and improve my rugby skills with the help of my new coaches and teammates. I still have a ton to learn on the field and in the classroom, but there's no better place to do both than at Cal. I know it's going to be a challenge, but I'm eager to do my part to contribute to the most renowned rugby program in the country."
Hugo Schreuder
Standing at 6-foot-5 and weighing 229 pounds, Hugo Schreuder heads to Berkeley from Brisbane, Australia. The South African and Australian passport holder was born in Pretoria, South Africa and moved to Australia when he was four years old.
 

All the while, he played rugby, primarily at Lock/No. 8, including most recently for Anglican Church Grammar School (Churchie) where he was voted Best Forward in 2018 and 2019. A two-sport athlete in high school, Schreuder also competed on the rowing team in 2018 and 2019.
 
Schreuder's father (Hugo) attended Stellensboch University and is the CEO of Youi Insurance. His mother (Ilona) is a homemaker and received a Bachelor of Arts with honours from University of Pretoria.
 
"Playing rugby at Cal is a dream come true," Schreuder said. "Now that it is a reality, I am looking forward to being developed into a great player and asset by some of the best rugby coaches in America. Additionally, being part of a team is something I cherish, and I can't wait to build new friendships that will last a lifetime."
Aiden Trudeau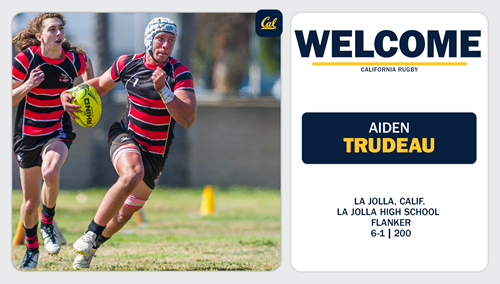 Aiden Trudeau is a 6-1, 200-pound flanker who graduated from La Jolla High School this spring. The La Jolla, Calif. native played for both the San Diego Mustangs and his high school club over the last four years. Trudeau captained the LJHS team his junior season and was twice voted the SD Mustangs' most valuable forward. His high school team won the SoCal High School championship in both his freshman and sophomore seasons and again, in June 2021, Trudeau helped lead the Mustangs club to the Division II championship and a No. 9 National Ranking. The team placed fourth in the same tournament in 2019.
 
Trudeau also spent two years on the varsity football squad at La Jolla High. In his first year on the team, he started all 10 games as a linebacker and led the league in sacks.
 
As an academic, the U.S. citizen worked hard in the classroom and was awarded with four years on the honor roll.
 
Both of Trudeau's parents received bachelor's degrees in sociology while his mom (Celeste) attended UC Santa Cruz and his dad (Tracy) went to UCLA. Mr. Trudeau is a currently a mortgage broker while Mrs. Trudeau is an interior designer.
 
"I'm excited to be a part of such a historically successful program and to form a brotherhood like no other with my teammates," Trudeau said. "The strong rugby culture in the Bay Area will be a special experience for me and I know I'll reach my highest potential playing under Coach Clark. Also, the academic and athletic support offered on campus will be extremely helpful and was a key factor in my decision to commit to Berkeley."
Toby Wu
Standing at 6-3 and at 260 pounds, Toby Wu will join the Golden Bears as a graduate from St. Michael's University School in Victoria, British Columbia. The Chinese citizen was a starting prop for his high school team and led them to the BC Club Rugby Provincial Championship, U18 and U19. In 2019, his school placed second in the British Columbia Secondary Schools Rugby Union League. Wu was also named to the Canadian National U18 roster in 2019. The whole time, he played alongside current Cal rugby rising sophomore Josh Mao.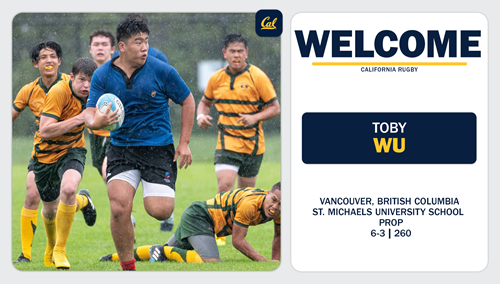 The Vancouver resident also put his height to good use in basketball, competing as a center for two seasons.
 
In the classroom, Wu earned an AP Capstone Diploma as an AP scholar. He was also a school prefect, graduated as head of his class and garnered the Head of School Award.
 
Both of Wu's parents originated from Beijing, China and they moved to Canada when he was 13. His mother (Rita) is a homemaker while his father (Hengjun) is a businessman who works back home in China.
 
"Rugby is a sport I love, but also a sport that brings new opportunities and challenges," Wu said. "I believe that playing for Cal will push me out of my comfort zone and make myself and people around me better."