Cal, Arkansas State Win VC Semis
Cal, Arkansas State Win VC Semis
Cal and Arkansas State will play each other for the Varsity Cup final after they won difficult semifinals Saturday.
Arkansas battled Navy in the rain in Jonesboro, Ark., and it was a game that hinged, to a certain extent, on one play. With the score 10-7 to ASU near halftime.
Arkansas State players celebrate. Daniel Pretorius photo.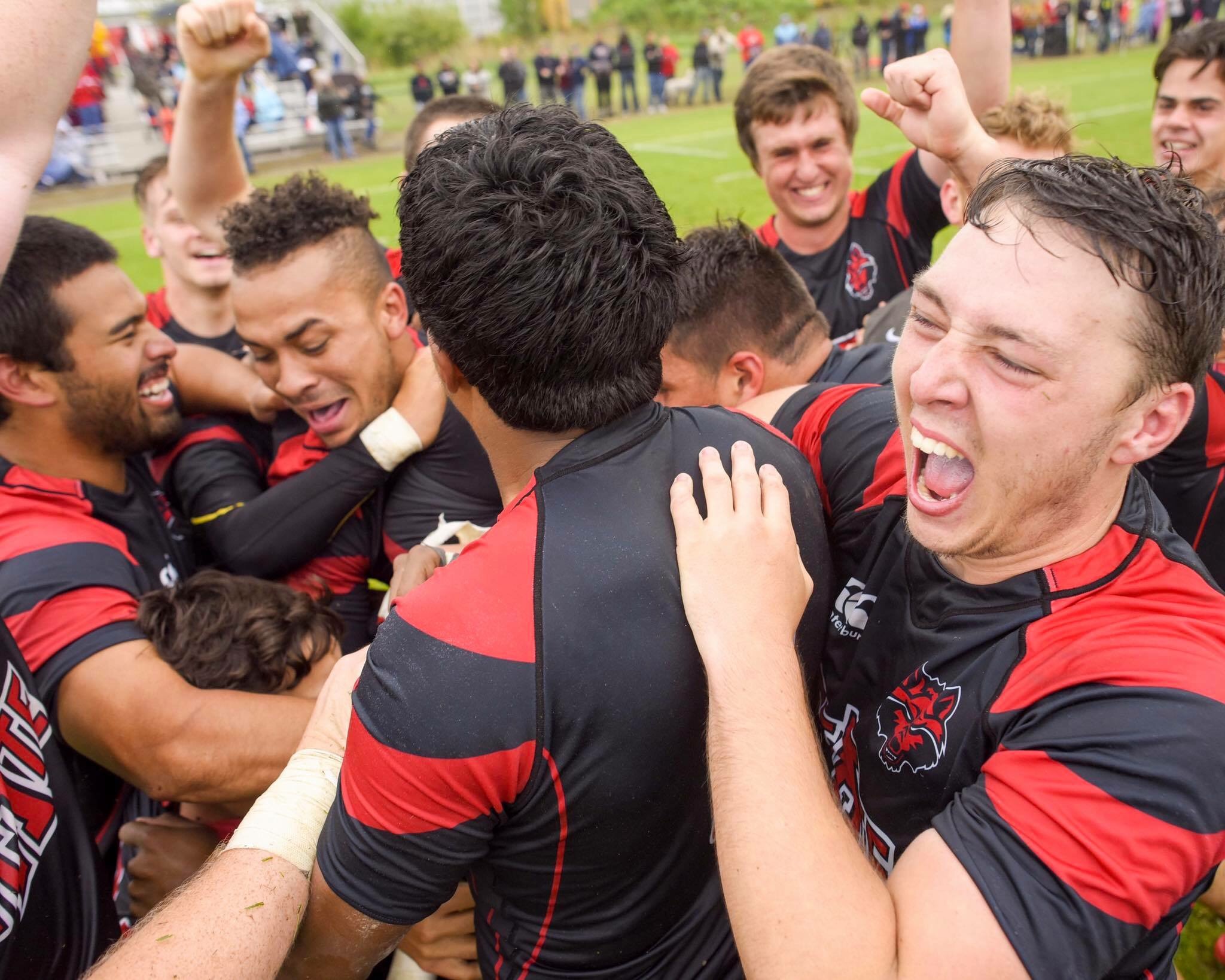 Arkansas State led early thanks to a cutback run from center Sione Fangaiuiha, and a conversion from Valentin Balande. Navy replied with a try from center Jake Rowell after some concerted pressure and a series of ASU penalties. Balande added a penalty and it was 10-7 leading into halftime.
Then Navy got a penalty and took a lineout deep in the ASU zone. Navy worked a lineout move and seemed poised to score. But they didn't control the abll in the ruck, and the Red Wolves stole the ball and booted in down the field. The ASU chase was good, as the ball rolled well into the Navy 22. And Navy's backs were too slow to kick free. The kick was blocked, and lock Tabo Maree was there to get the ball and score in the corner.
That made it 15-7, but it was a massive momentum shift. Navy was chasing the game from then on and ASU was in control of the scoreboard. A lineout inside the Navy 22 set up a kick from Zach Young for Fangaiuiha to chase. He got there just ahead of the Navy defense, and that made it 22-7 with the conversion, and ASU added a drop goal to end the game.
Cal, meanwhile, had a lot of work to do to shake Penn State. With the Nittany Lions looking strong in the scrum, and execution issues hurting Cal's lineout, the normally solid-at-set-piece Bears were not so solid. But they played inspired defense, putting a lot of pressure on Penn State.
"Cal is really good at putting you under pressure," said Penn State center Joe Kelly. "They execute really well at pace and we needed to, as well."
Cal scored first, after about 20 minutes, with a series of half-breaks before scrumhalf Keanuu Andrade picked up at the base of the ruck and dove over. Kevin Sullivan surged over for another, and then Damon Wiley crashed over. Once again, after that, Cal exploited some Penn State errors and penalties to get close, and then center Patrick Barrientes, on the field once more after an injury stand-down, slid in.
Cal looked to be close to scoring just before halftime, but Penn State held them out.
In the second half, Penn State's continuity improved and they camped out for a long time in the Cal 22. A series of penalties (for which Penn State opted for the scrum), and a yellow card on Cal lock Olivier Damas eventually led to a hard-won try for flanker Malcolm. Cal replied immediately, gathering the loose ball off the restart and, after a few runs up the middle, sending it to wing Jake Goena, who did well to stay in-bounds and dove over in th corner.
More Cal pressure put Andrade over for a carbon copy of his first-half try. Penn State replied, working back with a run from flyhalf Mike Dabulas, and then pressing their advantage to put fullback Kevin Trotter over. But once again, Cal replied immediately, with Wiley cutting through a gap like a center to make it 35-14. 
Penn State had one more really good chance, but Ryan McNulty's break ended in a dropped ball - a microcosm of how the day went for the Lions.
"A rugby game is like carving something out of marble," said Salaber, who was superb all day. "You can't do it all with one stroke of the chisel, you have to be patient and chip away. That's what we did. We had some execution problems but we kept at it."
Crucial to Cal's effort was their ability to score right after Penn State scored. The Nittany Lions did a poor job of controlling the Russell Webb's high kickoffs, and twice the Bars were able to regain possession and score really quickly. Cal flanker Thomas Spradling was extremely active on defense, while Sullivan made crucial yards in tight. Goena's try to make it 25-7 was key because of the momentum shift, but also because he handled two big hits to stay infield and dive for the corner.  
Russel Webb ran a good attack for Cal, but wasn't happy with his kicks for goal, as he was 0-7 on convrsions.
For Penn State, Mike Dabulas continues to play well at flyhalf, and Malcolm May was inspirational at flanker. Ryan McNulty made some big plays, and so did fullback Kevin Trotter. But the pieces didn't quite com together, with knock-ons at important times - the most glaring when McNulty was on a breakaway but his pass inside was dropped.
"Cal brings a different level of physicality and capitalize on your mistakes," said Penn State Head Coach James Willocks. "We had too many unforced errors and weren't clinical enough."
Cal 35
Tries: Andrade 2, Wiley 2, Goena, Sullivan, Barrientes

Penn State 14
Tries: May, Trotter
Convs: Ronan 2