All-Time American List: Richard Tardits
All-Time American List: Richard Tardits
Richard Tardits scored vs Ireland in 1996. James Meehan-INPHO photo.
The story of a man born in France and grows up playing rugby, walks on to the University of Georgia football team, sets an all-time record in sacks, and then goes on to play for the USA rugby team and New England Patriots NFL team is as improbably as the man.
Richard Tardits was a success at just about everything he did—football, rugby, business— he was a sporting renassaince man. Tardits did indeed set a career record for sacks for the Georgia Bulldogs. He did play three seasons in the NFL. And he was an exceptional Eagle, playing flanker and No. 8 in a physical, no-nonsense style.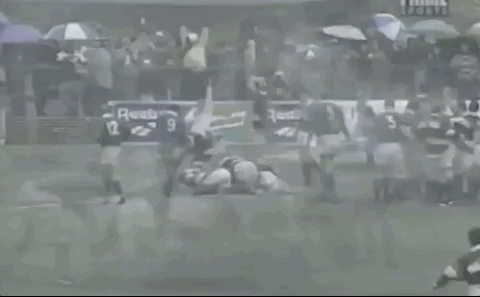 Tardits was physical, very smart, understood the game, and had the skills to play anywhere in the back row or even as a center if you needed him to. He was an accomplished 7s player and (see photo above) he helped the USA win the Bowl at the 1997 7s Rugby World Cup. 
Tardits played 24 times for the USA, and was a star for Life University as well, and, French or not, remains one of America's all-time greats.
Support Goff Rugby Report by becoming a Patreon Patron—Help us keep our content going and not behind a paywall>>
Support Goff Rugby Report by donating anonymously>>
Support Goff Rugby Report by shopping at World Rugby Shop>>

See more about our All-Time Americans Here and Make Suggestions>>