All-Time American List: Kevin Higgins
All-Time American List: Kevin Higgins
Kevin Higgins with the USA 7s team in Hong Kong in 1991. Photo Emil Signes.
Kevin Higgins has two rugby scholarships named after him, and that's because he was hugely respected as a player despite being cut down in his prime.
The uncompromising center from Cal Poly, where he was a repeat All American, Higgins hit harder than anyone and made defenders pay throughout the USA and overseas. Higgins played for the Eagles in two Rugby World Cups, in 1987 and 1991, and at one time owned the record for most caps by an Eagle. 
He captained the Eagles in 1989 and also was superb for the USA in 7s in Hong Kong, Moscow, and elsewhere. He retired early due to medical issues and went on to coach at Cal before dying just days before his 34th birthday in 1996. The Buffalo, NY native has a scholarship for rugby players at Cal Poly named after him, and also one given by the US Rugby Football Foundation for standout young players to attend the International Rugby Academy of New Zealand.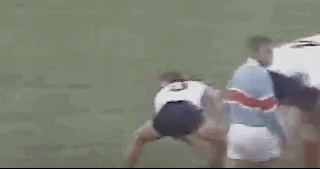 We could tell you more about Higgins, but instead, here is what former USA Rugby communications director Liz Goldenberg wrote about him the day after he died:
"Higgy, as he was known, was an inventive and exciting player. He was easily identifiable on the field by his red hair. For many young, aspiring Eagles, Kevin defined the position of centre with his agile moves, speed, and ability to crash up the middle. Off the field, Kevin was an inspiring leader and a true friend. Kevin was always ready to lighten a moment with his quick wit. His laughter and ability to make people laugh will be sorely missed."
Support Goff Rugby Report by becoming a Patreon Patron—Help us keep our content going and not behind a paywall>>
Support Goff Rugby Report by donating anonymously>>
Support Goff Rugby Report by shopping at World Rugby Shop>>

See more about our All-Time Americans Here and Make Suggestions>>