Willful Ignorance From World Rugby Still A Battle For Americans
Willful Ignorance From World Rugby Still A Battle For Americans
Ohio State huddles up. Does anyone at World Rugby know the influence Ohio State athletics has in college sports?
A GoffRugbyReport Opinion Column by Alex Goff—World Rugby still doesn't understand much about the United States.
This is a surprise to you? We hear you ask. No, it's not a surprise as such, but it is a bit of a surprise to learn quite how much World Rugby doesn't understand about the USA.
In discussions between World Rugby representatives and USA Rugby representatives in recent months, the World Rugby rep asked—truly flummoxed—why California had two separate unions.
This is, it was explained, because California is huge. How huge?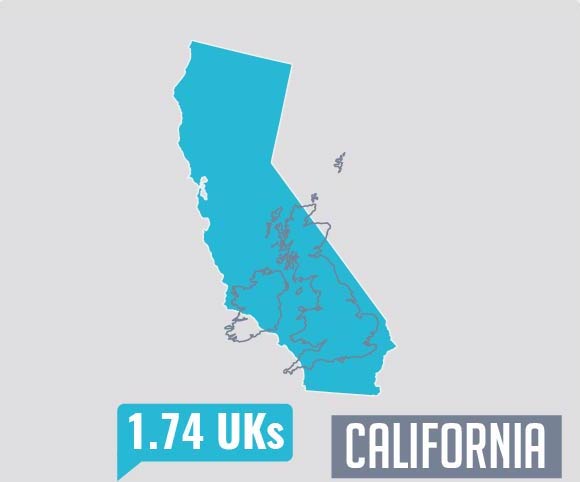 (thanks to Globehunters site for the graphic)
Almost twice the size of the UK. Even with that fact, we regularly expect a team from, say, Fresno to play a team in Sacramento. That's a 171-mile drive, which is about the same as a trip from London to Sheffield in England.
Putting aside that Sheffield is firmly in soccer and rugby league country, no amateur club, university, or school team would be expected to make such a trip routinely—maybe once a season.
There are eight US states larger than the entire country of New Zealand, including some with rugby all over them—Texas, California, Colorado, and Arizona.
The sheer size of the US states remains a mystery to many outside the country. So when they come up with ideas for how amateur rugby should work, they miss the fact that in America, amateur teams regularly pay for flights to go play somewhere, and assembling a large group of players for a domestic high-performance camp isn't the work of an afternoon, it's a few days as players have to come in from thousands of miles away.  
Not The Only Mystery
Also a mystery is how the collegiate sports system works. As we pointed out in this story about Nick Civetta, many rugby players earn their Blue for Oxford or Cambridge as grad students. Civetta, at 30 years old, joining Oxford and shooting for a place on the team is not a rarity.
But of course that would never happen in college sports in the USA. College sports are heavily restricted in who plays on the teams (undergrads, for the most part) and what their course load is.
This is still not widely known in the board rooms of major rugby nations. While university rugby is not a serious endeavor in many of those countries (South Africa is a notable exception), it is very serious in the USA. 
USA Rugby representatives are trying to explain this to World Rugby. They are doing it in the context of the Wesley White situation, in which White was not given residency credit for his time at Lindenwood because his father had paid for much of White's personal expenses.
This, of course, is not rare for a student to have his or her expenses paid by his parents. But World Rugby recently started worrying about how a player supported himself or herself during that time. Players who had jobs as well as attending school were deemed to be self-sustainable, while players who didn't, were not.
This, again, flies in the face of the realities of college in the USA. Many students can't afford to pay their own tuition and their parents help with tuition and expenses. A student-athlete in a serious daily training environment is often hard-pressed to cover schoolwork and sports team requirements, let alone a job. 
White was not given credit for his time in the USA because his father (former World Cup-winning coach Jake White) helped him financially. As a result, White is closer to being England eligible (huh, funny how that happens) then he is USA eligible.
The suits in World Rugby think of university rugby as a bit of a lark, and don't see the serious daily training environment that top American college programs provide.
And, really, they should know. Olympic athletes from all over the world have for years been developed in American college programs. Smaller countries basically use the NCAA as their Olympic development cauldron.
All of this willful ignorance just demonstrates how much against the tide USA Rugby sometimes has to swim. To have to explain that college sports in the United States is a serious thing is insulting—anyone paying attention would know that.
USA Rugby is now lobbying for a harder look at the residency regulations at World Rugby so that players who come to the USA to train and develop have the option of attaining residency the same way a player who enters an academy system in the UK does.
(P.S. Due to the COVID-19 pandemic, World Rugby has delayed changing the residency minimum from three years to five. The old rule was set to expire at the end of this year, but not is apparently shifting to the end of 2021. Regardless, this is very important for college players in the USA. If you come to the USA and play in college for four years, that's usually about three years and nine months. A player still only has to wait 15 months to become USA eligible. If the college career didn't count, the player's prime years would be lost waiting for that eligibility.)