Week 7 GRR Boys HS Club Rankings
Week 7 GRR Boys HS Club Rankings
Fort Hunt was one of the few high-ranked teams in action. David Hughes photo.
Our #1 lost but this is a weird loss, or more accurately, one to take with a small grain of salt.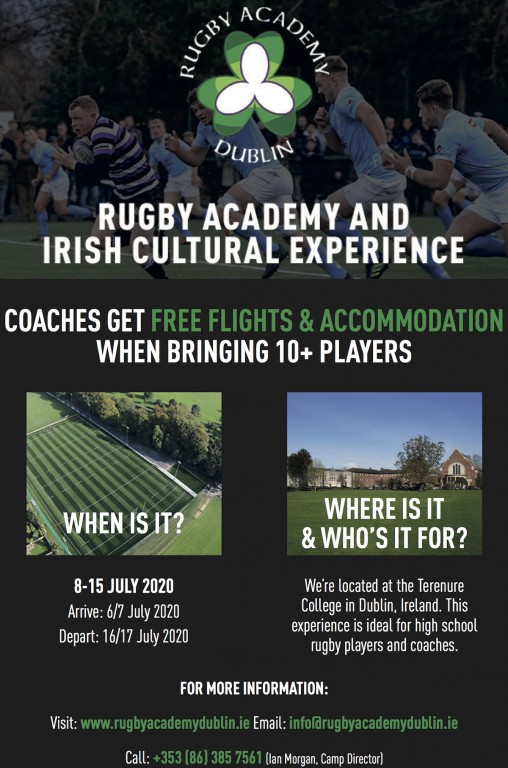 Woodlands was on the road, the trip turned out to be logistically tough, and they were missing their two best players.
So, yes, we bump Woodlands out of #1, how can we not? But they don't go too far, and Germantown, the team that beat them, don't go above ... yet. Still, Germantown is now at #11 and could easily move higher.
We also welcome Fairfield into the Top 50 after three wins at the Frostbite Tournament.
We welcome Rugby Academy Dublin, a residential summer rugby camp based in Ireland, as a sponsor of our High School Rankings. 
Click on the ad image for more details, and when you sign up, please list Goff Rugby Report as your referring coach. 
So ... click, read, and if you like the idea, go there and say Goff Rugby Report sent you.
Goff Rugby Report Boys HS Club Rankings Week 7

Rank
Prev
Team
Notes
1
2
Back Bay (CA)
 
2
3
Charlotte Tigers (NC)
 
3
4
Royal Irish (IN)
 
4
6
Fort Hunt (VA)
Beat Berks (25)
5
1
Woodlands (TX)
Lost to Germantown (21)
6
5
Belmont Shore (CA)
 
7
7
Danville Oaks (CA)
Beat Elsie Allen
8
8
West Valley Warriors (UT)
 
9
9
Eastside Lions (WA)
 
10
10
Marin (CA)
 
11
21
Germantown (TN)
Beat Woodlands (1)
12
11
Tempe (AZ)
 
13
12
Red Mountain (AZ)
Lost to Herriman (SS2)
14
13
San Diego Mustangs (CA)
 
15
14
Phoenix Alpharetta (GA)
 
16
15
Kansas City Jr. Blues (MO)
 
17
16
West End (VA)
 
18
20
Allen (TX)
Beat Dallas Jesuit (SS34)
19
17
Aspetuck (CT)
 
20
18
Raleigh Redhawks (NC)
 
21
19
Katy (TX)
Beat Lamar
22
20
Okapi (FL)
Beat Jupiter
23
24
United (UT)
Lost to Herriman (SS2)
24
23
Jacksonville (FL)
Lost to Cape Pirates Grey
25
25
Berks (PA)
Lost to Fort Hunt (6)
Goff Rugby Report Boys HS Club Rankings Week 7

26
26
Bayou Hurricanes (LA)
Game Ppd
27
27
Clayton (NC)
 
28
28
Rock Rugby (TX)
 
29
29
SFGG (CA)
 
30
30
Edina (MN)
 
31
31
Cape Pirates Black (FL)
 
32
32
S. Greenville (SC)
 
33
44
Lamorinda (CA)
Tied Menlo-Atherton (33)
34
33
Menlo-Atherton (CA)
Tied Lamorinda (44)
35
34
PAC (CO)
 
36
35
Tacoma (WA)
 
37
36
Liberty (WA)
 
38
Unr
Fairfield (CT)
Beat Cumberland Valley (SS24)
39
37
Pulaski (WI)
 
40
38
Chargers (WI)
 
41
39
Mother Lode (CA)
 
42
40
Roswell (GA)
 
43
41
Eastside Tsunami Pink (OR)
 
44
42
Eastside Tsunami Black (OR)
 
45
43
Harpeth (TN)
 
46
45
MICR (TN)
 
47
46
Ravenwood (TN)
 
48
48
Union Co. (NJ)
Lost to St. Edward (SS15)
49
50
Eagan (MN)
 
50
47
West Shore (PA)
Lost to St. Edward (SS15)
Goff Rugby Report Boys HS Club Rankings Week 7