Utah Valley Not Shocked at UCLA Shocker
Utah Valley Not Shocked at UCLA Shocker
Was Utah Valley a surprise in beating UCLA 40-14 in the opening round of the Varsity Cup?
Not if you ask UVU Head Coach Adam Griffee.
"We knew we could compete," said Griffee. And they did more than that. 
It wasn't that UCLA couldn't do anything - the Bruins were constantly in UVU territory. But that hugely physical and dedicated Wolverines defense made scoring difficult. In addition, UVU was on the lookout for interceptions, and took one from goalline to goalline during the game - always a massive momentum-shifter.
"We've got a tough forward pack. Our flankers are animals," said Griffee. 
Four of the UVU players played in Tonga, with three of them on the Tongan age-grade teams. That has certainly helped, as has an ongoing influx of talent from Utah HS teams such as United. But but one of their more spectacular tries was from a couple of Texas products. Tau Maumau played football in high school in Texas, and he was the one who intercepted the ball as UCLA was looking to score, and then, after going about 50 meters before passing off to his cousin, Vinnie Maumau, for the try.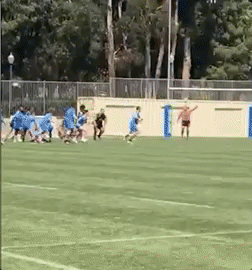 Utah Valley won the Varsity Cup's DIAA bracket in 2015 and expected to do the same in 2016, but the Varsity Cup didn't hold that competition. A hope-for move to DIA didn't materialize, either, and so UVU played in relatively obscurity in the Mountain State Conference. There they beat everyone, but Griffee said it wasn't easy.
"We knew this year we just had to come out and play well and improve in every game, and the good thing was that our conference got a lot better this year," said the coach. 
UVU won comfortably, but Griffee said this year's team is much improved over last year's roster. Dixie State logged some solid results and earned a play-in game with Long Beach State in the DIAA playoffs. All of that was enough to convince Griffee that UVU deserved to play at a higher level.
When Arizona State had to pull out of the Varsity Cup, Griffee lobbied hard to get UVU in, and he was right to do so. Saturday's results shows not only that Utah Valley is a competitive team, but a team to be concerned about.
They were hugely physical, opportunistic in broken play, and could also play a pattern. 
"We played Arizona early in the season, and we lost against a really good team, but it was also really our first time outside," said Griffee. "We still felt, despite our mistakes, that we competed well and it actually gave us a lot of confidence. We've been building on that, and I think Saturday we played about as well as we could."
Some might dispute that. One of the Wolverines' strongest backs was on the sidelines nursing an injury. If he is healthy, this weekend's opponent, Arkansas State, would do well to be prepared.