USA Youth And HS Makes HS Rules Recommendations
USA Youth And HS Makes HS Rules Recommendations
St. Thomas Aquinas in action this past season. Mike Jurczak photo.
USA Youth & High School Rugby's laws committee has developed a series of yet-to-be-confirmed recommendations for how high school rugby can progress, giving leagues guidelines on how they might address blowouts, substitutions, and eligibility.
The recommendations were made after a series of meetings and back-and-forth among committee members and coaches as they tried to address issues in league play that hurt player retention. One of the biggest issues is how to manage games between programs that have very large rosters — sometimes as many as 150 — and teams that have maybe 20 players. They also took some ideas from a variety of leagues around the country and incorporated those approaches into some of the issues below.
In addition, the committee wanted to look at what has become a significant culture shift in the game in the past few months. This shift has been toward more about fun and participation, and less emphasis on winning championships. That's not to say championships aren't supported—just not everywhere, for everything.
USA Youth & High School Rugby Laws Committee
Matt Persanis, Rugby NY. Chairman
David Lyme, Rugby CT
Edwin Elfmann, Mid-Atlantic
Michael Walker, Rugby NorCal
Bill Stevens, Rugby Indiana (USA Rugby Board Member)
The Mercy Rule
Blowouts are not considered optimal, and indeed it's generally accepted within high school rugby that basing tiebreakers on points difference is not a good idea. Running up the score just discourages players on a struggling team. Part of that is because oof the substitution rules. If powerful high school teams follow the set roster rules, they can't run on younger and more inexperienced players in a game that they're winning by a large margin. Teams might want to mitigate the margin of victory, but can't if they are limited to just eight subs, and have to name those subs before kickoff.
The USA Y&HS recommendation is to institute a 35-point mercy rule threshold. Once a team is ahead by 35 points, the score for the game is frozen as regards league play. Then the teams continue to play, but will be free to substitute as they see fit.
_____________________________________
We need our readers' support!
Use this linkto see how with a small monetary pledge you can ensure we keep reporting on these important issues. Become a Patreon Patron, or, if you want to keep a low profile, submit an anonymous donation.

Thank you to our current Patrons. We appreciate your support!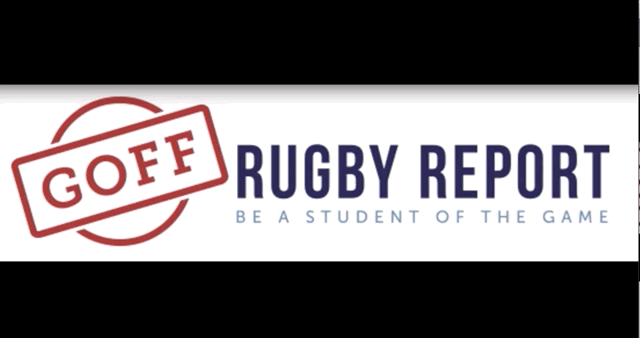 _____________________________________
Lower-Level Championships
State championships aren't the be-all and end-all for teams. Other sports don't run state championships for JV teams and freshman teams, so why should rugby? The recommendation is that there be no state championships for JV and Freshman teams, and instead just extend the seasons so those teams can play more, or perhaps play in tournament formats.
The emphasis for those levels, then, would be on playing and learning, not winning a trophy.
Substitutions
For games between states, or in championship games, U19 law variations should be followed and standard sub rules should be followed. For in-state competitions in a state's top division, the standard roster of 23 should be followed, but there is a mercy rule variation. How this goes is as follows: If a team is up by 20 points in the first half, that team would be encouraged to run in its bench of eight subs. But ... the rosters would be reset in the second half, meaning that a team could bring back the players who had been subbed off.
This is designed to encourage programs with deep rosters to sub in inexperienced players in games they are winning, but also to help mitigate a coach's fear that his/her team might lose a game because they subbed on a bunch of inexperienced players. The desire is to have competitive games. Team A runs out to a 31-3 lead in the first half and subs on eight players with ten minutes to go in the first half. Team B then figures a few things out, and with Team A's best players on the sideline, scores two tries at the end of the first half, and sneaks in a try early in the second half. Now its 31-22. But Team A subs back in two experienced players. The result? Team A wins 45-27, but Team B gets some confidence at being able to hang in there.
If there had been no rule like that, Team A would feel the need to keep the starters in as long as possible, and run out a bench of experienced players who are probably just as strong as the starters, and might win 62-5. That's less desirable.
This would be used for top-level teams in league play. For D2, D3, JV, and Freshman teams, the Committee has recommended unlimited subs for up to 25 players, and if a team has more than 25 players, then a 3rd half would be played to ensure everyone gets game time.
Reduce Travel
States are being encouraged to organize divisions based on rivalries and geography. Obviously, in some states this is difficult because there are a handful of top teams throughout a state that have to play each other. But on lower divisions, this is a logical move.
Poaching Players
Accusations of player poaching keep getting thrown out when players opt to change teams. But players sometimes change teams because they prefer a certain coach's approach, or sometimes because they see a chance to shoot for bigger things. This can make it tough on a HS club team that is struggling, and then sees its top players skip to a team that probably doesn't need them, and where those players won't get anywhere near as much game time or leadership opportunities.
The Committee made no recommendation regarding players switching teams between seasons. Within a season, the recommendation was to allow this before the first league game. This, in part, would make it easier for two teams that have small rosters to merge for a season to ensure they can play.
Eligibility
This is something that hasn't been addressed in a consistent way by USA Rugby. But the Committee did come out with some specifics. it recommended four years of eligibility for a high school player, with players having to be under 19 (using a state's own cutoff date). 
A player in 8th grade can seek a waiver to play high school rugby, and would have to have evidence that he or she has the size and skill level to do so. The plan is to have players play in their respective age divisions as much as possible. But sometimes there is a player who is so much more skilled or, more commonly, so much larger than their peers that a move up to the higher levels would be better for everyone.