USA Women Win in Spain; Here's How
USA Women Win in Spain; Here's How
Everyone getting involved. Photo Martin Seras Lima.
The USA women's 7s team won the Malaga 7s and in doing so showed how team play beats relying on individuals every time.
While it's fair to say that Ilona Maher was one of the stars of the tournament and deserved to be Player of the Final, she got that nod because of how she worked with her teammates. Everyone contributed.
All the moments that made the difference on day three in Malaga

Check out the highlights from the women's event in all their glory!@DHLrugby pic.twitter.com/w3Z6psLllk

— World Rugby Sevens (@WorldRugby7s) January 23, 2022
Quarterfinals
The Eagles beat England 22-17 in perhaps their toughest game, a game where England were tough to shake. But in this game was perhaps the best 7s try you'll ever want to see. The only player not to touch the ball on this sequence, the opening try.
Nicole Heavirland threw the ball into a lineout about ten meters from the USA tryline. The ball was taken by Cheta Emba, who then landed and wait for one of her lifters, Maher, to detach and take a pass. Maher curled around the lineout (breaking two tackles) and found Heavirland, who had looped further infield. Heavirland was hit as she caught the pass but popped to Kayla Cannett. Now, Cannett doesn't get a lot of notice but she does a lot of smart things on the rugby field.
Here she cut inside to beat one defender, and ran about 25 meters, sucking in two more chasers.
Just as the England defenders closed in, Cannett popped a pass over the top to Lauren Doyle, who was one of four players Cannett could have passed to.
It wasn't an easy pass to catch but Doyle took it one-handed, behind her back, spun around, and just before she was laid out put it right into the hands of Jaz Gray, who was off for 43 meters and the try.
This was basically the 2007 Taku Ngwenya try of the year in women's 7s form. The only player not to touch the ball in the sequence was Naya Tapper, who was the other lineout lifter and who job was to hold the left sideline.
This was beautiful, brilliant, a shining light of what thinking pass first and understanding that a committed defender is an opportunity can do for your team.
The other try of note seemed an individual effort but it had its team elements too. Stuck on their own tryline the Eagles stayed patient and moved the ball back and forth until there was a hint of a gap. Kris Thomas was tackled by two right on the tryline but snapped a pass to Maher, who shoved away one tackler and chugged 99 meters for an astounding try.
Her power, grit, and determination were on display, but none of that would have been possible without her teammates sticking to the task.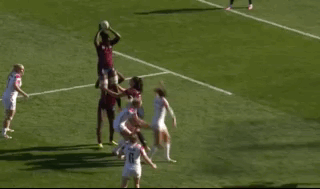 Semifinals
More team play highlighted the USA's two tries against France. Canett's opening try came from a long series of the players using the ball. Doyle was laid out but managed to get a key pass out there, and reading the field nicely Alena Olsen skated wide, saw the defense collapse in, and sent it wide for Canett to score. (She also curved around to make the kick easier, which was key.)
Now, France came back by smashing Doyle and rucking Maher off the ball, which was a bit of a wakeup call, but then Doyle gathered a loose pass and immediately her teammates responding. Maher was there calling aggressively for the ball. Maher set the ruck and Doyle was on her feet and able to send it to Thomas who broke through.
This was about quick ball and not dithering or giving the defense time to think or adjust.
Finals
Russia was superb against Australia. They didn't back down. Despite having four players out (at least some with COVID), they just rocked up with their nine women and scored some superb tries, while playing just enough defense to keep Australia in check.
Russia playing well on the circuit is good for the game.
In the final, it ended up being about four minutes too long for the Russians. They were a little tired near the end and the USA ran in three late tries to win it. (Russia scored about two minutes after the halftime hooter after a long and exhausting sequence which might have taken it out of them.) It's also worth noting that the USA was down to 10 players, but weren't quite as stretched as Russia.
In the second half, with the score still close, Maher set up a key try which essentially sealed the game.
Now, this wasn't a flashy play, really. It was essentially a triple option football play—Maher, as quarterback, skates across. Kris Thomas heads on a line upfield, but there's also someone on the wing.
Maher can give the short, flat pass to Thomas if there's a gap; she can keep it and turn upfield; she can keep it and then send a pass wide. One French defender stayed on Maher, one stayed wide.  Thus Thomas had a gap and Maher gave a quick short ball that's tough to see. Thomas is free and clear.
This play worked several times. Olsen ran it in the previous game, taking the wide-pass option which allowed Canett to score. Heavirland, Cannett, and Maher all can also executed the quarterback role. Having multiple players who are comfortable setting this play in motion is another positive sign for the USA. Using Maher to do it … well that's extra special because she's such a powerful runner you have to think about double-teaming her. Do that when she's setting up a pass and you're in trouble.
So it was, especially when Russia took a yellow card. 35-10 USA.
This is a USA team that wins by playing 7s, not by playing one-and-run rugby. They showed they can pass. They showed they can identify space. They showed they can wet up players to unleash the myriad weapons they have at their disposal. Maher said that against France when the players got frazzled they played too individually. This is true, but it was also fairly rare in Málaga. Their team effort on defense was also quite solid.
Congratulations to @EmilieBydwell and all the @USARugby 7s winning the @WorldRugby7s #Malaga7s 

The work rate and passing game from @HSBC_Sport player of the final @ilona_maher was  pic.twitter.com/Dibp7h8B89

— Danielle (Nolli) Waterman (@nolli15) January 23, 2022
Work-Ons
Too many ruck penalties. Several tackler-release penalties hurt the USA and they are completely unnecessary. Very rarely will you get away with stealing the ball while not clearly releasing the tackled player. It's just not worth it, especially when your team is playing smart defense.
Kicking. That amazing try against England was started because England opted for a kick down the field and they almost scored. Very often defenses bring a seven-player front. If the Eagles can have a couple of players who are confident kicking the ball for chasers, they should use that.
It's a Team Game and a Team Win
No USA player was in the top 10 in Málaga in scoring, or in tries, or in tackles, or in clean breaks, or in runs. Part of that was because they only played five games, but it was also an indication that there was no single player upon which the Eagles depended. They led the tournament in points allowed per game, and were second in points scored per game to Australia. And really, isn't it the team stuff that counts?
A Warning
It's not all secure. Fiji and New Zealand were absent from Málaga and Australia and France were both a bit unlucky.