USA 4th in Vancouver - Column
USA 4th in Vancouver - Column
Perry Baker scores his 100th try. David Barpal photo.
Day Two out of five competition days covering nine days on the calendar isn't easy for any international 7s team, and the USA did pretty well, considering.
The Eagles ended up 1-2 in Vancouver on Sunday, winning that crucial quarterfinal game to make the semis, but losing the next two to finish fourth.
Top photo of sad Eagles Eric Huss. The rest are David Barpal.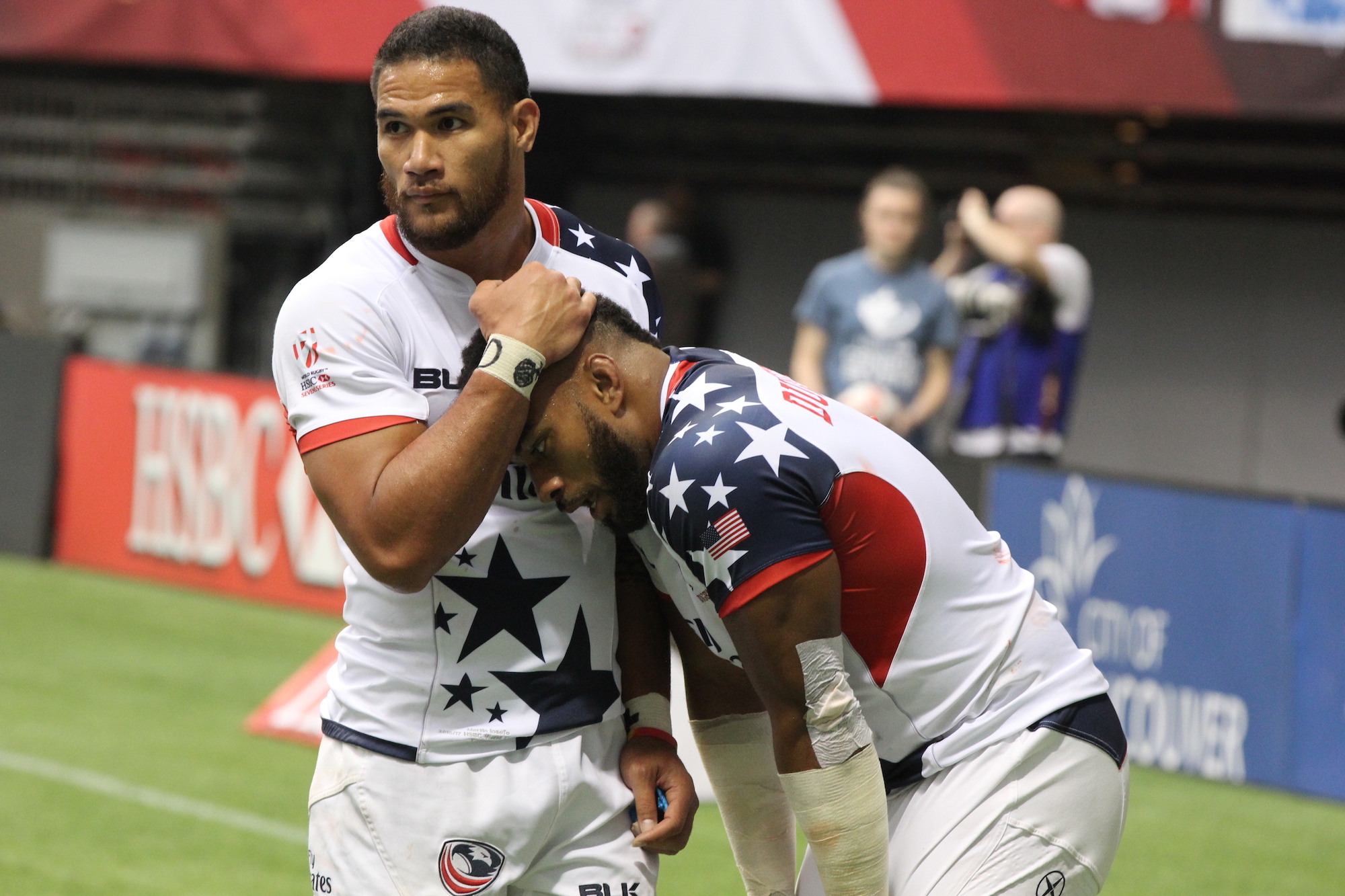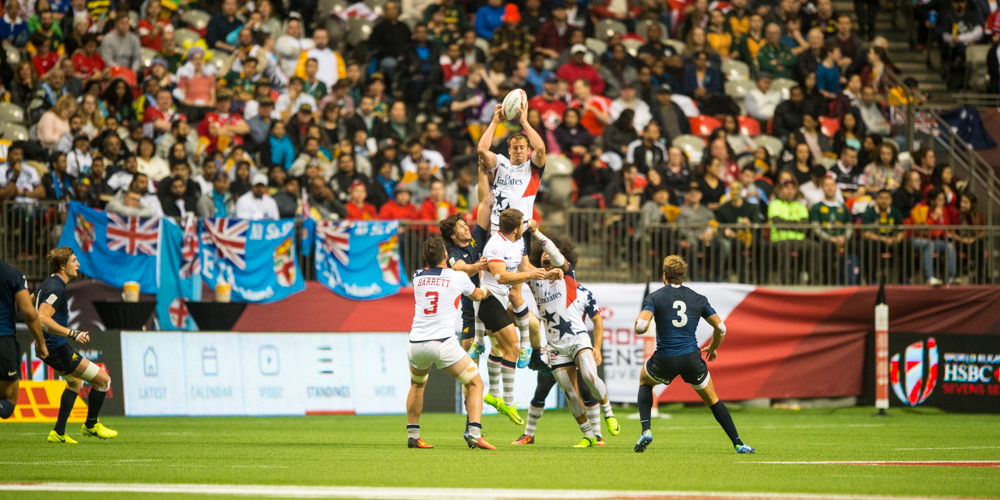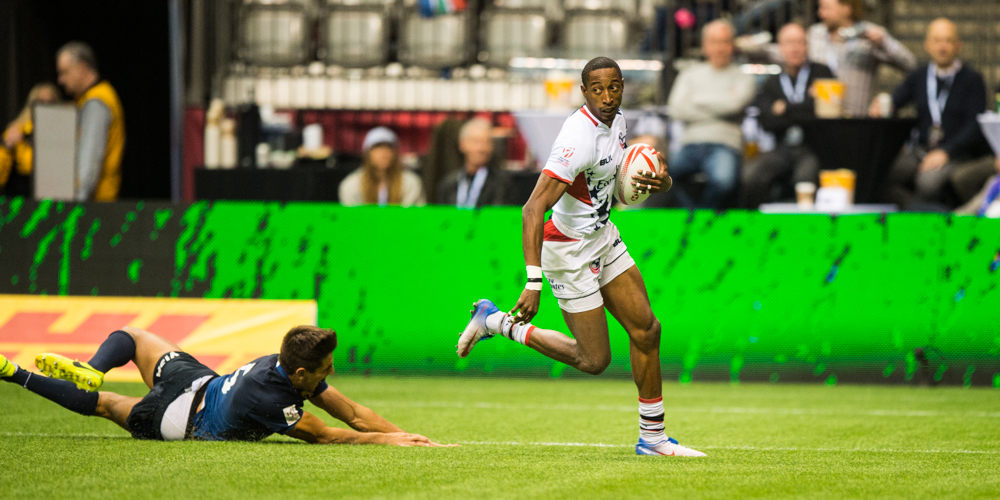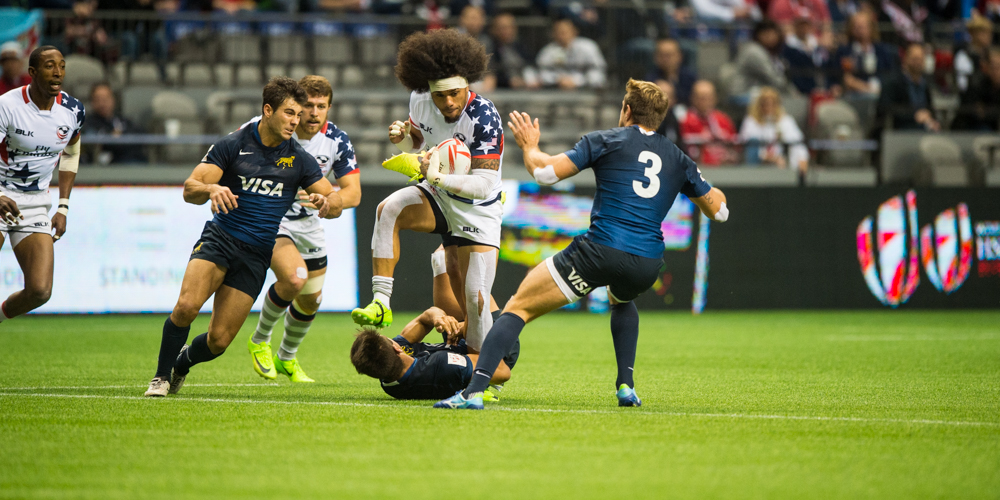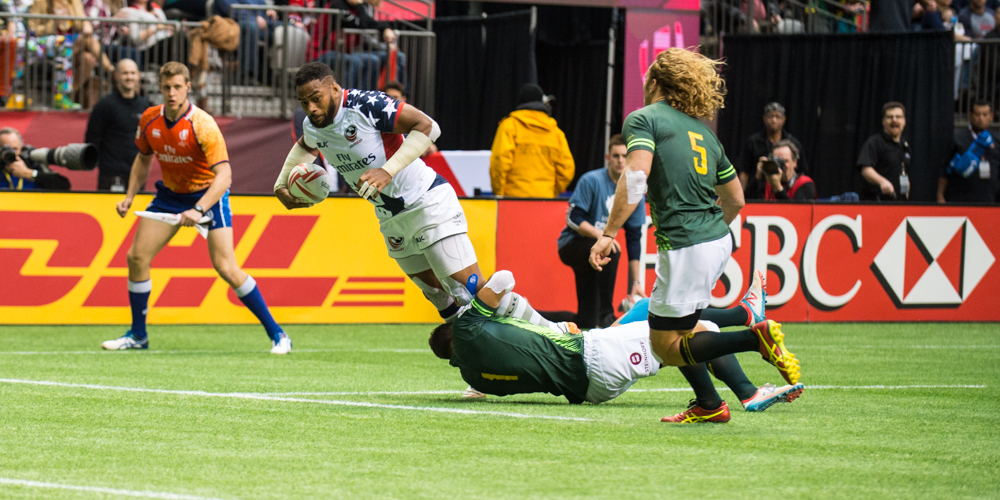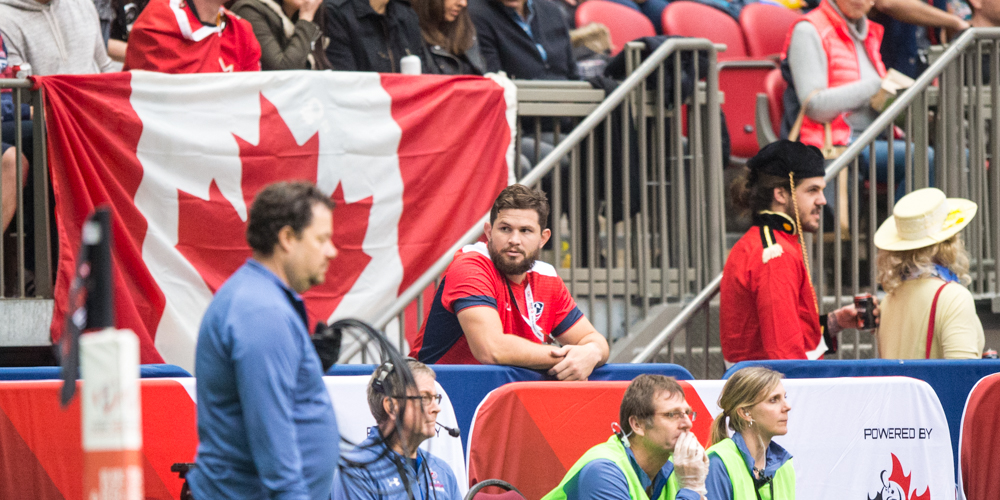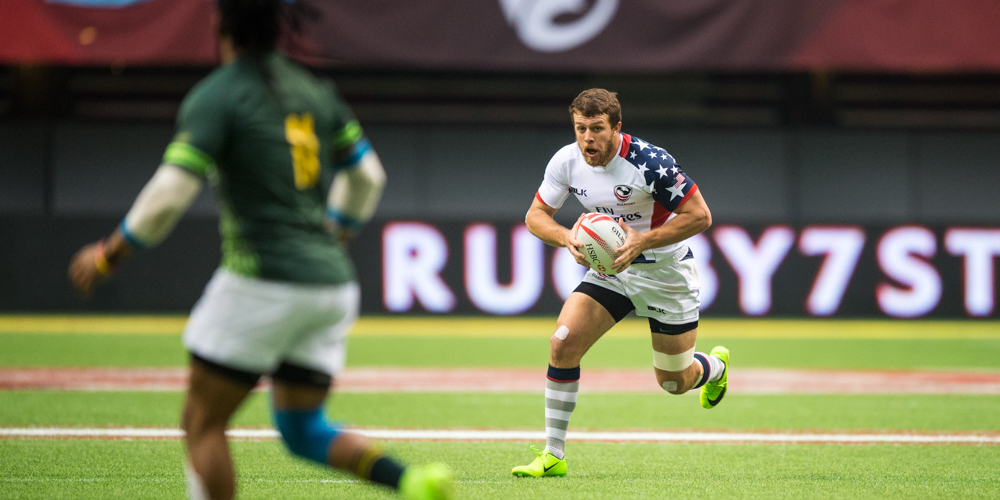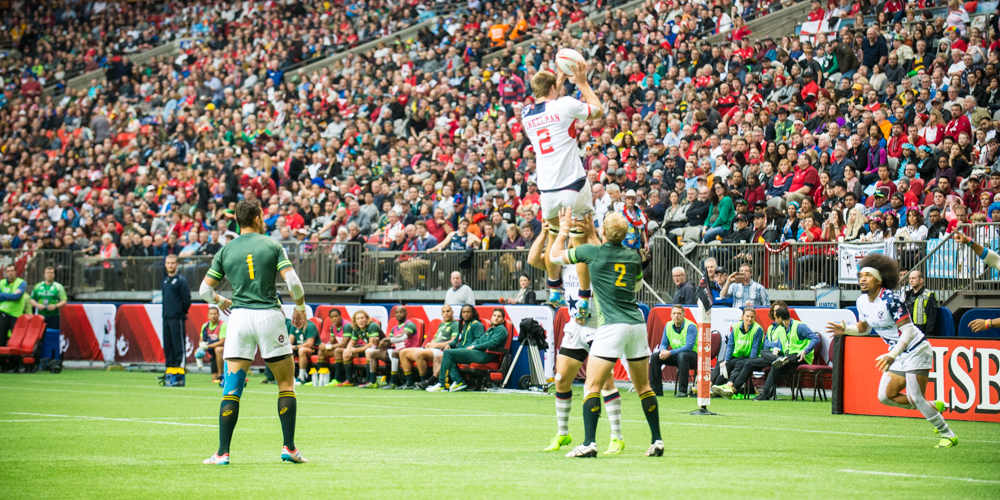 It wasn't a capitulating 4th, not given that they played the final two games without Danny Barrett (suspended due to a dangerous tackle in the quarters), and given that they lost to South Africa and Fiji each by four points.
The Eagles won their opener against the always difficult Argentina. They fell behind 7-0 thanks to Barrett's tackle (thus a yellow card and later the ban), and a couple more penalties after that, but put Perry Baker away to tie it up. Argentina took the lead once more only for Barrett to cap off a really nice movement. 14-12 USA. The Eagles had a chance to score once more, but couldn't but it didn't matter.
Having dropepd the difficult Argentineans, the USA team now needed to defeat almost unstoppable South Africa. They almost did it. A lovely give-and-go between Martin Iosefo and Andrew Durutalo put Iosefo over. That movement was started thanks to a perfect counter-ruck by Ben Pinkelman, who pushed back two Blitzbokke to win the ball for the Americans. In the second half, Durutalo got a try, surging over after a really long period of play from the USA team.
But each time South Africa came back, punishing USA penalties, a couple (such as an obstruction call that all South African embellishment) that were a shade harsh. But in the end, down 14-10, the USA had a shot at winning the game. Down to the South African tryline they went, with time up. But when time is up and you ned to score to win, you don't have to be in a rush - you have all the time in the world. It was that simple for the USA, and instead they rushed it, picking up and surging to the line instead of probing for space out wide. Durutalo tried to go himself and was held up. Game over, and a very harsh lessons about avoiding white line fever.
The Bronze Medal game was all about chasing Fiji, and they did, scoring through Baker twice (he got his 100th for his country in this game, exactly a year after topping 50), and then maka Unufe.
The Eagles never led in this game, but were never out of it. Unufe was through once more, but they couldn't get that last try. 28-24 Fiji.
At times brilliant, most of the time more consistent, the Eagles got enough points to move clear of Australia and Argentina into 5th in the World Series standings.
(1. South Africa 126 pts, 2. England 103, 3. Fiji 100, 4. New Zealand 84, 5. USA 67, 6. Australia 62) 
But the gap in the standings shows a gap at the top. South Africa, England, and Fiji are playing really, really well. New Zealand is playing really well (only one really), and then there's the rest. The USA is currently the best of the rest and showed it in Vancouver. They can run, they can tackle (about as well as anybody), and they can ruck, pass, and work the system. But they aren't quite there at the very top yet. A penalty here, a bit of impatience there, and a bit of bad luck kept them in fourth.
But they do look like a team that's thinking about 1st, don't they?
Notes: Baker got his 100th try and led the tournament with nine tries. Baker, who has played some good defense and is doing a lot of the little things made the tournament Dream Team, and deservedly so. Folau Niua continues to play great. Somehow Madison Hughes didn't break down after looking like he could barely walk last week. But they need Barrett, who carries a special X factor, that imposing physicality with a touch of pace and plenty of bravado. He is out one more game (three-game ban), and they will need him back.