Unstoppable Misfits, Australia is a Unique Sevens Team
Unstoppable Misfits, Australia is a Unique Sevens Team
Australia win the 2022 Hong Kong 7s. Mike Lee KLC fotos for World Rugby.
As the HSBC Sevens World Series looks ahead to its second and third rounds in Dubai and Cape Town, it's worth taking a look at a team that, despite winning, and winning a lot, seems to get overlooked ... Australia.
The Aussies were all party in Los Angeles in August, watching South Africa run into a couple of brick walls and then taking 3rd to clinch a World Series title that few thought they'd get. And yet while all the talk is about New Zealand, South Africa, Fiji ... even Samoa ... Australia is playing some exciting, attractive, and winning Rugby 7s. 
They showcased all of that in Hong Kong, winning at the storied venue for the first time in the modern World Series era. How the Aussies did it is, predictably different.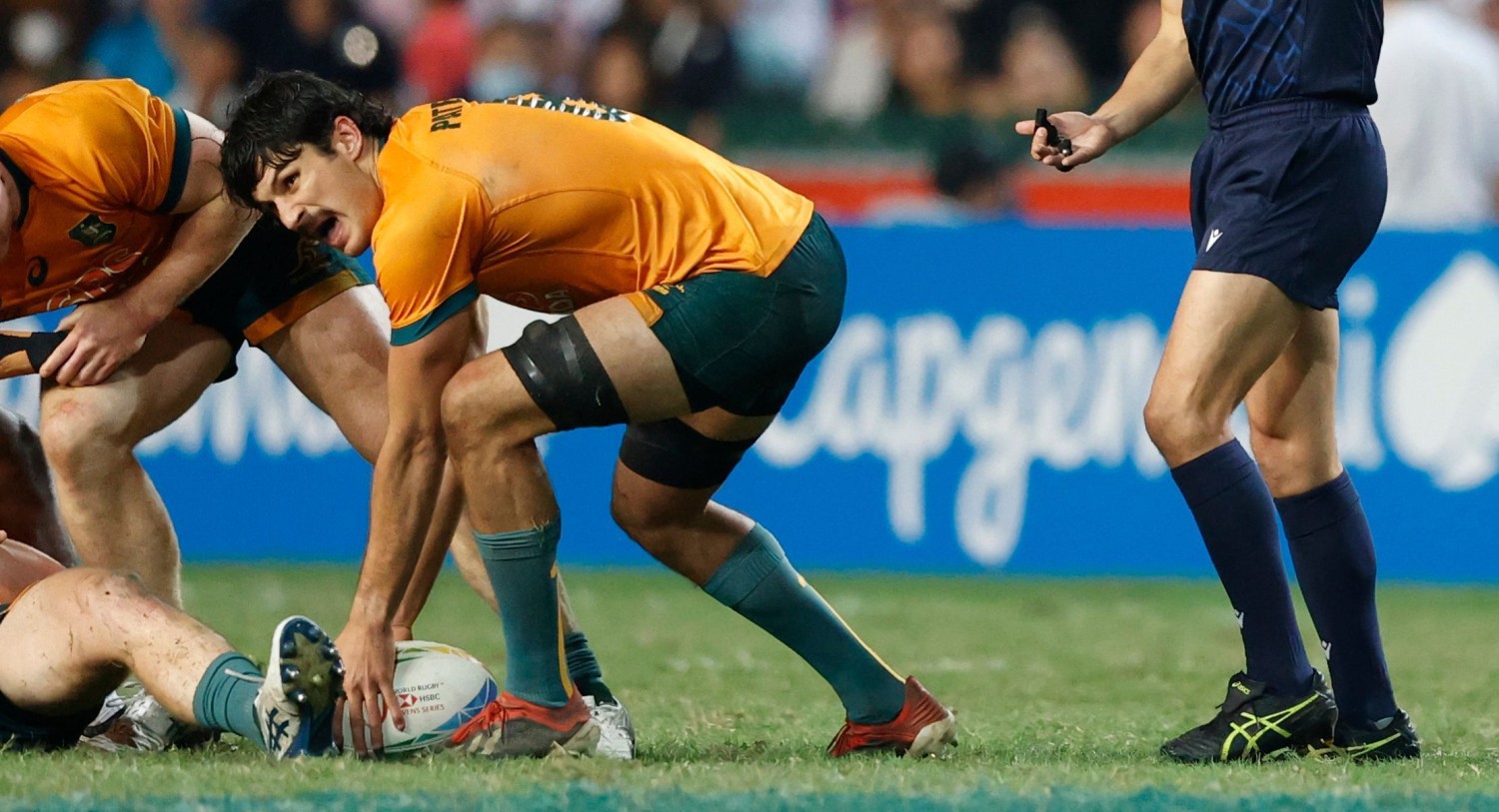 (Always looking for an angle. Mike Lee KLC fotos for World Rugby.)
It's Not What They Don't Have
Australia doesn't have out-and-out speed, and while their shifty guys are shifty, they aren't the shiftiest. What they have is grit and desire, and something that approximates speed—acceleration. Central to that is James Turner, who goes from zero to 100% in about two steps and if there's something in his way he doesn't really worry about it. Australia fans can forget that he was born across the Tasman in New Zealand, and everyone can forget that he's nowhere near the biggest man on the field, because he doesn't remember, either.
---
LA Sevens is February 25-26 and Tickets will be on sale soon!
---
There are big men on the Wallabies, though. Henry Paterson and Nathan Lawson are long-striding giants who thunder in a way that few 7s teams can replicate. It's OK, though, because their work rate is supremely high, and Coach John Manenti knows how to rotate his big guys and keep them fresh.
Add to that the unbreakable Nick Malouf as captain, the scrappy, alert halfback Maurice Longbottom, and the unstoppable Dietrich Roach who literally got an award for how hard he works, and what you've got is a team that never, ever gives up.
Smart Thinking
They don't give up on tackles, and they showed that against Ireland in the Hong Kong 7s Quarterfinals, France in the Semifinals, and Fiji in the Final. Down two yellow cards against France they could have packed it in and let a try in. No thanks, mate, that's not their way.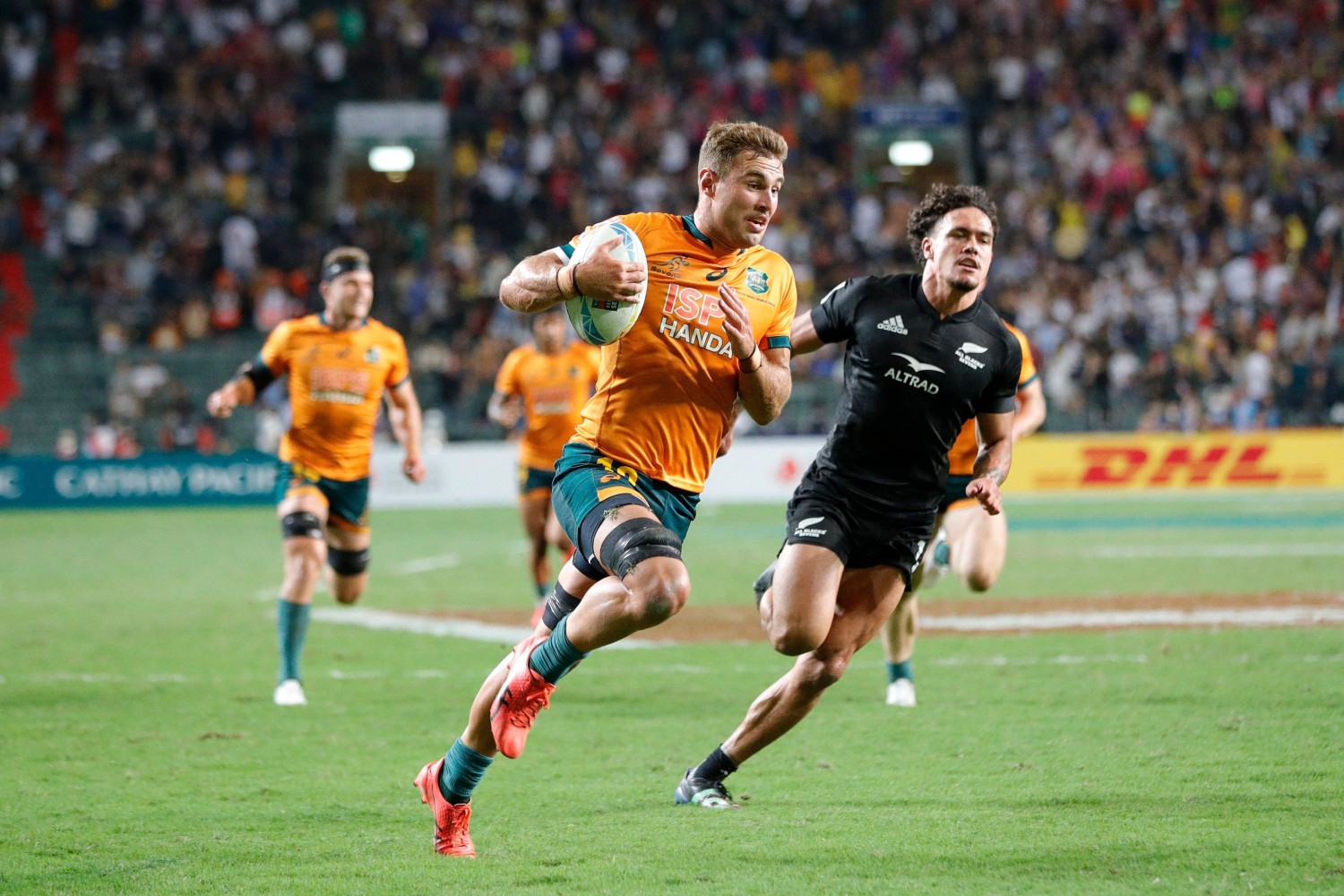 (Malouf goes in to score 7s. Mike Lee KLC fotos for World Rugby.)
But they do have a little trick up their sleeves. Think about where the penalties occur—the rucks, right? Well Australia handles penalties in the ruck in a relatively unique way, and it harkens to the country's history with Rugby League. In Rugby League, when you're tackled, the defense retreats and you get back up to roll the ball back with your foot for a teammate to take and run or (more usually) pass. That's what the Australians do with penalties. The ball is usually on the ground when a penalty is called in the ruck, and the nearest player just rolls the ball back with his foot, picks it up, and goes.
It's perfect legal; it's a kick through the mark, and it's the quickest of quick taps. No one else really does this.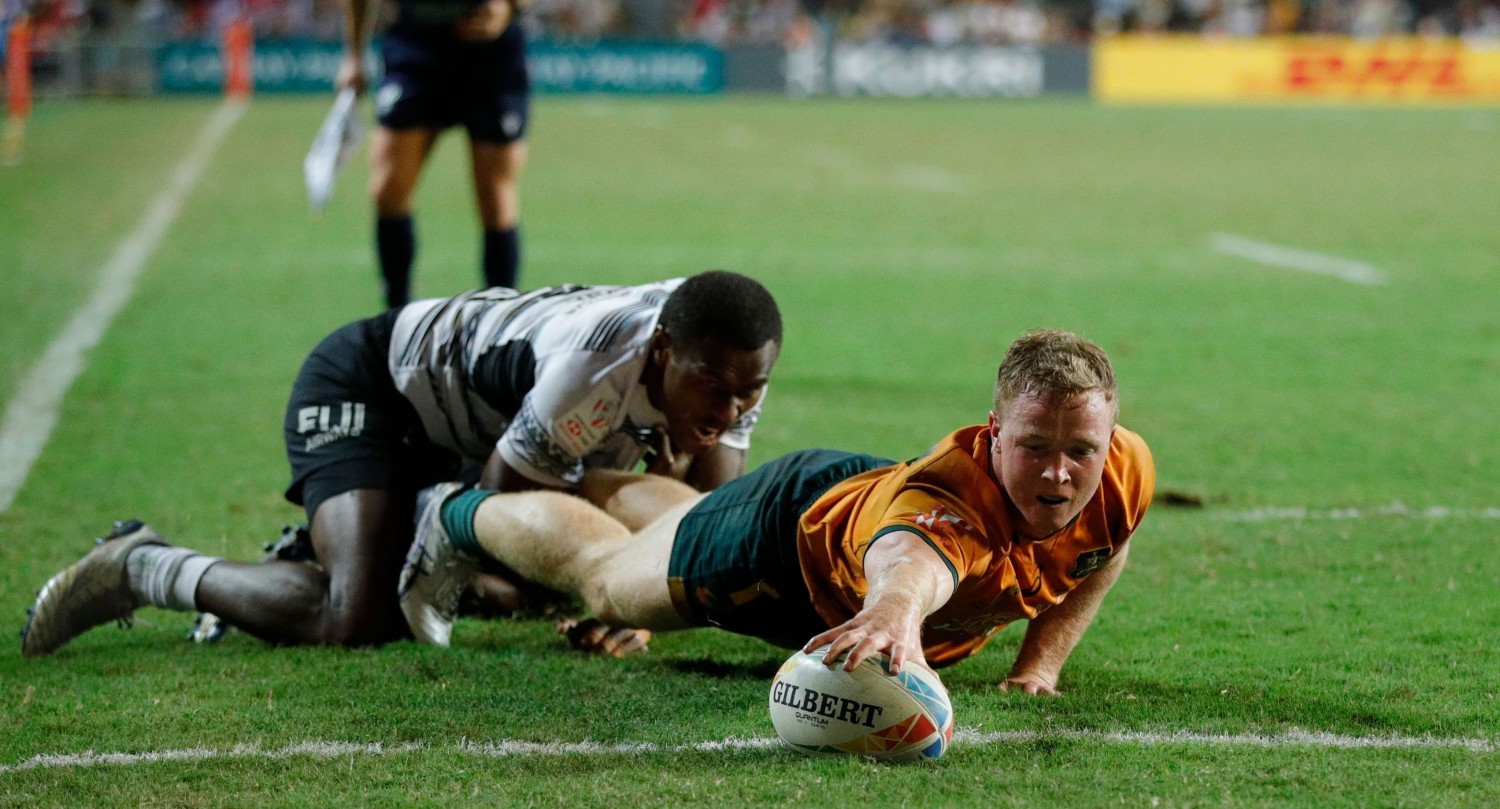 (Try time for Hutchison. Mike Lee KLC fotos for World Rugby.)
Misfits? Cardiac Kids.
They call themselves the Misfits, and they are. There's no burner, there's no real super-jumper, there's no double-take stepper. But they keep coming. Maybe we call them the Cardiac Kids, too. After all, in their Hong Kong quarterfinal against Ireland they were down 19-5 with two minutes to go. OK, sure, Ireland had just received a yellow card, but they were down nineteen to five. 
And yes, they ran a smart little decoy move and out to the other turner, James, who raced in to score and pretty much had to be carried off after that because he was so gassed. Longbottom hit the tough-angle conversion and nailed the restart as Malouf soared into the Hong Kong skyline to grab the ball and go in untouched. Longbottom again hit the clutch conversion. Even then, it was only 19-19. But Henry Hutchison, another player who doesn't look so big or so fast and yet seems to be everywhere, stole the ball in the ruck, Roache sent it wide to Longbottom, and he ran a give and go with Stuart Dunbar (on with fresh legs) to win it.
Astounding, and they did it without flukes or a defender falling over or even drastic superiority in any one area ... except desire.
Want more? They beat France on a comeback and in overtime Longbottom slotted a tough-angled penalty goal to get them into the final.
Want more? They were down 17-10 to Fiji with two minutes to go before Hutchison scored (no conversion) to make it 17-15, and then Lawson strode over to be the hero in a 20-17 win.
There really isn't any team on the circuit quite like Australia right now. They are misfits, grinders, workhorses, and, somehow, still underdogs. And they just ... keep ... playing.
And because of that, they may well be the most entertaining team on the World Series circuit right now. When everything comes back to Los Angeles February 25 to 26, keep an eye on these guys because they won't disappoint.