Team Spotlight: Berks County
HS Rugby Players—Get Noticed!
Put your player info into our Player Recruiting Data Base. It's free, and it exposes you to college, academy, and select-side coaches and uses the power of Goff Rugby Report to get your name out there.
Team Spotlight: Berks County
Berks prop Nate Keller battles through against Aspetuck. Photo Berks Rugby.
Moving up the ranks in Rugby Pennsylvania has been Berks County Rugby Club, which is only four years old, but has also found success by taking the long view.
Founded in 2016 by Greg Stelluti and Bill Pepper as a RugbyPA Youth team with a group of Under-13s. In the program's inaugural season, over 30 players took the field. And they've built from there. With three committed coaches, Lance Orndorf, Ryan Sauppee, and Justin Cassidy, joining the program, they were able to quickly create a club where the players and their parents embraced the rugby culture.
A year later, while most of the players returned to play U13s, two players aged out. That posed a problem.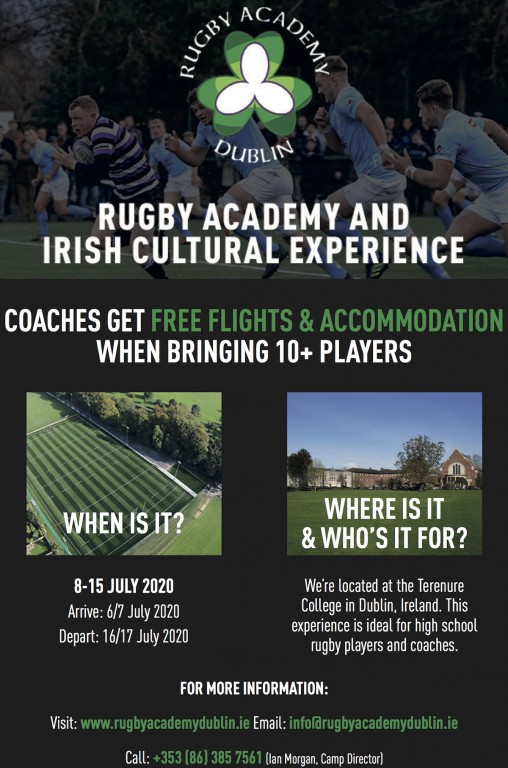 Rugby Academy Dublin is a residential summer rugby camp based in Ireland
Click on the ad image for more details, and when you sign up, please list Goff Rugby Report as your referring coach. 
Quick Growth
"We were not expecting to start the U15 team that following year because of player numbers," said Stelluti. "We quickly realized we could not let these players miss a season. We had to get recruiting."
With the returning players helping, they filled out a team with kids who had no rugby experience. One of those returning players was Seth Kramlich, who is now the Berks co-captain and will join Life University next year. The team did well, making the state semifinals.
That same 2017 season, the Youth U13 team was a powerhouse going undefeated and winning most of their games by large margins. In the state championship game, the Berks U13s fell behind for the first time all season. But they battled back and took the title in only the program's second year. 
That season also saw the addition of coaches Shane Waddy and Paul Shingleton, expanding their capacity.
U13s Move Up
In 2018 the bulk of that championship U13 team moved up to U15s. The Berks U15s lost just once in the regular season, and avenged that loss in the final with a 27-16 comeback victory.
"When we started the club, we were never anticipating having a HS team in only our 3rd year," said Stelluti. "However, much like the U15 team, we could not let players not have a place to play.  We were very lucky to have dedicated coaches and we could have enough coaching at every level. We began recruiting again so we could have enough new players joining the existing players moving up."
High School Team Starts
In 2018, then, the coaches also decided to start a high school team. After some debate on whether to start in D2 or D1, they opted to start play in D1 because that's where they intended to compete. It was a brave decision as the RugbyPA D1 is a tough league.
"We knew season 1 could be difficult but we were determined to be a Division 1 club," said Stelluti. "The 2018 team was low on numbers and was a mix of young players along with a few experienced veterans. We finished the season 0-9 but gained valuable experience."
Taking, once again, the long view, Berks absorbed that winless season with an eye toward improvement. It worked out. The 2019 season was a turning point for the high school program.
Still young, Berks started to get players moving up from that original U13 team. Having that rugby experience really helped even though the players were young.
That, combined with recruiting of older students boosted the club significantly, and they opened their 2019 season with their first even D1 win. And they didn't stop, going all the way to the RugbyPA HS club championship game.
As with the U13s and U15s, the Berks HS team made it to the state final in its second year in existence. Unlike the younger teams, the HS team lost in tat final, but they did enough to get into the Goff Rugby Report Top 50.
On To 2020
With high expectations for the 2020 season, Berks started with a win over Media, and then a competitive loss to Fort Hunt, then ranked #6 by GRR.
Fort Hunt hit Berks hard early on and took a 19-0 lead after 19 minutes. Captains Kramlich and Zak Elgogari rallied the players and they scored twice to make it 19-12.
The teams played each other to a standstill until Fort Hunt ran in two scores in the final two tries.
"The boys left Virginia upset about the result but also confident in their abilities to compete with the top teams in the country," said Stelluti. The following weekend Berks hosted ranked teams West End and Aspetuck. Down 6-0 against West End, Berks rebounded with a solid forward effort. Flyhalf Zak Elgogari punched one in on a 15-meter scamper, and converted it, and then Kutztown recruit Shaheed Warren touched down. Elgogari's hit the conversion to finish it off 14-6.
Against Aspetuck, Berks was beaten 34-0 by a very strong Aspetuck team, showing them that they still have much to work on.
All of this was enough to put Berks at #21 in GRR's HS CLub Top 50. The shutdown stopped the RugbyPA season, which would have seen them against four ranked teams. 
With 45 players on the HS team, and 85 registered overall, 15 players on RugbyPA all-state teams, and ten players in Eagle Impact Rugby Academy's winter camp, and still a young group of players, Berks has every reason to expect good things going forward. And it all started with a long-term view of getting younger kids on the field. The success on the high school team was all built from that.
"We feel strongly that building from the youth team has accelerated our success and will continue to provide us with strong experience as they move up the ladder," said Stelluti.
Berks County Rugby Notes:
Atlantis 7s: Zak Elgogari, Seth Kramlich, Colton Goodman, Stephen Preval, Matt Fernandez, Oliver McQuade, Steven Flinton, Baylor Kobularcik, Riley Rowe
2019 EIRA Tour to Canada: Seth Kramlich
U13 2017 15s State Champions
U13 2018 15s State Semifinalist
U13 2019 15s State Semifinalist
U15 2017 15s State Semifinalist
U15 2018 15s State Champions
U15 2018 7s State Champions
U15 2019 15s State Finalist
U18 2019 15s State Finalist
U18 2020 Ranked #21 By Goff Rugby Report as of March 20, 2020.