SD State Wins Big, Cal Poly Falters in Calif. Conference
SD State Wins Big, Cal Poly Falters in Calif. Conference
It's pretty much all over now in the California Conference, as San Diego State put their stamp on the regular season, and Cal Poly slipped at a crucial moment.
SD State bounced back from a humbling loss to Saint Mary's (who have all but sewn up the conference at 4-0) to smash Santa Clara 92-28. 
Santa Clara did manage to score 28 on the day, but SD State's offense was explosive. Connie Hatfield photo.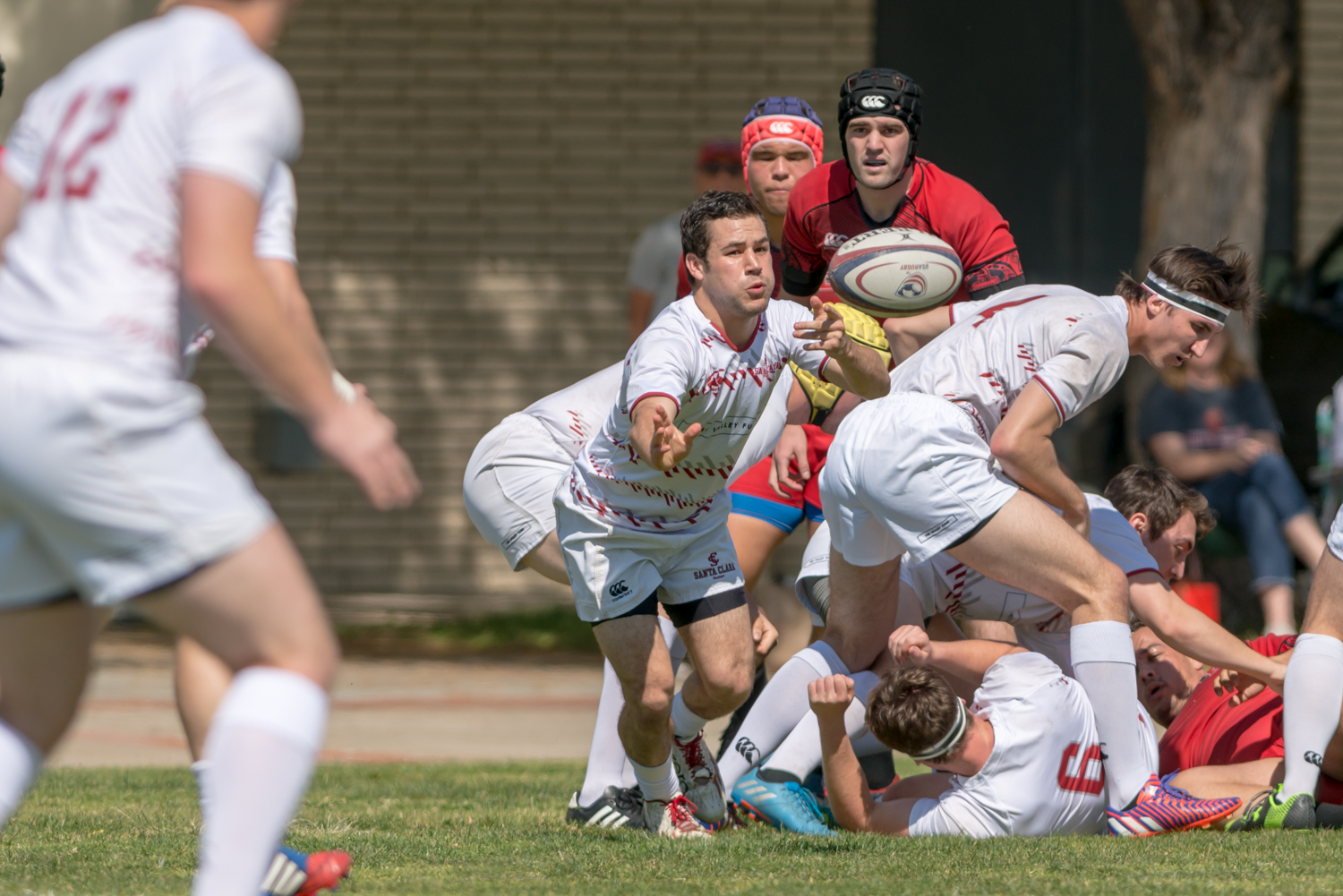 "We looked at the film of the Saint Mary's game, and we realized that we just failed to execute and run the systems that have gotten us to perform," said SD State Head Coach Alex Lichtig. "We could live with the result but not the performance we put in. The guys wanted to execute the systems we've put in. going forward we'd love to show what we can do when we run our systems against a top team like Saint Mary's or BYU in the playoffs."
Wing Jacob Zinda continues to make defenders miss and was effective once again on Saturday. Meanwhile Kurtis Schmidt has emerged as an exciting prsence in the front row and had a storng game for the Aztecs.
What was expected to be a key game in the conference coming up, April 8's SD State v Cal Poly, lost a little of its luster Saturday as Cal Poly lost 27-22 to UC Santa Barbara. While Cal Poly will still probably beat Sacramento State and be in position to finish 2nd over the Aztecs if they win April 8, SD State is now in a much better position to be 2nd, and push for a DIA playoff spot.
Cal Poly plays Sac State March 18, Sac State plays Saint Mary's April 1, and then SD State visits Cal Poly April 8.
| | | | | | | | | | |
| --- | --- | --- | --- | --- | --- | --- | --- | --- | --- |
| California - DIA | W | L | T | Pf | Pa | Pd | BT | BL | Pts |
| St. Mary's | 4 | 0 | 0 | 351 | 27 | 324 | 4 | 0 | 20 |
| San Diego State | 3 | 1 | 0 | 212 | 118 | 94 | 3 | 0 | 15 |
| Santa Clara | 2 | 3 | 0 | 174 | 296 | -122 | 3 | 0 | 11 |
| UCSB | 2 | 3 | 0 | 110 | 237 | -127 | 2 | 0 | 10 |
| Cal Poly | 1 | 2 | 0 | 79 | 140 | -61 | 1 | 1 | 6 |
| Sacramento State | 0 | 3 | 0 | 54 | 162 | -108 | 1 | 0 | 1 |