Scholz Finalist - Bryce Campbell
Scholz Finalist - Bryce Campbell
It's not easy to get capped as an undergraduate college player.
It's even harder to do that and become a regular. And it's hard still to do all of that and continue to contribute to your college team back home.
Bryce Campbell did all of that. The power-running Indiana University center is known for his physicality and coachability, and has been at the center of three years of IU dominance in the Big Ten. Teammates and opponents alike call him an animal, a monster, a beast. 
Campbell in action for the USA against Uruguay. Colleen McCloskey photo.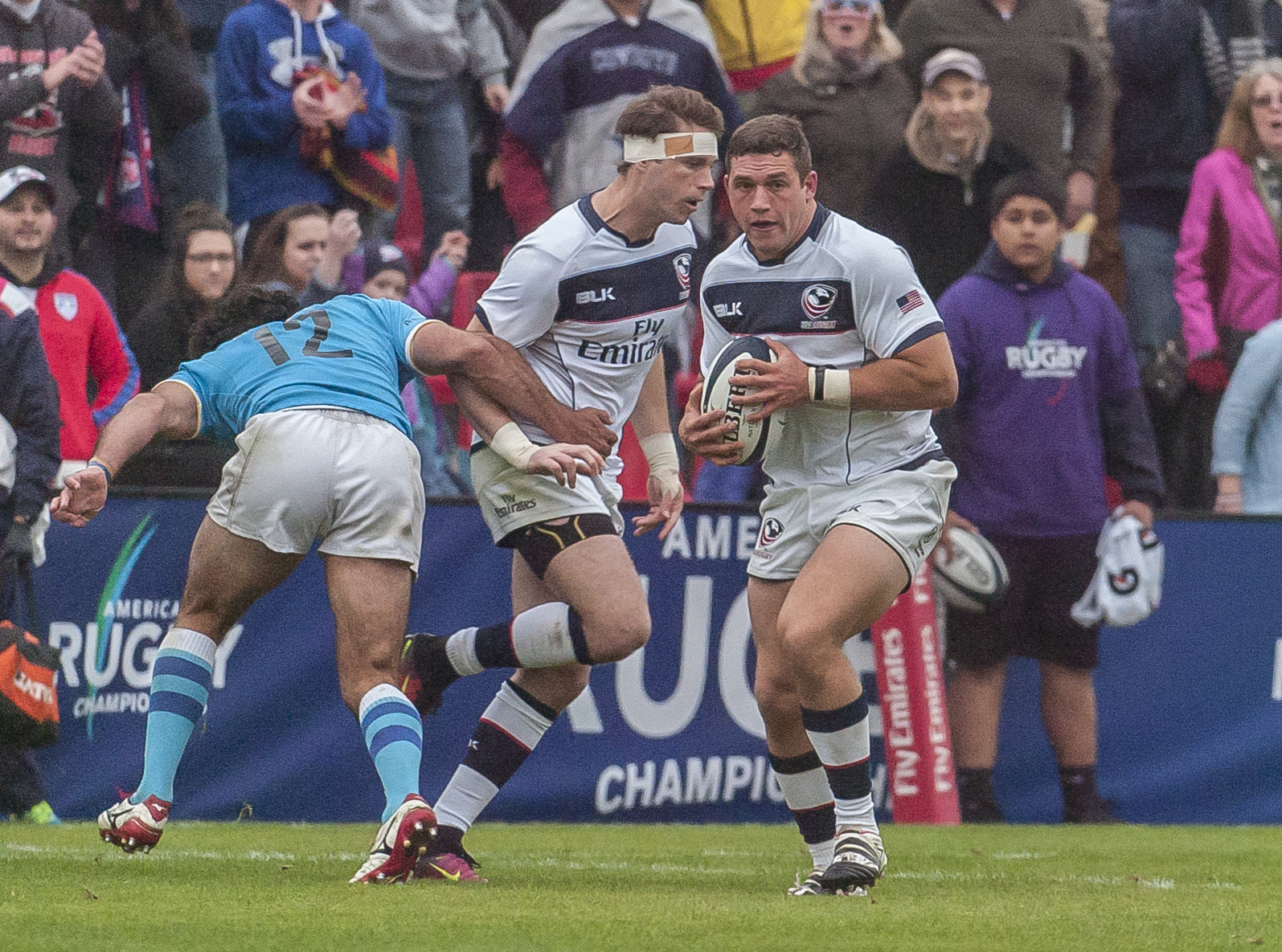 So in the end, it was little surprise that he got a callup for the USA Selects to play in a tournament in South America. There he impressed, and made an ESPN highlight as his stiff-arm on a Canadian defender left said defender unable to continue. 
(Campbell's biggest play may well have been a non-try, which we talk about here.)
From there, he was called up to the full Eagles to face Romania in November, and found himself starting in the Americas Rugby Championship opener against Uruguay. Campbell scored a try in that game, a victory for the Eagles, and again in the follow-up against Brazil. Fast-forward to the final, non-cap game against an Argentina XV, and Campbell started and played every minute of every game in the ARC.
He went from being a new face to a rock-solid automatic pick within weeks. 
"They liked me and they kept me in and I loved it and I did whatever they told me to do," Campbell said. "I didn't think I would be one of those guys, but I was, and hopefully it will stay that way."
Campbell is a Rudy Scholz Award Finalist not for his play for the USA team, but for the fact he led Indiana to a Big Ten title, and the DIA playoffs. But his play for the USA illustrates his abilities.
"In the first couple of games I wanted to get the know the guys and earn their respect, and it was tough to be new, but as the ARC progressed I felt more comfortable and knew I could give it a go," he explained. 
Among his work-ons, Campbell had been told he needed to be more communicative, and coming back to IU gave him the perfect opportunity. With Head Coach Sarasopa Enari he helped work up a training and preparation plan for the spring, which involves both 7s and 15s. 
"I am screaming my head off all time now and trying to be a facilitator," he said. "That's good because I was told with the Eagles I need to communicate better on the field. So now I lose my voice after every IU game now, which will help me going forward."
As for how playing college rugby feels? Things have slowed down a bit for him, and always a physical player, Campbell now has a new level of confidence.
"It's definitely different hitting grown men compared to college students," he said. 
Campbell began his rugby as a middle schooler, playing touch at Broad Ripple Park (Ind.) in 5th grade, moving on to tackle in 7th grade. He moved on to play for Royal Irish in Indianapolis, and credits Royal Irish Head Coach Scott Peterson with molding him as a player.
"When I was young I played flanker, and then as a sophomore made the switch to center, and Scott really taught me a lot and got me prepared and opened by eyes to part of the game I hadn't seen before," said Campbell. "He was hugely influential. "He always told me 'you're one of the best, so think like you are.' We were just these kids from Indiana, and we'd run into these big-time schools and he'd say 'they're no different than you.' And as I got older taking those steps seemed easier because he made me feel like I belonged."
Everyone knows he belongs. Campbell has been welcomed back to the IU fold as a local kid who did good, and also as a resource. He has brought back training and playing ideas to help his team, as well as his own experiences.
It all could come together for Indiana as a result.