Saint Mary's Prop Payton Telea Ilalio Wins Rudy Scholz Award
Saint Mary's Prop Payton Telea Ilalio Wins Rudy Scholz Award
Payton Telea Ilalio charges ahead against BYU. Photo: Saint Mary's Rugby
Payton Telea Ilalio has been selected as the winner of the 2019-2020 Rudy Scholz Award as the top men's collegiate rugby player in the United States.
Telea Ilalio is the first prop, and in fact the first tight five forward of any kind, to win the award. 
Fan and team voting around the country pared the group of nominees down to five finalists. Selecting the Scholz Award winner was then the task of the Rudy Scholz Award Panel, which included: Ohio State University Head Coach Tom Rooney, University of Arizona Head Coach Sean Duffy, US Naval Academy Head Coach and former All American Head Coach Gavin Hickie, Dartmouth Head Coach and current All American Head Coach James Willocks, former Central Washington Head Coach Tony Pacheco, journalist Austin Willis, and Goff Rugby Report Editor and Scholz Award coordinator Alex Goff.
Those seven panelists unanimously chose Telea Ilalio as the Scholz Award winner. Telea Ilalio earned the award thanks to a wide range of skills. A hard-nosed prop who is hugely effective in the scrum and in tight play, he also has superb hands and can attack and defend in the open field. Praised by opposing coaches in virtually every game Saint Mary's plays, the product of the SFGG youth program and Archishop Riordan High School also helped the Collegiate All Americans defeat the Canada U23s this past July.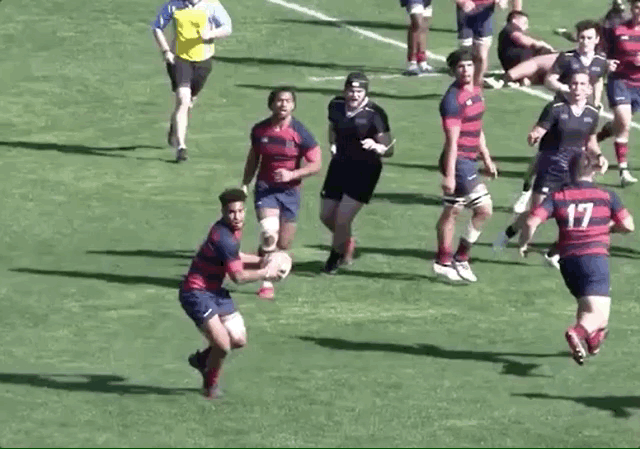 The Scholz Award is named after Rudy Scholz, who won Olympic Gold Medals in 1920 and 1924 as scrumhalf for the USA men's rugby team. He was a standout at Santa Clara, fought in two World Wards, was a successful attorney in private life, and played rugby into his 80s. He was an early example of how collegiate rugby players can have an impact on the world.
The Rudy Scholz Award is given out by the Washington Athletic Club of Seattle, Wash. every year. It was started in 2016 and Goff Rugby Report has partnered with the WAC every year to help select the recipient. Unfortunately, due to the COVID-19 outbreak, there will be no awards dinner this year, but that shouldn't take anything away from the accomplishments of Telea Ilalio and the other finalists.
"All five finalists, Payton, Connor Buckley, Tommy Clark, Patrick Madden, and Ryan Rees are excellent candidates for the award and have been playing superbly for the last couple of years," said Goff in his role as award coordinator. "They and their teams should be very proud of them. This was a tough year because of how the season had to end early, but the panel worked very hard to make what was a difficult choice."
Past Rudy Scholz Award-Winners:
2016: Dylan Audsley, Saint Mary's
2017: Bryce Campbell, Indiana
2018: Connor McNerney, Navy
2019: Harley Wheeler, Life University