Rugby Stars Controlling their Likeness: Martin Iosefo to Launch NFT
Rugby Stars Controlling their Likeness: Martin Iosefo to Launch NFT
Martin Iosefo retired from the USA 7s team after playing in Dubai this past December. Ian Muir photo.
In an intriguing shift marrying rugby and a new trend in the virtual world, former Eagle 7s star Martin Iosefo will be unveiling his own NFTs Midnight on Sunday.
Iosefo recently stepped away from the USA 7s team after playing in two Olympic games and 50 World Series tournaments, and being capped nine times for the USA 15s side including in the 2019 Rugby World Cup in Japan. He has partnered with NFT Performers, a team of professionals that provides boutique NFT income potential, virtual business ideas, and ways to connect with fans for athletes and other performers.
Iosefo will be the group's entry into rugby. 
An NFT is a non-fungible token, a unit of data that allows digital content, like a picture or a song, a video, or some other file, to be authenticated as a specific item.
Normally when you have an image you can copy it and use it, and really the only way to limit its unfettered use is to use a watermark (which essentially shames the user into crediting its source or paying for it), or somehow tracking the use of that image and chasing down payment if it's used incorrectly.
(For example, sometimes Goff Rugby Report uses images from inpho, and the deal with inpho is that we can only use a certain type of image, with the watermark and specific credit. Such as below: Photo Credit: ©INPHO/Bryan Keane )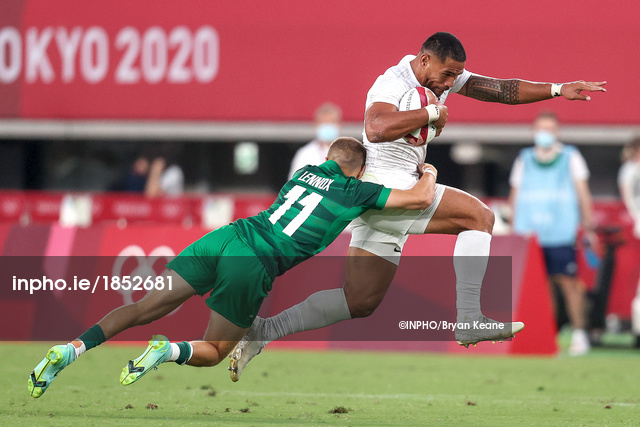 Virtual and Tangible
The to-be-unveiled NFT for Iosefo will be an artist's rendering that can be bought as a digital image in a total auction format, and you also get a T-shirt with the artwork as part of the sale. The idea is to create an income stream for athletes based on their likeness. Iosefo's photo has been taken many times—GRR has posted images of him playing rugby many times—but Iosefo or other athletes really have no control over how that image is used, and he certainly isn't paid for the use.
NFT Performers is implementing a plan whereby the group, the artist, and the performer all share in income from sale of the NFT (it's a 20-40-40 split with the artist and the performer each getting 40%). 
"We're working on something that is in the interests of the athlete or performer," said Dr. John Tinsley, a longtime rugby person and Team Leader for NFT Performers. "We can work with the athletes directly in developing an income stream. But it's not just NFTs; it's building a community, it's using the social media footprint they already have, and developing a virtual space for their fans to go."
Star Players Often Don't Own Rights to their Likeness
It's not for everyone, said Tinsley. Iosefo was chosen in part because he is recently retired and has a good name recognition, and also because he has a strong social media presence. He is an athlete who does not own the rights to the images of him playing on the Sevens World Series or in the Rugby World Cup, but he can own rights to other images.
"Martin, for all he has done in his career, doesn't have the rights to his likeness from playing," said Tinsley. "So we are helping him create NFTs so he can have residual Income well after his playing days."
This plan is somewhat related to the move to allow NCAA athletes to gain income from use of their likeness (T-shirts, posters, marketing), and in fact sometimes those athletes will find that they retain rights to their likeness from their NCAA days, but not when they play for a professional team thereafter. So finding where an athlete can control his or her rights, especially in a digital world where anything can be screen-grabbed, is a key aspect of the growth of the NFT business.
For high-profile American rugby players, many of whom put their heart into the game for little income, this could be a way to leverage their accomplishments after they retire.
People can buy a Martin Iosefo NFT and be sure it's an original, and that it is endorsed by Iosefo himself. 
This will all be launched at midnight ET on Sunday, February 6. 
See NFT Performers Portal Here>>