Rugby Journalist Legend Ed Hagerty Has Died
Rugby Journalist Legend Ed Hagerty Has Died
Just a typical column bay Ed Hagerty, this one from 1978.
American rugby publishing icon Ed Hagerty has died at the age of 80.
Hagerty was the Editor of Rugby Magazine for over 30 years, and was the lone source of new in American rugby for decades. He was a hugely passionate rugby man, a former captain of Holy Cross and Old Blue NY, and an unflinching voice in support for the game.
Hagerty loved rugby and was a mentor to many in the game, including GRR Editor Alex Goff and The Rugby Breakdown Editor Jackie Finlan. Even after he was no longer Editor of the magazine, Hagerty worked, writing articles and taking photos. He still had an eye for talent, as evidenced by this photo of a young Nate Ebner:
One Man's Quest to Get Americans to Care About Rugby (NY Times)
Ed Hagerty Inducted into the US Rugby Hall of Fame
After retiring from Rugby Magazine Hagerty could often be seen bicycling around his hometown of New York City. Unfortunately, in 2015 he was in a bicycle accident that left him paralyzed.
This, coupled with memory issues led to him being transferred to a 24-hour care facility, where, while his memory was fading, he remained a huge rugby fan and watched rugby almost every day.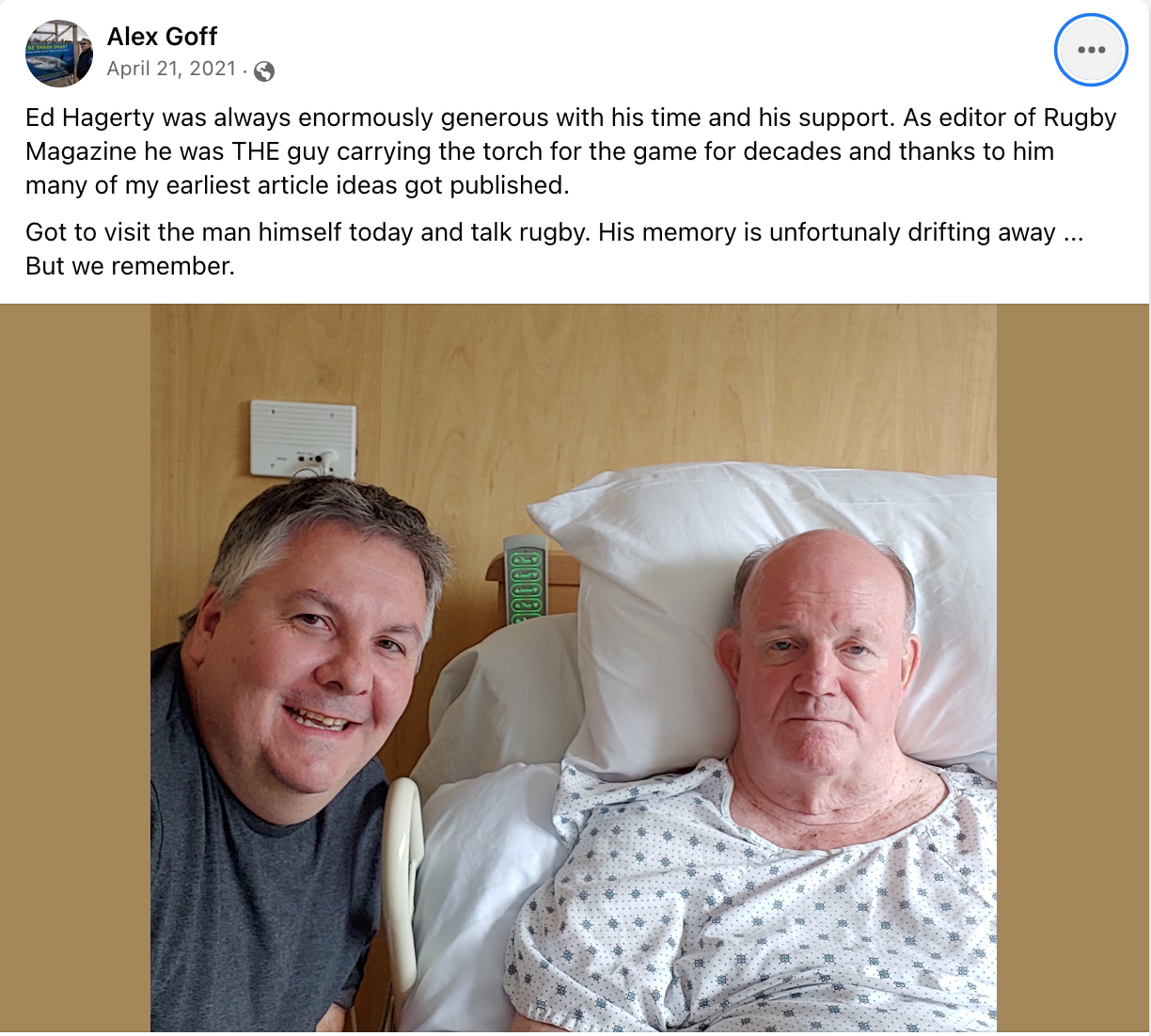 Hagerty passed away this weekend. Details or not available at this time, but it is important to remember that in an era before social media, the internet, or even rugby available on television, Ed Hagerty was the only portal for American rugby fanatics to learn about what was happening in the game.
Not always popular, not always agreed-wth, he remained an unflinching advocate for the sport his entire life.