Ramblin Jesters Young 7s Player Of The Month: Shane Barry
Ramblin Jesters Young 7s Player Of The Month: Shane Barry
The Ramblin' Jesters finally get one of their own on these pages.
The touring side, which draws mostly from players in the UK but also from elsewhere, made the final of the RugbyTown 7s late in August, and did so with some UCLA talent on board.
The Ramblin' Jesters is an elite invitational sevens team in the grand tradition of the Barbarians and other compilation teams, operating out of London in the UK.  
They have won the Rosslyn Park Floodlit 7s (beating London Irish and five-time winners Harlequins en-route to the final) and the Rugby Rocks Festival in London and the Copenhagen 7s in Denmark. 
In addition, the team has also finished runner-up tp the German national team in the Nancy 7s tournament in France, and, on their first trip to the USA, took third place in the SereviRugbyTown 7s in Glendale Colo., finishing 6-1, and losing only to the eventual winners, Denver.
The Ramblin' Jesters are keen to grow their US activity and connections and create opportunities for players on both sides of the Atlantic to play rugby to an elite level.  
The Ramblin' Jesters are pleased to sponsor this Goff Rugby Report USA Young Sevens Player of the Month Award.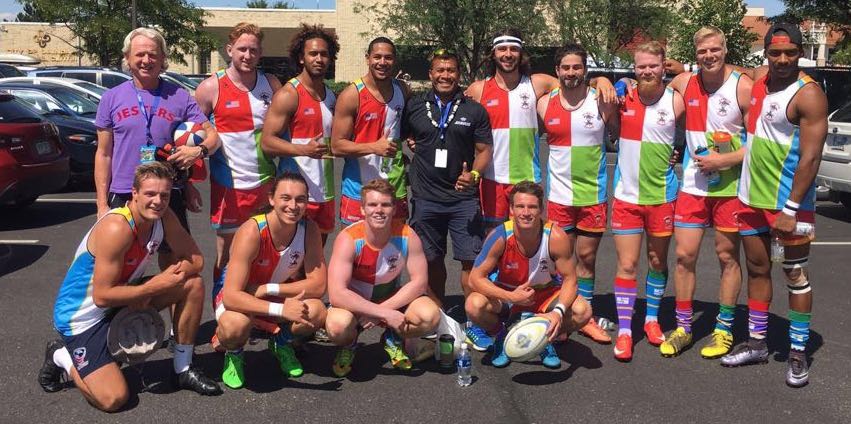 One of those hasn't even taken a class at UCLA yet - Shane Barry. Barry was one of the playmakers for the Jesters, and despite not even being a freshman in college, and that's partly because he is part of an impressive rugby pedigree.
Shane's older brothers Niall and Cian have both captained at UCLA, and his father, David, runs the Ramblin' Jesters. UCLA head coach Scott Stewart is plenty happy to have another Barry in a Bruins jersey.
"He runs like Niall, but I think all of them have a bit of the other in the way they play," said Stewart. "Shane has incredible poise despite his age, and his rugby IQ is really impressive. He is so calm under pressure - that's what has impressed me the most."
Barry played with the Eagle Impact Rugby Academy and was in fact suiting up against Stewart's home province of British Columbia as a 14-year-old. Then he was impressive and didn't back down from the physical side of things. That's still true (see above).
There's plenty to do at UCLA, and some years to do it in, but watch out for this one.
Shane Barry is our Ramblin' Jesters Young 7s Player of the Month.