Ramblin' Jesters Young 7s Player of the Month - Isaiah Lopez
HS Rugby Players—Get Noticed!
Put your player info into our Player Recruiting Data Base. It's free, and it exposes you to college, academy, and select-side coaches and uses the power of Goff Rugby Report to get your name out there.
Ramblin' Jesters Young 7s Player of the Month - Isaiah Lopez
As New England College runs through another fall 15s season, the team is looking for leadership from several players, including Isaiah Lopez.
The Ramblin' Jesters is an elite invitational sevens team in the grand tradition of the Barbarians and other compilation teams, operating out of London in the UK.  
This year they won the Rosslyn Park Floodlit 7s (beating London Irish and five-time winners Harlequins en-route to the final). The Jesters also won the Rugby Rocks Festival in London and the Copenhagen 7s in Denmark. 
In addition, the team also finished runner-up tp the German national team in the Nancy 7s tournament in France, and, on their first trip to the USA, took third place in the Serevi RugbyTown 7s in Glendale Colo., finishing 6-1, and losing only to the eventualy winners, Denver.
The Ramblin' Jesters are keen to grow their US activity and connections and create opportunities for players on both sides of the Atlantic to play rugby to an elite level.  One demonstration of this initiative was that last week the Jesters had a squad of 13 players in Glendale, of which seve were US-based college players, all under the age of 21. Those players mixed with players from overseas for a unique playing experience.
The Ramblin' Jesters are pleased to sponsor this Goff Rugby Report USA Young Sevens Player of the Month Award.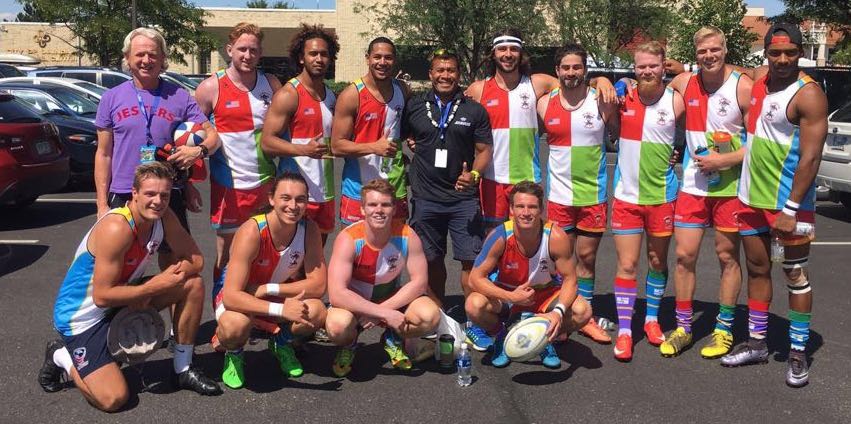 Lopez brings to the game plenty of talent and leadership, and he also brings skills he has honed as a high-level 7s player. During summers Lopez has consistently tried to challenge himself by playing with major clubs. In the summer of 2015 he was a key member of the Santa Monica club that made it to the club national tournament. This past summer, he and Ian Luciano played for Mystic River in the Boston area, helping that team make nationals. Everywhere he has played, on both coasts, he has performed. 
And it's true overseas, too. Lopez played in New Zealand for the Hautapu club, making the A-side and playing alongside Super Rugby players.
He's an excellent example of a young college player trying to make himself better however he can.
"I have really enjoyed going to play for these top teams and then trying to bring something back for the younger guys," Lopez told Goff Rugby Report. "We've got a lot of young players here at NEC and a new coach, and I'm really proud of how hard they've been working."
Lopez said he loves 7s and 15s, but the junior is thought to perhaps have a slightly brighter future in 7s. The La Quinta, Calif. native can play flyhalf, center, and prop in 7s, as his powerful build and turn of pace make him a versatile performer. But for many who know him, it's all about the attitude. Lopez is a player to watch, and our Ramblin' Jesters Young 7s Player of the Month because he works really hard to challenge himself.
Isaiah Lopez rugby career at a glance:
2015 All NSCRO 15s,
2015 ECRC Honorable Mention, Fall 2015 Lead team in tries, 2013 LQRFC MVP, ( high school)
2014 Invited to MJAA U20s camp in Tempe, Az.
2013-2014 Hautapu Premiere A (Cambridge, NZ)
2015 NEC First XV (NSCRO National Champions)
2015 NEC 7s (NSCRO Runner-up)
2015 Santa Monica RFC Mens Club D1 National 7s (Des Moines, Iowa)
Fall 2015 NEC First XV (ECRC 3rd Place)
Spring 2016 7s USA collegiate D1 7s, Cary, NC - 11th place.
2016 Mystic River Men's Club D1 National 7s