Ramblin' Jesters Young 7s Player of the Month - Cristian Rodriguez
Ramblin' Jesters Young 7s Player of the Month - Cristian Rodriguez
Rodriguez in action for Lindenwood. Photo courtesy Lindenwood Rugby.
Speeding down the sidelines to win 7s games for Lindenwood, Cristian Rodriguez is one of several talented young rugby players for the Lions who helped the St. Charles, Mo. outfit win their 2nd USA Rugby 7s College Championships in the last three years. 
Small of stature but quick, strong, and intelligent, Rodriguez has been a sparkplug for Lindenwood.
The Ramblin' Jesters is an elite invitational sevens team in the grand tradition of the Barbarians and other compilation teams, operating out of London in the UK.  
This year they won the Rosslyn Park Floodlit 7s (beating London Irish and five-time winners Harlequins en-route to the final). The Jesters also won the Rugby Rocks Festival in London and the Copenhagen 7s in Denmark. 
In addition, the team also finished runner-up tp the German national team in the Nancy 7s tournament in France, and, on their first trip to the USA, took third place in the Serevi RugbyTown 7s in Glendale Colo., finishing 6-1, and losing only to the eventual winners, Denver.
The Ramblin' Jesters are keen to grow their US activity and connections and create opportunities for players on both sides of the Atlantic to play rugby to an elite level.  One demonstration of this initiative was that last week the Jesters had a squad of 13 players in Glendale, of which seven were US-based college players, all under the age of 21. Those players mixed with players from overseas for a unique playing experience.
The Ramblin' Jesters are pleased to sponsor this Goff Rugby Report USA Young Sevens Player of the Month Award.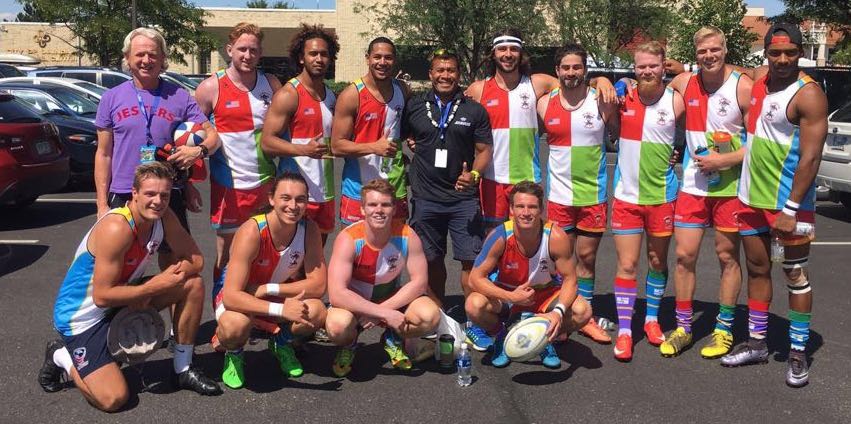 "Winning nationals was fun," said Rodriguez. "We're really excited, but we weren't able to think about it too much because we started practicing right away afterward for the CRC."
Head Coach Josh Macy said the team in general had to decide how they wanted to compete and how hard they wanted to work, and Rodriguez acknowledged that it was important for the players to embrace.
"We did talk about it," he said. "We qualified for the CRC and then we looked as it and we wanted to go to Nationals. So we said let's figure out a way we can go, and then we need to figure out a way we can win. Winning Nationals was good and a goal, but it's not the end goal."
They want to win both the USA tournament and the CRC.
For Rodriguez, his rugby journey started as a kid southern LA County. He joined some friends playing touch with the Hawaiian Gardens program.
"It was more of a thing where kids were playing touch to keep kids off the street," said Rodriguez. "It was fun."
For some of the kids, you might list them as "at risk" and while Rodriguez said he wasn't a potential troublemaker, he saw the value of rugby for the kids he knew.
"My mo and my family are super supportive and I wouldn't said I was at-risk, but where I'm from it's definitely easy to fall into trouble, and a lot of my friends have. For me, though, I really loved playing rugby. My sophomore year I tried out for the Southern California Griffins team, and that was a turning point for me."
Rodriguez saw what it would take to be an all-star level player, and he was an important part of the Griffins team as a senior. Then Lindenwood Head Coach JD Stephenson saw him play, and recruited him to Lindenwood.
"Things started going on up from there," he said. "It's been great. What I love is the chemistry, and at Lindenwood we've got great chemistry. Whatever we do it comes down to chemistry. The boys are pretty close, and whether it's defense or offense, it's chemistry that makes it work."
Cristian Rodriguez is our Ramblin' Jesters Young 7s Player of the Month.