Ramblin' Jesters 7s Player Of The Month - Royaal Jones
Ramblin' Jesters 7s Player Of The Month - Royaal Jones
Scoring tries comes easily for Jones. Colleen McCloskey photo.
Don't you just love speed?
The Ramblin' Jesters is an elite invitational sevens team in the grand tradition of the Barbarians and other compilation teams, operating out of London in the UK.  
This year they won the Rosslyn Park Floodlit 7s (beating London Irish and five-time winners Harlequins en-route to the final). The Jesters also won the Rugby Rocks Festival in London and the Copenhagen 7s in Denmark. 
In addition, the team also finished runner-up tp the German national team in the Nancy 7s tournament in France, and, on their first trip to the USA, took third place in the Serevi RugbyTown 7s in Glendale Colo., finishing 6-1, and losing only to the eventual winners, Denver.
The Ramblin' Jesters are keen to grow their US activity and connections and create opportunities for players on both sides of the Atlantic to play rugby to an elite level.  
The Ramblin' Jesters are pleased to sponsor this Goff Rugby Report USA Young Sevens Player of the Month Award.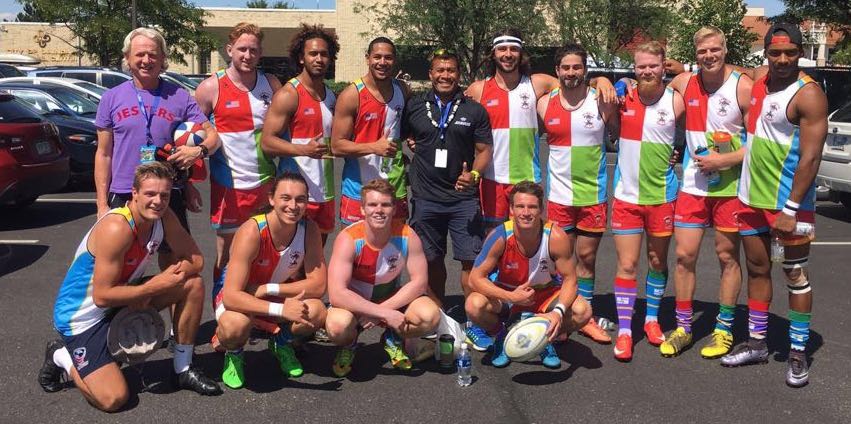 If AIC is going to blow teams away in 7s this spring, the speed of one Royaal Jones will be a key part of it.
The former Hudson Catholic standout is now in his sophomore season at American International, and perhaps ready to break out.
AIC played for the Bulldog 7s team in the New York 7s this past fall, working with much older players and helping Bulldog to the NY 7s final. He already has a taste of select side rugby, and will suit up for the Landsharks at the Las Vegas Invitational.
He got notice at the CRC last spring, and should be older, more mature, and stronger this year.
"He has elite-level acceleration and speed," said AIC Head Coach Rob Guiry. "But he's not just a track athlete. He works hard to develop as a rugger - he's a student of the game. He watches a lot of rugby to learn. He's aggressive, strong for his size, and really hungry."
Being relatively small, Jones knows his chance at national-team-level rugby is probably through 7s. That's just fine with everyone involved. He is developing good field awareness, and has a very high ceiling. 
Royaal Jones is our Ramblin' Jesters Young 7s Player of the Month.