R7CC All About Big Events and Big Dreams
R7CC All About Big Events and Big Dreams
Penn State and Indiana will be at the R7CC. Andy Marsh photo.
(Opinion Column by Alex Goff)—With talk around American rugby about the 15s World Cups and the Olympics, it seems important to view the game, sometimes, in the context of making it a big deal.
Big events, big stories, big championships matter, and it's on the shoulders of such events that we can build success in a World Cup or an Olympic event. The American rugby fan, when asked, has stood up to be counted several times—Chicago, Las Vegas and LA. Even the 7s World Cup in 2018 in San Francisco should be counted as a success when you are talking about fans. Yes, it was managed in such a way that the event lost money, but that wasn't the fans' fault. They showed up. They were loud and enthusiastic and spent money.
Get your tickets to the R7CC here>>
The R7CC this coming weekend is an event like that. Fans who are within any reasonable driving distance (we're not sure what that is because we'll drive 10 hours to a game but you do you). With 60 teams playing in the event and a truly elite group in the Gold divisions—the uniqueness of the Women's Gold Division can hardly be overstated—this is a showcase of over 700 student-athletes and 60 fan based.
It's on NBC and their affiliate chancels and streaming channels. It's in a professional environment where student-athletes will have medical and training support, training facilities, and proper food.
From Food to PT to Where to Chill, the Athlete Experience at R7CCs
R7CCs: Where the Athletes Will Stay and Why That's Important
And there's a real professional stadium to play in and professional-level fields to compete in.
This has been, and will be, an important event within the American rugby calendar, because these events should have fans, and viewers on TV/streaming, and people reading about it on these pages. they should have all those things because we as a rugby community are trying to build big events. We want non-rugby people to come to games and tournaments, whether it's MLR or the LA 7s or the World Cup or the Olympics. We want them to do that because it elevates our sport, and brings more players into the game.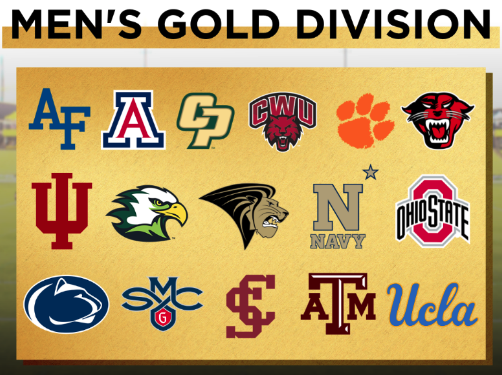 If you're on the fence about going to the R7CC May 14-15 at Kennesaw State University in Atlanta, get off the fence. It's a chance to see something big, professionally done, and brilliantly played. This event is likely the culmination of many players' rugby careers—certainly in college. There are teams that have never competed for a national-level championship who are there. The pride they feel, and the effort they've put into the chase is something worth seeing, and worth supporting.
Get your tickets to the R7CC here>>