Program Spotlight: Raleigh
Program Spotlight: Raleigh
Jullia Stone looks for some support for the Raleigh girls team. Mark Brocker photo.
Coming out of the Carolina Ruggerfest with some enviable experience was the Raleigh Rugby Club.
Not to be confused with the Raleigh Redhawks (who had their own positive news this month), and Raleigh Club covers youth and high school programs throughout the different brackets. Coed teams at the U10 and U12 level, Middle School Girls, U14 Boys, and HS Boys (Rattlesnakes) and Girls (Cobras) all played.
Overall, the Raleigh Rugby Club fields ten teams from ages 4 to adult, with 250 members. Started as the Raleigh Vipers men's team, which then expanded to the Raleigh Venom women, both teams that have enjoyed major success on the national stage, the club has further grown as older players have retired and gone into coaching.
Focus On Youth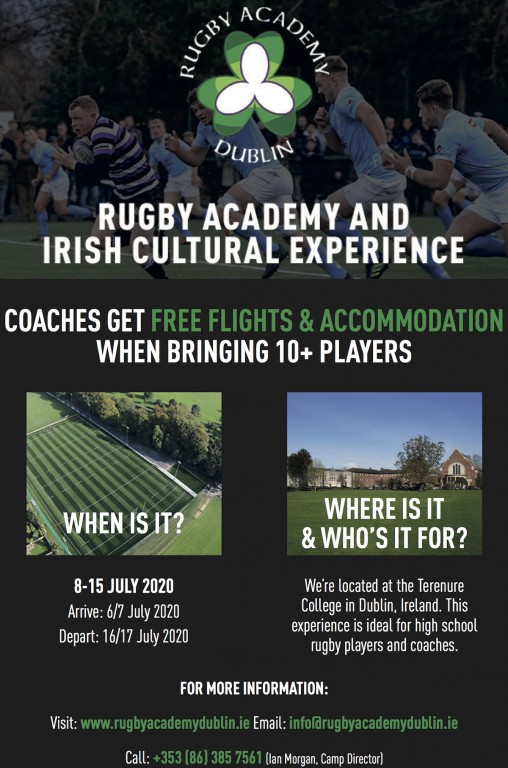 Rugby Academy Dublin is a residential summer rugby camp based in Ireland
Click on the ad image for more details, and when you sign up, please list Goff Rugby Report as your referring coach. 
It all came from a meeting with the club leadership on how to ensure long-term growth for the club. Club president and Girls HS Head Coach Adrienne Bryant said the conclusion was clear: "we had to focus on youth," she said. 
They started the Rattlesnakes Boys HS team, and worked from there.
"We are already starting to see players who played with the Rattlesnakes go to college, player there, and come back to play with our club," said Bryant.
Still, it takes work. Recruiting is a big part of maintaining numbers in any team, and new Head Coach Johnny Mack is now working hard on recruiting to build up the Rattlesnakes. 
He has a solid squad that beat Wando in Ruggerfest. Junior No. 8 Isaiah Stephenson is a dynamic attacker who leads from the front and displays a high work rate.
Games Get Girls Coming Out
For the girls, Bryant started small and just decided that starting was what they had to do.
"When we started the boys team we started to get messages from girls asking where they could play," said Bryant. "We decided that instead of sending them somewhere else, we'd bring them into the club."
In the end, they had only four or five girls at practice, but they kept coming, and the club formed a partnership with Fort Hunt, allowing the girls to join the Fort Hunt girls team at tournaments.
"So that way they got to play real games and then started to bring their friends," said Bryant.
Two years later the squad is 22 players strong, and they were challenging for the Carolina championship and going 3-1 at Ruggerfest.
The Raleigh girls are led by Julia Stone, who started out as a lock but is now a flyhalf and the team captain.
It's About The Rugby Culture
Key for these players, and the program as a whole, is their embracing of the rugby culture. 
The Raleigh coaches preach respect for teammates, opponents, and officials, and that's been a huge part of their focus. Stone and Stephenson have epitomized that, and as team leaders they've helped set the tone.
By focusing on building a youth program, and expanding it, the Raleigh Rugby Club has build a foundation for the future, not only for them, but for the city.