Player Spotlight: Kennedy Pabst
Player Spotlight: Kennedy Pabst
Kennedy Pabst challenges the defense.
While smokey skies canceled this week's Rugby Idaho fall 7s, that gives everyone just a little bit more time for teams to figure out how to stop Rocky Mountain's seemingly unstoppable Kennedy Pabst.
The Rocky Mountain varsity girls captain has been brewing up the makings of a superb season, scoring four tries in two games oin the opening week's efforts. This included a last-second breakaway try to tie their game with Mountain View. Pabst then added the conversion to win the game, one of seven conversions on the day.
_____________________________________
We need our readers' support!
Use this link to see how with a small monetary pledge you can ensure we keep reporting on these important issues. Become a Patreon Patron, or, if you want to keep a low profile, submit an anonymous donation.

Thank you to our current Patrons. We appreciate your support!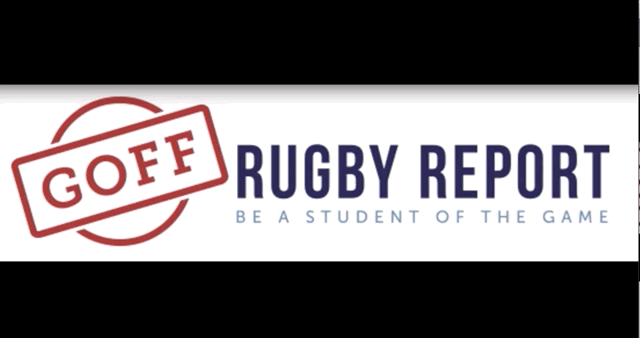 _____________________________________
Not the only good player on the Rocky Mountain team by any stretch, Pabst is still turning heads. Recruited to play rugby in her sophomore year after showing some significant talent in soccer, Pabst converted to rugby fairly easily. It didn't hurt that her dad, Mike, has played and coached the game, and her older brother, Jaxson, captained the Rocky Mountain boys team before her and played with the Evolution 7s program.
"I brought some kicking skills from soccer, for sure, and kicking off the tee was pretty easy for me," Pabst told Goff Rugby Report. "But kicking dropkicks was a different story. I would mess up and try to change everything. I know you've got to get a routine going but I was doing it differently every tine. I think I have my routine down more now."
Pabst had watched her brother play, and was comfortable with how the game flows, but she still had adjustments to make.
"I understood the calls and the way the game is played, but then there was tackling people—that was a little rough," she explained. "I think everyone can always work on their defense, and that's certainly true of me."
Overall, despite the fact that a large number players from last year graduated, Pabst feels the Rocky Mountain team is poised for big things. She and Teuila Nawahine are the two most senior players, and they've taken on a key leadership role.
"We're friends and we kind of work together well and know how each other plays," said Pabst. "That way we can help the younger girls. The coaches are great and [Head Coach] Jeff Harward teaches us all a lot, but we're the players who've been in the middle of it so we're able to talk to the JV girls about what it's really like."
And there are a lot of JV girls. Rocky Mountain's Varsity team is young, and they're fielding two JV teams as well.
And the advice she gives? Challenge the defenses.
"Our team works pretty deep and we run up hard a lot, and I just keep telling them, if you hit the line hard, they're going to try to arm-tackle you, and if you run hard, you can usually break through."
That's how Pabst is scoring a lot of her tries, but it's good advice—make them stop you. So far that's been a tall order.
Usually a prop in 7s, Pabst has moved to flyhalf to fill in for an injury. She loves it, and secretly (or not-so-secretly) hopes she won't be moved back. In 15s she's a lock, although probably a bit short at 5-6 to play that position long-term. She is a punishing runner and a hard worker, and probably will burn defenses wherever she plays.
Keep an eye on Kennedy Pabst.