The Party that is LA Sevens
The Party that is LA Sevens
USA@ USA! USA! David Barpal photo.
The 2022 Sevens World Series caps off in Los Angeles August 27-28 and organizers are talking about it being a multi-level celebration.
With the LA 7s (obviously) getting a champion, the World Series crowning a champion, and the end-of-year awards for best players of the year, there's a lot going on.
Much at Stake at LA 7s in August
But this s also something of an end-of-summer bash and the fans always get in on the action.
If you are not especially familiar with the Sevens World Series, this is a series of 7-a-side rugby tournaments played by national teams in tournaments around the world. Dubai, Singapore, Malaga, London ... the tour goes everywhere. And with the tournament style of up to 48 14-minute games over a weekend, fans have plenty of time to enjoy the action and also get up to all sorts of shenanigans.
Buy tickets to the LA 7s here>>
As is the case in the rugby world, fans express their enthusiasm not by getting stroppy with fans from other teams, but by getting friendly. With 12 or 16 teams at a tournament, you're bound to run into someone cheering for another nation. Often what happens is you end up cheering for another country, too.
It's the ultimate peace tour, with fancy dress. The tradition is, fans dress up. Sometimes in themes.
Buy tickets to the LA 7s here>>
Sometimes the themes fit together. In 2020 we ran into Noah and his animals going on the ark. They teamed up with a bunch of giraffes and formed a bigger animal-rescue theme. Photo Alex Goff.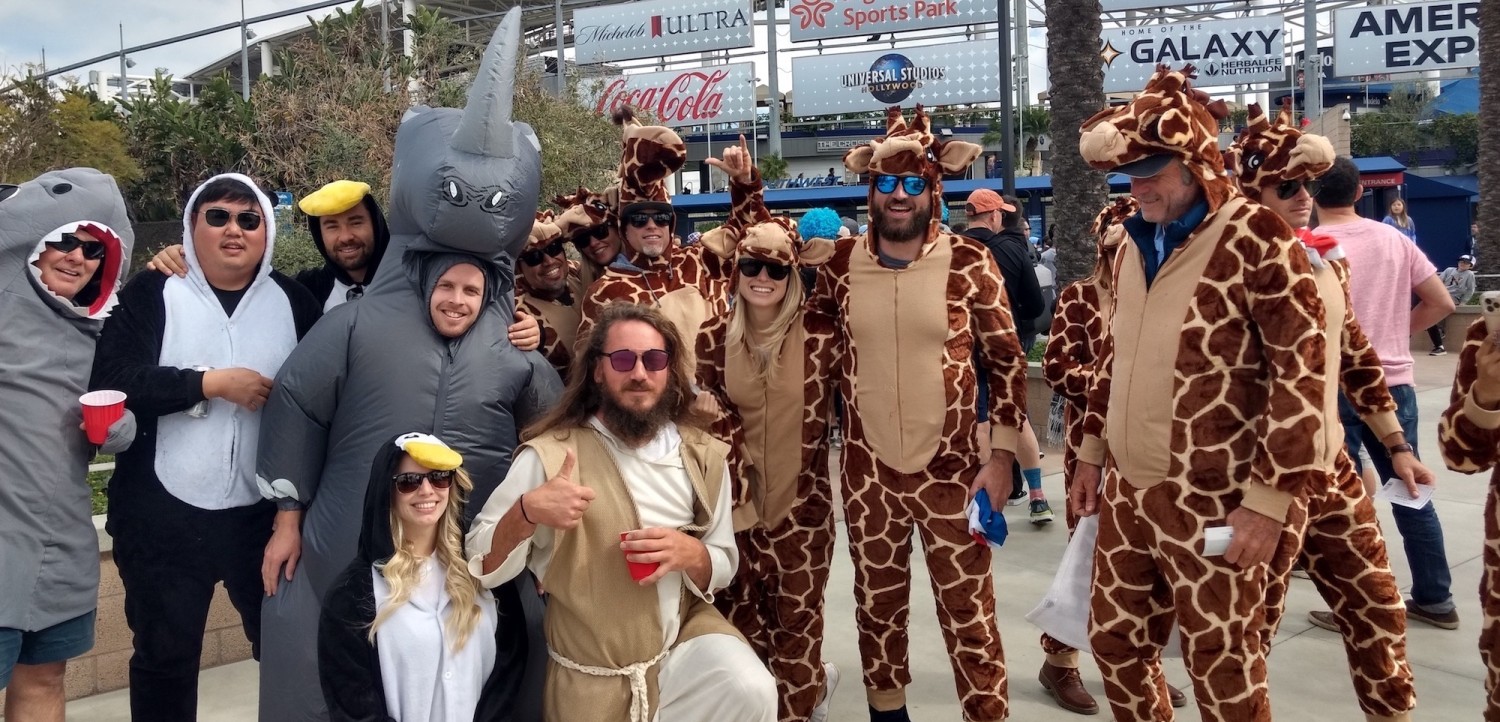 The rest of the photos below are all from the LA 7s in 2020 and are all from David Barpal.
Who are these fans? They're for FIji. That blue doesn't show up anywhere else. Photo David Barpal.
Napoleon, Maximus, and Homer Simpson walk into a bar ... Photo David Barpal.
Buy tickets to the LA 7s here>>
Dude that top is never going to cover your whole torso. No problem, man, I have a plan. Very devil-may-care. Photo David Barpal.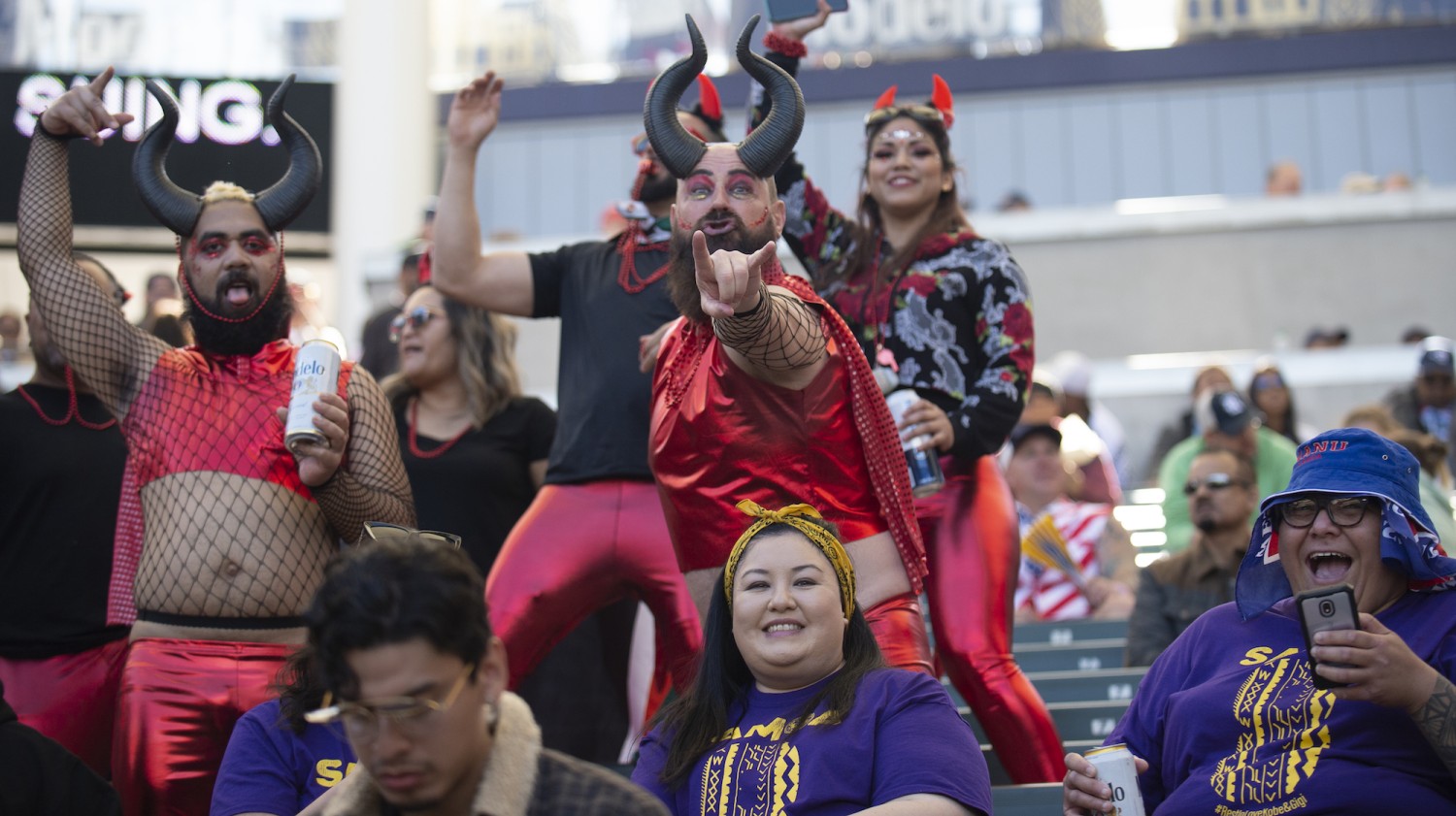 (Side note these guys were pretty good dancers.) 
Need an excuse to dance? @LASevensRugby Tix on sale now. https://t.co/iYVkEhLD9H pic.twitter.com/GIVUWKHX8Y

— Alex Goff (@goffrugbyreport) December 16, 2021
One of the great things about the World Series is how the players interact with the fans. This is especially true once a team has no more games to play. They tour around the stadium shaking hands with fans and, as you can see, taking selfies. Photo David Barpal.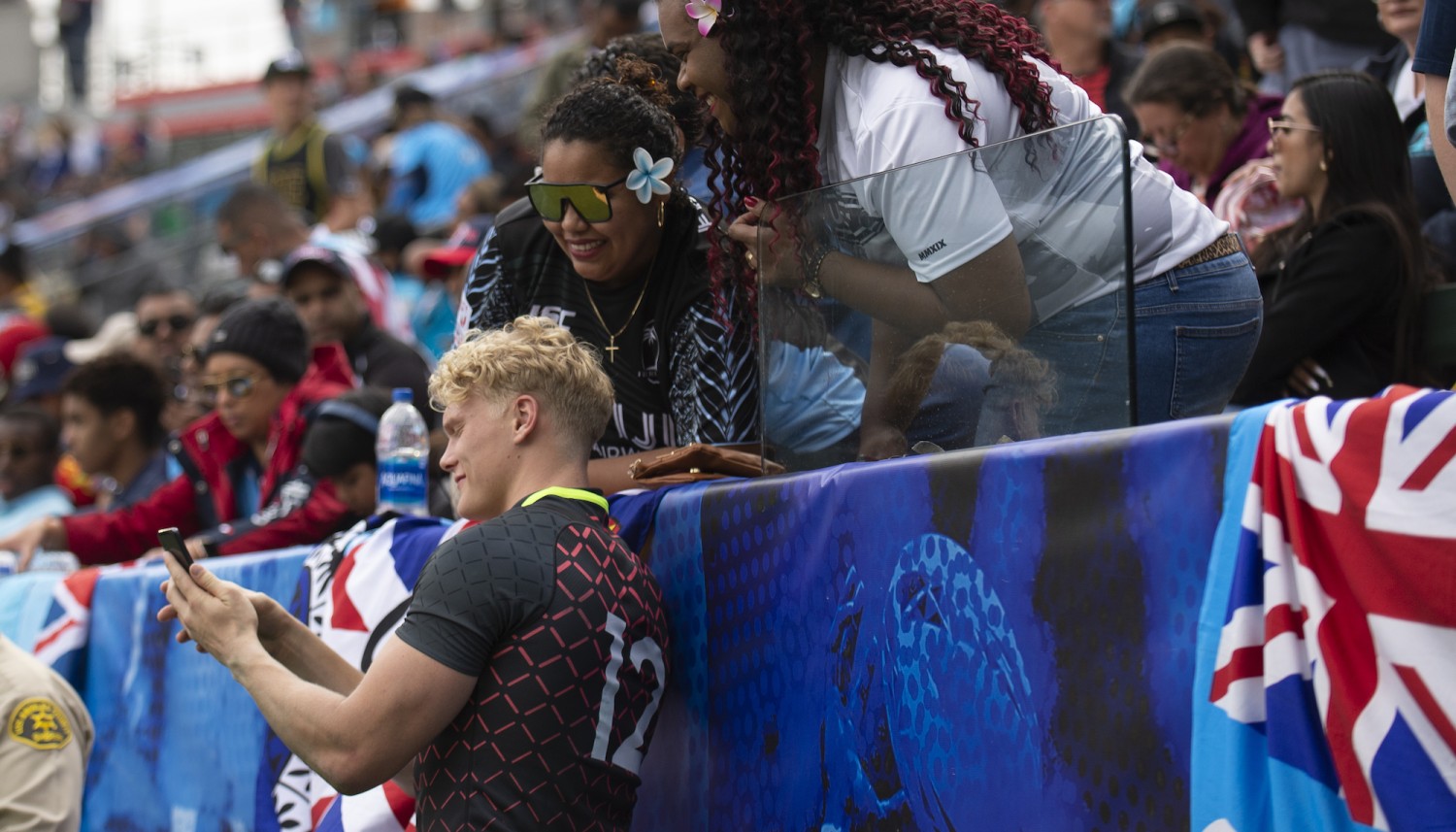 The giraffes again, this time proving they are better dancers than Uncle Sam(s). Photo David Barpal.
Wardrobe malfunction? No such thing. Photo David Barpal.
Sometimes there are no words. Photo David Barpal.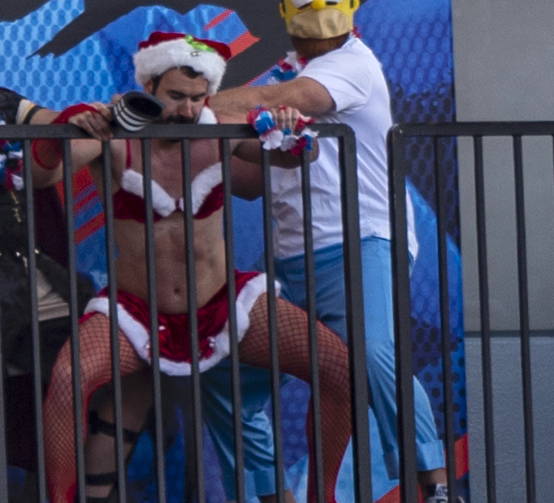 OK, maybe a couple of words. He looked in the mirror that morning and said "yes, this is what is going to move the needle."
And, finally ... you ever notice in TV shows that whenever a prisoner is transported, the prisoner manages to escape or be rescued? Maybe this is why. The restraints, officer, go on the wrists or ankles. David Barpal photo.
Buy tickets to the LA 7s here>>