Overseas Experience Fuels Utah Lion
Overseas Experience Fuels Utah Lion
Charity Tenney in action for the Lions in Austria. Patrick Barnes photo.
The Utah Lions Girls team has been enjoying a pretty good summer, what with winning the United World Games in Austria, and then finishing second to a national-level Canadian team in the Victoria International 7s.
Next up? The North American Invitational 7s July 29-30 at the Salt Lake Regional Athletic Complex in Utah. This is the team's home tournament, essentially.
In Victoria, the Lions beat Canadian opponents Thunder, Crimson Tide, and Fraser Valley - all shutouts, mirroring the results from the UWG in Austria where they didn't allow a point in five games.
But against the Canada U18 team, the Maple Leafs, it was a tougher task, as the Lions lost 22-5 in pool play and, after beating BC 19-17 in the semis, lost 27-0 in the final.
"I feel like I learned a lot from the Canadian girls," said Co-Captain Seini Ieremia, " They brought a level a physicality, speed and skills, we haven't seen before and it has let me know what I need to focus on to improve my game."
Orem's Charity Tenney was a big part of the Lions effort in both of those tournaments, and is looking ahead also to going to France with the Girls HS All Americans, powered by Atavus, where she will see those pesky Canadians again. That will be in the fall, when the GHSAA 7s program will travel to Vichy, France, for Women European Championship 7s U18
It's not always a runaway. Tenney gets taken to the turf. Patrick Barnes photo.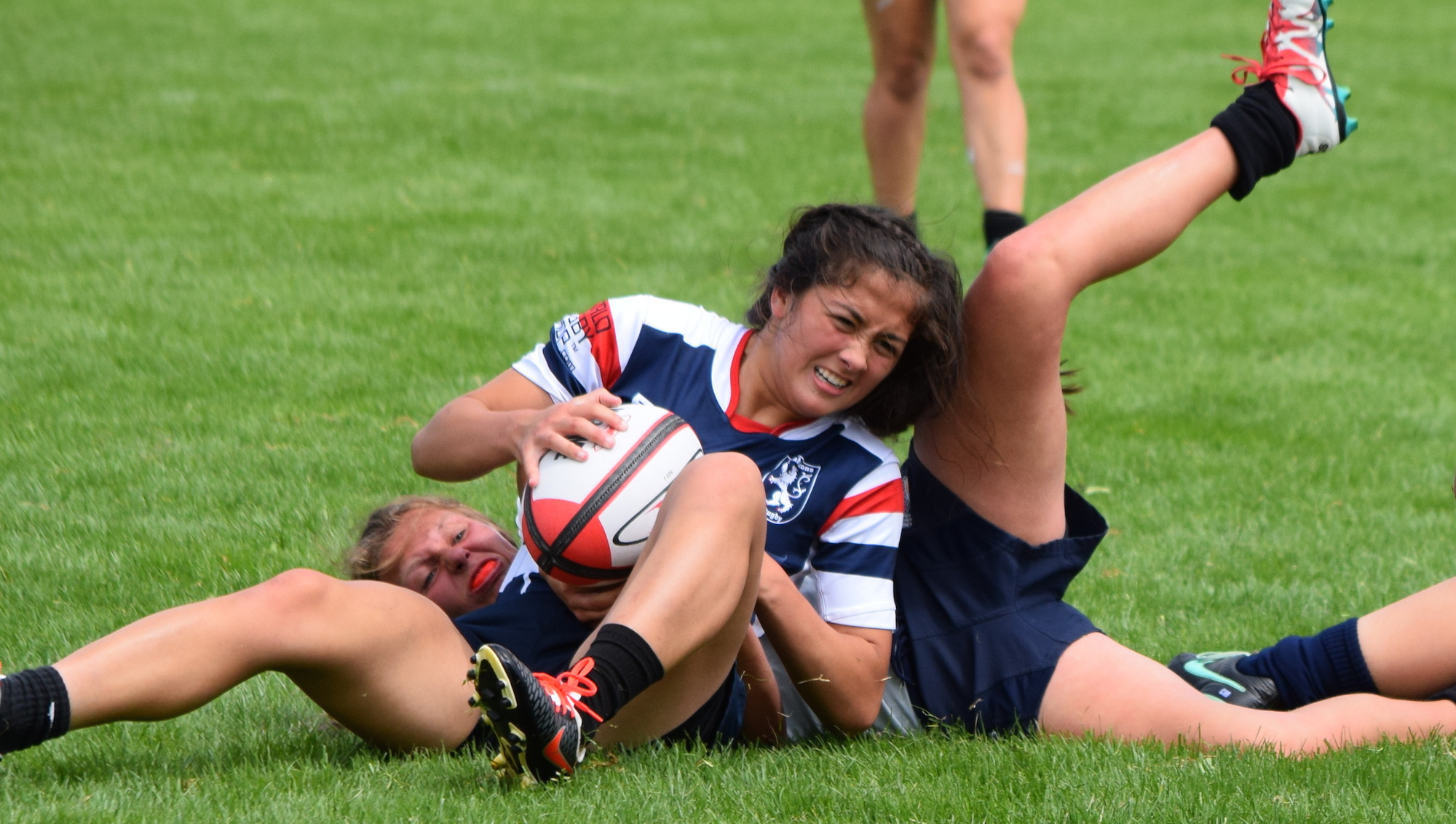 "Austria was really exciting because we could represent the USA," said Tenney. "It was kind of scary at first but it was a great experience. We went sightseeing and looking at historical sights every day, which was really great. Going to the concentration camp site - Dachau - was really emotional, really heartbreaking - but it was really important to be informed about what happened there."
Exposure to the history and culture of another country will make another European trip a little easier for Tenney, and winning some rugby games overseas did, too.
"We had no idea what the teams played like, so our coaches reminded us never to underestimate them," she said. 
After the first win, though, they knew they could take care of business - as long as they played in a unified well.
"We're all pretty good individual players, but what made us successful was that we were able to play more as a team," explained Tenney. "Bonding off the field is important. Talking about things not to do with rugby helped us a lot in Austria."
That's what will be needed with when Tenney joins the Girls HS All Americans - with the support of Atavus. Atavus has a big influence in the Girls HS All Americans, supporting the program with funding, but also with coaching expertise. Former Eagle Emilie Bydwell, who is head of rugby programming at Atavus, is also an assistant coach for the GHSAA program under another former Eagle, Farrah Douglas. The coaches will be working with the All American players on a number of levels, including taking a 7s squad to France.
It's a new group of players who don't know each other all that well, but previous traveling experiences will make it easier for players like Tenney.
"It will be much harder than the United World Games," said Tenney. "They're the top players in the nation, so playing with them will be a great experience."
Getting on a national team can be a little intimidating, too. Tenney said she's excited to show what she can do, but also feels that nervousness about measuring up. 
"I like to work really fast and have a fast work-rate, so that's important to me," she explained. "But I know I also need to get better; I need more experience in the game, play more, and learn from the other players. I haven't played with the players on the All Americans, but I have played against them."
The experience of having played out of the country will no doubt help her.