North Carolina Latest - Teams Make a Move
North Carolina Latest - Teams Make a Move
Arthur-Wong of Union County Lions fends off some attention.
The Union County Lions defeated the Chapel Hill Highlanders 36-24 this past weekend to move to 5-0 and settle into a tie with Charlotte Catholic at the top of North Carolina's HS Club standings.
Catholic, which is a single-school team that plays in the club competition because they believe it's tougher, beat the North Raleigh Redhawks 50-22 to move to 5-0 as well.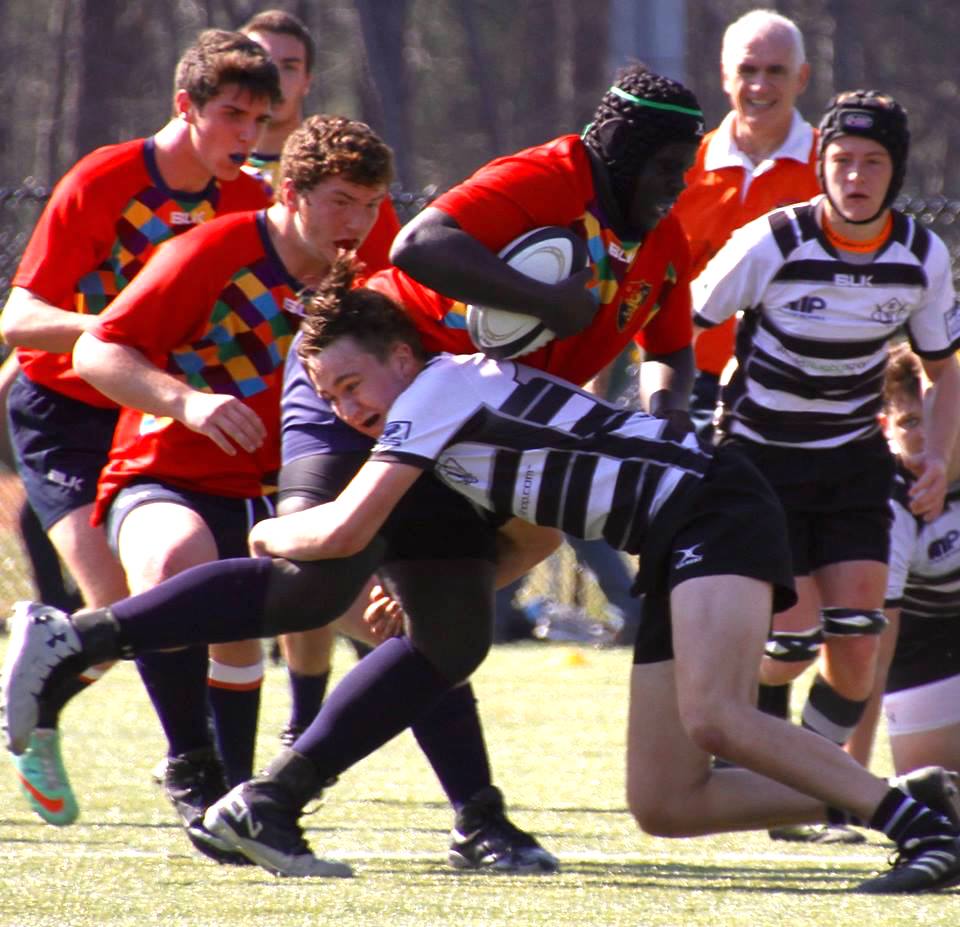 Ty Reed in action for Union County.
For Union County, beating the defending state champs was pretty gratifying, especially as injury, illness, and a red card suspension kept four starters off the field.
"We were pretty shorthanded, but the difference between this year and last year is that we are deeper," said Lions Head Coach Steve McAreavy. "We can play 18 to 20 guys without losing much at all."
Joey Hobbs scored three tries, and flyhalf Blaise Arthur-Wong had a strong game running the backline. Tarshawn Reed was excellent over the ball, holding rucks and poaching ball.
"It was a good team effort,' said McAreavy. "Everyone played well."
For Union County, this victory is a big result, as they beat a very strong Highlanders team. Also of note this week, the Raleigh Rattlesnakes edged the Charlotte Tigers 19-17 in a game that vaults the Rattlesnakes into the rankings conversation. Raleigh plays Chapel Hill next weekend and Union County a week after that. The Lions get a midweek clash with top single-school team Myers Park.
Charlotte Catholic logged a win over Myers Park last week in MSIRL action, and this weekend despite missing several starters, got a good performance from flyhalf Greg O'Shields, scoring four tries.
Speaking of the single-school bracket, South Meck moved to 5-1 with a 50-24 win over Providence HS. The Sabres scored eight tries, five in the first 35 minutes. Raelin Carpenter scored two tries and kicked five conversions for 20 points on his own. Derwin Lewis also touched down twice, and Jamel McClendon, Darius Gamble, and Sharome Henry all scored once. Lewis, the South Meck No. 8, was player of the game thanks to his offensive work, but mostly his hard work in the breakdown.
Right now the Sabres are in 1st in the North Carolina single-school league, but they are being chased. The Hough Huskies are also 5-1, but somewhat behind in bonus points. Myers Park had a bye this weekend and is 5-0. The Mustangs play Union County on Thursday and then have to turn around to face South Meck on Friday.
| | | | | | | | | | |
| --- | --- | --- | --- | --- | --- | --- | --- | --- | --- |
| North Carolina HS Club | W | L | T | Pf | Pa | Pd | BT | BL | Pts |
| Union County | 5 | 0 | 0 | 211 | 66 | 145 | 5 | 0 | 25 |
| Charlotte Catholic | 5 | 0 | 0 | 241 | 43 | 198 | 4 | 0 | 24 |
| Chapel Hill | 4 | 2 | 0 | 198 | 73 | 125 | 5 | 1 | 22 |
| Raleigh | 4 | 1 | 0 | 159 | 73 | 86 | 3 | 0 | 19 |
| Charlotte | 3 | 2 | 0 | 130 | 61 | 69 | 2 | 1 | 15 |
| Clayton | 2 | 4 | 0 | 138 | 222 | -84 | 3 | 1 | 12 |
| N. Raleigh | 1 | 4 | 0 | 98 | 196 | -98 | 2 | 1 | 7 |
| North Meck | 1 | 5 | 0 | 61 | 216 | -155 | 1 | 0 | 5 |
| Cape Fear | 0 | 5 | 0 | 54 | 189 | -135 | 1 | 0 | 1 |
| Gators | 0 | 5 | 0 | 0 | 181 | -181 | 0 | 0 | 0 |
|   |   |   |   |   |   |   |   |   |   |
|   |   |   |   |   |   |   |   |   |   |
| North Carolina Single-School | W | L | T | Pf | Pa | Pd | BT | BL | Pts |
| South Meck | 5 | 1 | 0 | 210 | 100 | 110 | 6 | 1 | 27 |
| Myers Park | 5 | 0 | 0 | 179 | 42 | 137 | 5 | 0 | 25 |
| Hough | 5 | 1 | 0 | 175 | 89 | 86 | 4 | 0 | 24 |
| Providence | 4 | 2 | 0 | 215 | 80 | 135 | 4 | 1 | 21 |
| Ardrey Kell | 4 | 3 | 0 | 183 | 175 | 8 | 3 | 0 | 19 |
| Rocky River | 3 | 3 | 0 | 257 | 195 | 62 | 5 | 1 | 18 |
| West Meck | 2 | 4 | 0 | 138 | 145 | -7 | 3 | 1 | 12 |
| NWG Vikings | 2 | 1 | 0 | 75 | 55 | 20 | 2 | 0 | 10 |
| Berry Academy | 1 | 4 | 0 | 119 | 200 | -81 | 1 | 0 | 5 |
| East Meck | 1 | 6 | 0 | 42 | 356 | -314 | 1 | 0 | 5 |
| NGuilford | 0 | 1 | 0 | 0 | 35 | -35 | 0 | 0 | 0 |
| Grimsley | 0 | 3 | 0 | 0 | 105 | -105 | 0 | 0 | 0 |