North American Teams Land In Dubai
North American Teams Land In Dubai
The NA Lions train in front of the Dubai skyline. Allison Bradfield photo.
The North American Lions and the North American Barbarians are getting set to play in the U19 International bracket in the Dubai 7s starting Thursday.
Allison Bradfield photos.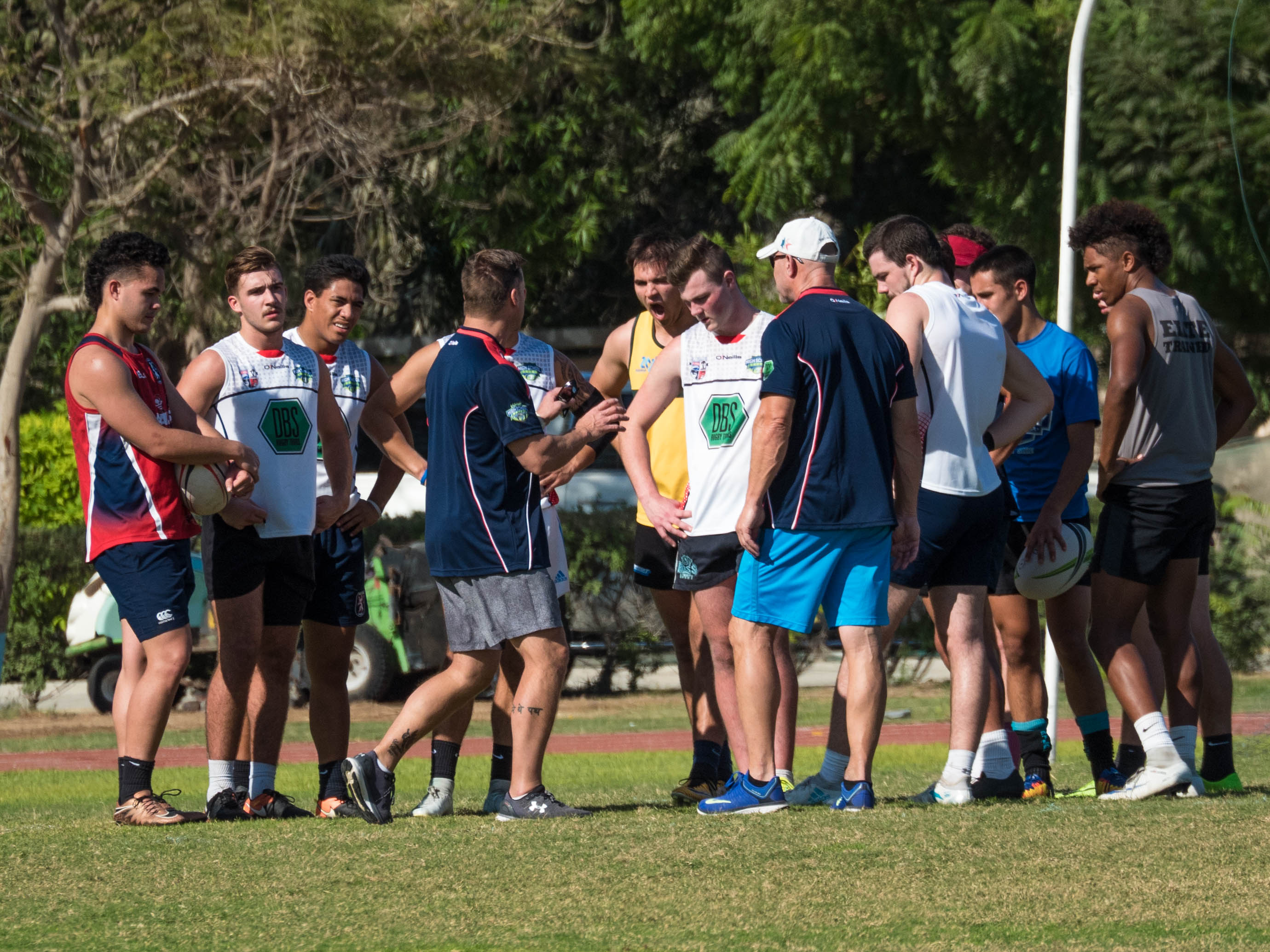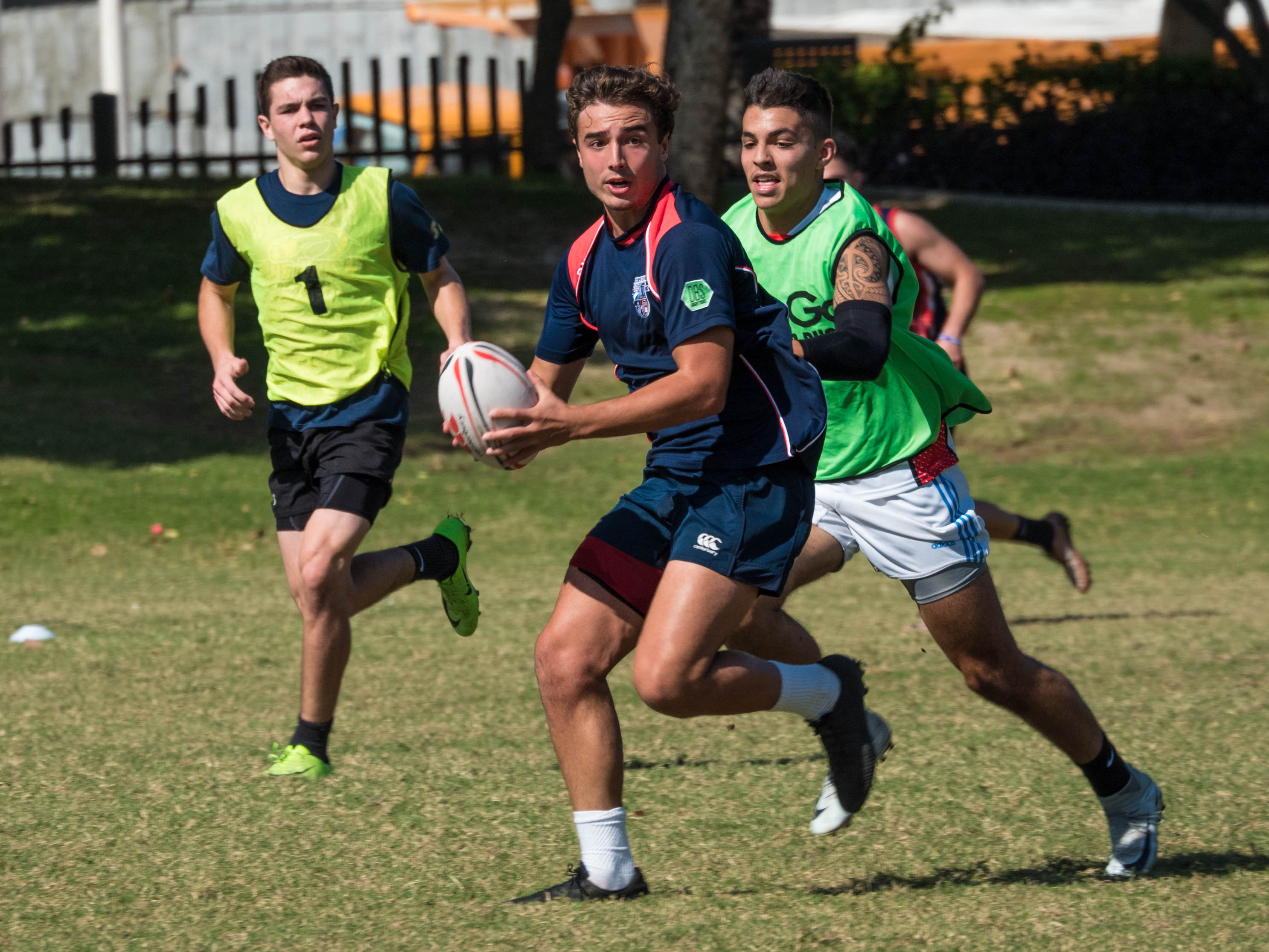 This is one of the most demanding tournaments a young team can play in and features squads from all over the world, with several from South Africa.
Both teams are made up of USA and Canadian players hoping to showcase their talents on a wider stage.
The North American Lions U19 teams is composed of players from both the United States and Canada primarily selected from the Core Four programs of the NAHS 7s Series that participated in the NAI7's in Utah this past summer.
With players and staff coming from across North America, one of the obstacles to overcome will be quickly establishing a strong team dynamic, let alone providing a competition structure, and system to play. One of the benefits is that most of the players have represented the US and Canada at the age grade level.
Coach Greg Schor of Atlantis, speaks about the impressive make-up of this squad and how they will need to manage themselves in order to perform as a team, "In our forwards, we have a real good combination of size, athleticism and ball winners. While our halfbacks are very skillful with very good decision-making abilities allowing them to get the ball to some exceptional finishers. Getting them to gel in that short of a time will have to come from them buying into the team pattern and not playing as individuals," said Schor.
Due to the distance traveled and obvious costs associated with such a campaign, the squad has only train one day to train and prepare together before the tournament starts. Fortunately most of the players come from programs that have similar patterns and philosophies.
"This is an amazing opportunity for all of us to come together and perform under one banner," said Upright Rugby Coach Tyler Leggatt. "Atlantis, EIRA, Utah and Upright routinely finish within the top five in the NAHS 7s events and it is evident that each of us share a similar perspective on 7s. The athletes coming from these programs are both capable and adaptable… I can't wait to see the boys have a go."
Tour organizer Michael Cressler (Utah Lions) added that character may well be what sees the team through.
"The real strength of this squad that will be the character of the players," said Cressler. "These young men are the Captains and leaders of their teams and clubs at home. They are all great athletes and all have a very strong pedigree of rugby but it is their character and leadership that really distinguishes them from other players."
| | | | |
| --- | --- | --- | --- |
| NA Lions Roster |   |   |   |
| Name | Position | Organization | Birth Year |
| Chase Schor Haskin | Prop/Hook | Atlantis | 1999 |
| Mike Weir | Fly Half | Atlantis | 2000 |
| Jesse Capriotti | Wing | Atlantis | 2000 |
| Bill Kaisa Saluone | Prop/ Center | Utah | 1999 |
| Kekoa "Tai" Kauwe | Flyhalf / Hooker | Utah | 1998 |
| Eric Naposki | Flyhalf | EIRA | 1999 |
| Patrick Madden | Scrumhalf | EIRA | 1998 |
| Ryan James | Wing | EIRA | 1999 |
| Jack Bradfield | Prop | EIRA | 1998 |
| Ethan Hager | Wing/Fetcher | Upright | 1998 |
| Mostyn Findlay | Hook/Centre | Upright | 1998 |
| Kevin Vertkas | Prop/Wing | Upright | 1998 |
| Robert Figley* | Prop/ Center | Atlantis | 1999 |
| John Grande IV* | Wing/ Prop | Utah | 2000 |
|   |   |   |   |
|   |   |   |   |
| *= Alternates |   |   |   |