Navy, Army Win Again in DIA East
Navy, Army Win Again in DIA East
Navy's scrum takes control, and gets the penalty. Jim Bell photo.
Army and Navy have set up their clash at FedEx Field nicely, with the two teams the only two in the hunt now for the Rugby East title.
Army is on the inside track as the Black Knights, after beating Kutztown 43-8 Saturday, has four wins out of four with four bonus points as well. All they need to do is beat Navy to secure the Rugby East title. Navy needs to beat Army and then run the table after that to take the conference. Every other team has two losses.
Navy rolled past Notre Dame College in impressive fashion 76-0, unleashing a solid scrum and defending well against a physical Falcons side. That put Navy at 2-0 with Army, Kutztown, and Penn State to come in conference play. 
"It's all been about developing our young players," said Navy Head Coach Gavin Hickie about the early non-conference games. "It's a young team but there's a lot of talent and commitment there."
Jake Badia, Eddie Howell, and Ben Haugh, among others, have shown well on a team that perhaps put most of it together Saturday.
Army was about as good. In a game that was only 5-3 30 minutes in, the Black Knights exploded for four tries from minute 31 to minute 48. Lucas Pattinson, Koikoi Nelligan, Michael Amberg, and Nelligan again scored in that period, and with two Sean McNulty conversions Army took control 29-3. (Steve Rohde had opened the scoring for West Point.)
McNulty then converted tries from Dominic Tianga and Nathan Gould before Kutztown finally got over the tryline with eight minutes left.
So now the two Rugby East service academies meet up at FedEx Field, the home stadium of the Washington DC NFL franchise, to serve as the curtainraiser for the USA vs New Zealand test match (tickets can be had for both games here>>)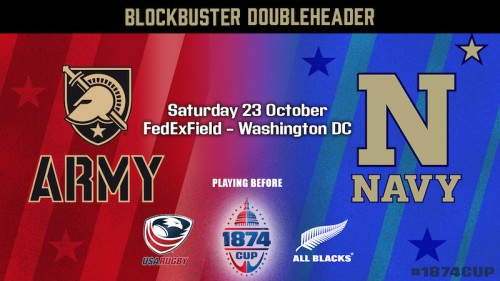 And there's also the Army-Navy rivalry at stake, plus the Commander-in-Chief Trophy awarded to the best of the three military academies. Army plays Air Force later, but Navy has already beaten Air Force, so a Navy win would sew that up.
Also in the Rugby East, St. Bonaventure upended Penn State 19-15. Penn State took an early 3-0 lead thanks to Dalton Musselman before Niku Otineru pounced on a ball off a scrum and scampered in to make it 5-3. Keelan Coyle added a penalty later for a halftime lead of 8-3. Penn State replied with a try from Tom Treussard, but right after Coyle kicked a penalty to nudge Bonnies ahead 11-8. 
Penn State regained the lead with a try and the conversion to make it 15-11. 
But Bonnies once again responded, this time with freshman Sy Mendenhall charging over and while Coyle missed the conversion, he added a penalty in the final minute to ice the game 19-15.
This was St. Bonaventure's first conference win of the season. For Penn State it was another nailbiter game, and even the other game they played that wasn't right on a knife edge was a 43-29 loss to Army that was pretty tight. They drop to 1-2 in the Rugby East.
| | | | | | | | | | |
| --- | --- | --- | --- | --- | --- | --- | --- | --- | --- |
| Rugby East Conf. | W | L | T | PF | PA | PD | BT | BL | Pts |
| Army | 4 | 0 | 0 | 155 | 43 | 112 | 4 | 0 | 20 |
| Navy | 2 | 0 | 0 | 97 | 17 | 80 | 1 | 0 | 9 |
| Penn State | 1 | 2 | 0 | 77 | 92 | -15 | 2 | 1 | 7 |
| Kutztown | 1 | 2 | 0 | 80 | 102 | -22 | 2 | 1 | 7 |
| St. Bonaventure | 1 | 2 | 0 | 36 | 65 | -29 | 0 | 1 | 5 |
| Notre Dame College | 0 | 3 | 0 | 32 | 158 | -126 | 1 | 0 | 1 |