Mom Figure, Up-and-Comer, Stockert Leads AA 7s
Mom Figure, Up-and-Comer, Stockert Leads AA 7s
With the All Americans and Eagle Jill Potter, Stockert is in the middle in the white shirt.
The Women's Collegiate All Americans finished 2nd in the ATAVUS Women's Elite 7s in Infinity Park last weekend, losing in the final to an Eagle-lade Scion team, but the experience was a useful one nonetheless.
Captaining the team was the only non-collegiate on the All American squad. With Coach Brandon Sparks using the All American program as an age-grade team, he chose Seattle Saracens star and former Budd Bay Steelheads (Olympia, Wash.) high school standout Kelsi Stockert to be the captain. For Stockert, who made her USA 15s debut last year and scored a try against New Zealand in the process, the experience was a new one.
Stockert in action for the Saracens (Jordyn Maultsby photo), and with her family, daughter Lily, father Dan, and brother Jeremy.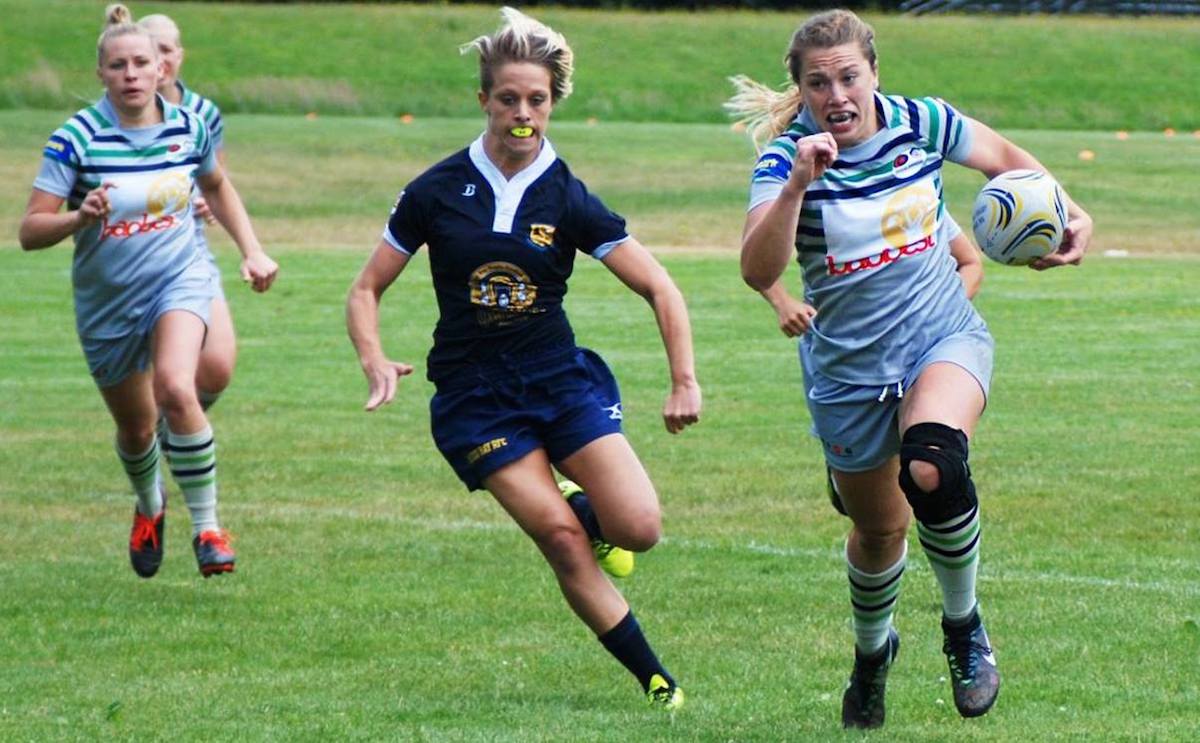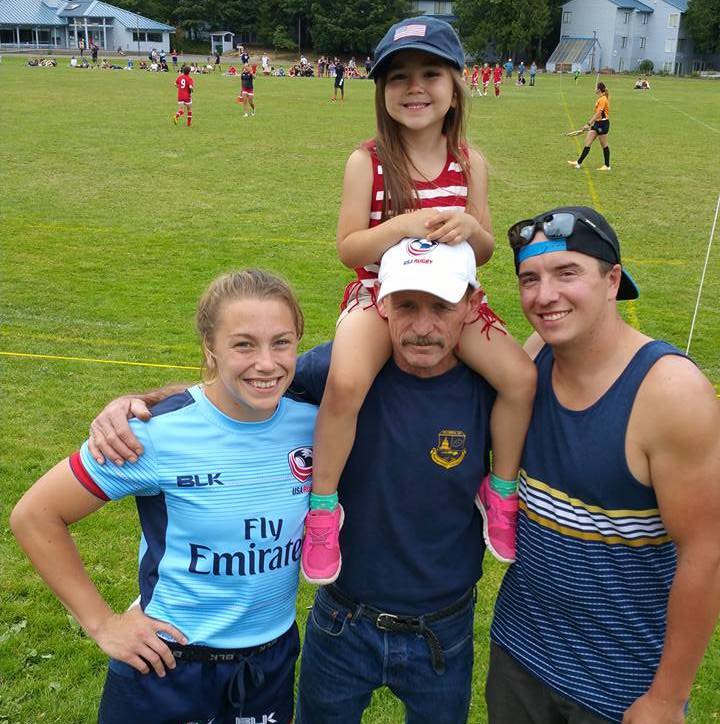 Quick aside: In her second rugby game ever, Stocker played fullback and scooped up a kick five meters from her team's tryling. She proceeded to curve left, broke free of the chasing opposition, and took off past everyone to score a 95-meter try - and she wasn't even out of breath. She has moved on from there. - AG
"I had never been the captain of any team," Stockert told Goff Rugby Report. "Being in the position of being a leader was new to me. I had to learn how to word things differently, but I also had some really great veteran players with me."
Those included Penn State star Tess Feury, and Davenport all-everything Ashlee Byrge. Those two may be the best backs in college rugby - their combination of athleticism, strength, and intelligence is hard to match. Stocker brought her own skills to the table - in 15s she's a back with a nice turn of pace and an aggressive running style that breaks tackles. She also hits hard on defense.
"They have such great field vision and such a great work rate - they are great examples of what college rugby players can be," enthused Stockert. Meanwhile, players such as Alena Olsen (Michigan), Maria Michelotti (Montana State), and Bulou Mataitoga (AIC) impressed their captain.
"Maria has only been playing rugby for a year, and she is so good already but has so much potential."
Stockert said she learned plenty from the younger players, as well, including how to navigate the strange world of Snapchat. Her own story, though, is one worth noting, too.
After aging out of the Budd Bay program, where she led the team in tries as a freshman, Stockert had a baby at 19. It was a blessed event - her daughter is, by all accounts, as cute as a button and a smart, delightful, happy child - but it was also an interruption in her plans. At the time, Stockert said she wanted to get back to playing rugby and make the Loggers regional all-star team. She dedicated herself to getting back into playing shape so much she ended up an Eagle, and an MVP.
In doing so, she moved from the Olympia area to Seattle, where she began playing for the Seattle Saracens and working out with ATAVUS.
"ATAVUS has helped me SO much," Stockert enthused. "I go to the ATAVUS Academy in the mornings, and since I've started going there I've seen huge results. Physically, I'm stronger and faster. I can go to James (and before Chris Tombs) for any questions I have. And doing the skills in the morning with Emilie Bydwell and Shawn Pittman has changed my game. I'm feeling so much more confident in my passing, and my footwork is getting better and better. Before going to the academy, I didn't really know what it was like to be a high performance athlete."
But she also had the drive, including the drive to show her daughter that you can achieve what you work for.
"I think it's important to realize that you can be a good mom and also achieve things outside of being a mom," said Stockert. "If you want to call it a setback, getting pregnant at 19, well maybe you can call it that, but then you can't let that 'setback' stop you. I still wanted to see how high I can go as a player and I still have those goals. Young moms can fight for their goals and still raise their kids. I want to be great at being Mom, and still keep Kelsi."
Maybe that was what drew Sparks to naming Stockert the captain. Certainly the mom part of her outlook comes out in her assessment of the players.
"They are so young and they have a lot to learn," she said. "But it was really cool to see how they for better and better through the weekend. We played Scion early on and they shut us out. But we were able to close the gap and score on them in the final. Seeing how the girls respond and learn … that's been really cool."
Stockert should be on the radar for the Eagles in both 15s and 7s going forward, but it won't be for a few months. She is taking time off to nurse a knee injury - a break that is likely needed anyway and she has been playing rugby non-stop for a few years now. But mom figure or up-and-comer, she's one to watch, as are the rest of the All Americans.
See post-tournament report by USA Rugby on the All Americans.
Women's Collegiate All-American Sevens at the ATAVUS Elite Women's 7s Tournament
Kaitlyn Broughton - Life University / Old Blue of New York 
Stephanie Browne - Orlando 
Ashlee Byrge - Davenport University 
Nicole Ciccarelli - Mount St. Mary's University 
Tess Feury - Pennsylvania State University 
Macie Helgenberger - Colorado State University / Glendale Raptors 
McKenzie Koval - Michigan State / Grand Rapids Gazelles 
Bulou Mataitoga - American International College / Berkeley All Blues 
Maria Michelotti - Montana State University 
Alena Olsen - Michigan / Legacy Rugby Academy 7s 
Kelsi Stockert (C) - Seattle Saracens 
Davon Thomas - Lindenwood University