Men D2 College Rankings 2021 Week 11
Men D2 College Rankings 2021 Week 11
Top 10 11 straight weeks. Norwich. Photo Norwich Athletics.
Not much happened this week and yet a lot did.
The thing about D2 college rugby is that when teams play across conference borders, the result can force you to take a look at everyone in the conference. So Marist beating Vermont makes us consider, hey, maybe not only is Marist better than the rankings were saying, but maybe the Merchant Marine Academy and RPI are a little better too. 
We had a couple of lower-ranked teams beat higher-ranked teams, but none that were massive surprises except Marist over Vermont. UNC-Charlotte (4) and UNC-Wilmington (8) weren't ranked that far apart and playing a tight game. Auburn and Georgia Tech were always close; it was just Georgia Tech's win over Memphis (which, we suspect, changed their lineup because they had the #1 spot sewn up) that had moved Georgia Tech up. They were, of course, still close, at 24-22. 
---
Support us! A small donation os $5 from everyone who reads this goes a long way to paying out hosting, travel, and IT costs! It's easy, just click here>>
---
One thing of note is that the Top 10 doesn't change. The teams shuffle slightly, but the same teams are in the Top 10. This is a relative rarity. We had a look at it and 22 teams have been ranked in our Top 10 this year. Of those, three are now not ranked at all (!), and five are ranked 24 or lower. That's to be expected, but was probably exacerbated by the questions following the COVID shutdowns. Interestingly also, we had only one team in the Top 10 from our preseason rankings all the way through to now, our current #1 Norwich. Another team, Adrian, has been in the rankings in 10 of the 11 weeks. This is because at the time of our preseason rankings we weren't even sure what division they'd be in. 
Also, if you look at our preseason Top 10:
| | | | |
| --- | --- | --- | --- |
| 1 |   | UW-Whitewater (WI) | Great MW |
| 2 |   | Norwich (VT) | Rugby Northeast |
| 3 |   | Furman (SC) | Southern |
| 4 |   | Villanova (PA) | MARC |
| 5 |   | Vermont (VT) | New England-Wide |
| 6 |   | Illinois State (IL) | Great MW |
| 7 |   | UMS&T (MO) | Gateway |
| 8 |   | Minnesota-Duluth (MI) | Northern Lights |
| 9 |   | MTSU (TN) | SCRC |
| 10 |   | UMass-Lowell (MA) | Rugby Northeast |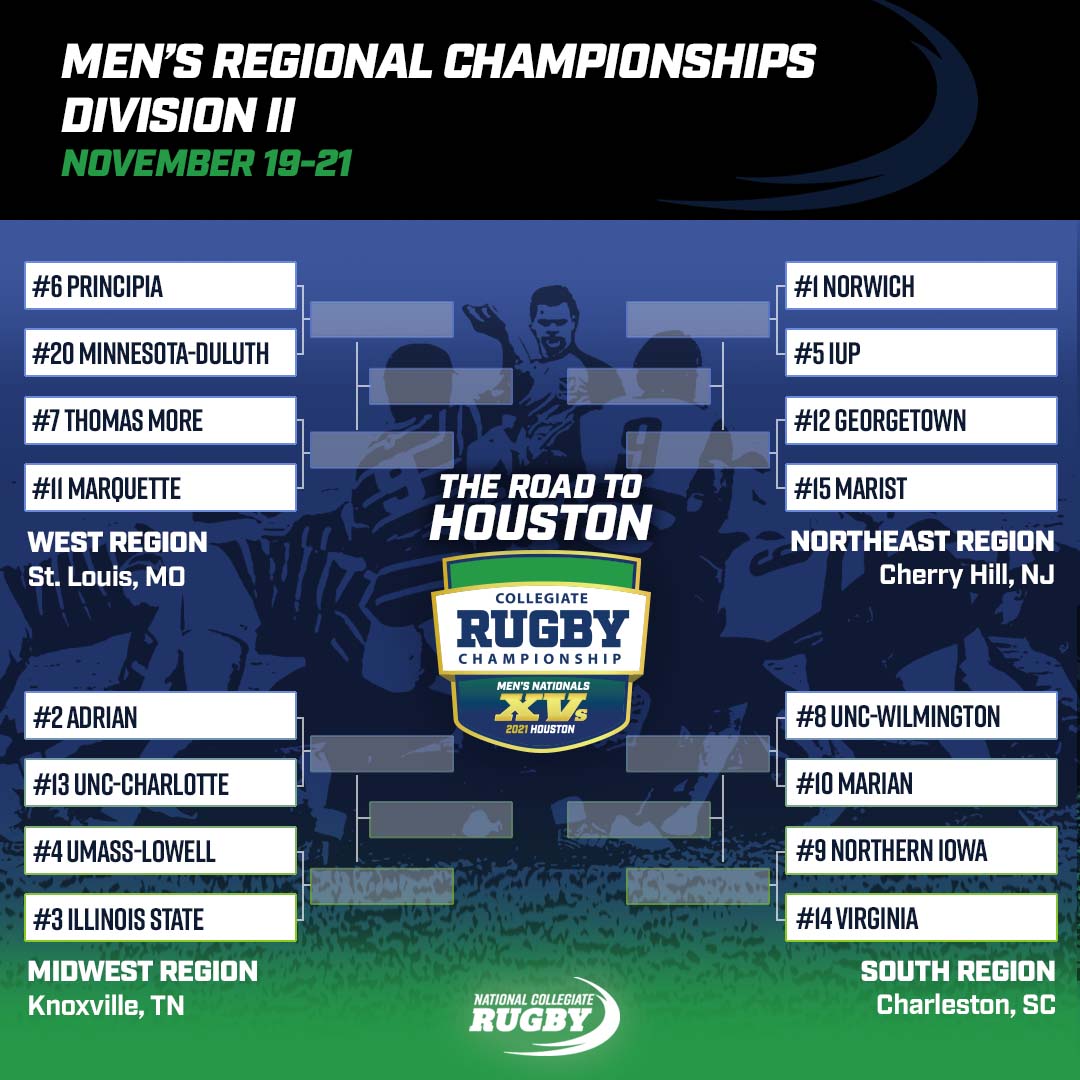 Whitewater obviously wasn't as strong as we expected (numbers were a bit low), but this isn't a bad list. MTSU is not ranked anymore and that was a guess. UMS&T isnow #39 and Minnesota-Duluth didn't play for the longest time but is now coming back into the rankings at #26. Villanova is #24, Vermont #15, and Furman #12. Norwich, ISU, and Lowell are still there. It's imperfect, but not a ridiculous list given how weird the season was.
This coming weekend, of course, two games for everyone. The graphic at right shows you the rankings from NCR. They are pretty good. They had Marist higher than we did; same with Virginia, and they thought well of Duluth before we did. We have Principia higher and we pretty much agree on Lowell, ISU, Wilmington, Adrian, and Norwich. (PS, just to be clear, we make it a point of not looking at anyone else's rankings when we do our own; it muddles the process.)
We guarantee that someone (Duluth? Virginia?) will shake both rankings up this weekend.
Rank
Prev
Team
Conference
Notes
1
1
Norwich (VT)
New England-Wide
 
2
2
Adrian (MI)
Great Lakes
 
3
3
Principia (IL)
Gateway
 
4
5
Illinois State (IL)
Great MW
 
5
8
UNC-Wilmington (NC)
Southern
Beat UNC-Charlotte (4)
6
6
UMass-Lowell (MA)
New England-Wide
 
7
7
IUP (PA)
Allegheny
 
8
4
UNC-Charlotte (NC)
Southern
Lost to UNC-Wilmington (7)
9
9
Northern Iowa (IA)
Great MW
 
10
10
Thomas More (KY)
MCRC
 
11
11
Marquette (WI)
Great MW
Beat SLU (28)
12
12
Furman (SC)
Southern
 
13
13
Marian (IN)
MCRC
Beat Central Michigan (21)
14
26
Marist (NY)
Tri-State
Beat Vermont (15)
15
15
Vermont (VT)
New England-Wide
Lost to Marist (26)
16
16
Georgetown (DC)
MARC
 
17
19
Memphis (TN)
SCRC
Beat Ole Miss
18
20
Auburn (AL)
SCRC
Beat Georgia Tech (14)
19
14
Georgia Tech (GA)
SCRC
Lost to Auburn (20)
20
23
Virginia (VA)
Cardinals
Forfeit win
21
17
Montana State (MT)
Rocky Mountain
 
22
18
Bucknell (PA)
MARC
 
23
22
Drexel (PA)
MARC
 
24
24
Villanova (PA)
MARC
 
25
25
UW-Whitewater (WI)
Great MW
 
26
Unr
UM-Duluth
Northern Lights
 
27
21
Central Michigan (MI)
Great Lakes
Lost to Marian (13)
28
27
Providence (RI)
New England-Wide
 
29
29
UNC (NC)
Southern
 
30
31
Citadel (SC)
Southern
 
31
28
SLU (MO)
Gateway
Lost to Marquette (11)
32
30
Pitt State (KS)
Gateway
 
33
32
East Carolina
Southern
 
34
33
Boston University (MA)
New England-Wide
 
35
35
Coast Guard (CT)
New England-Wide
 
36
39
USMMA (NY)
Tri-State
 
37
40
RPI (NY)
Tri-State
 
38
34
Belmont Abbey (NC)
Southern
 
39
36
UMS&T (MO)
Gateway
 
40
37
UW-Platteville (WI)
Great MW