LVI CRC Qualifier Day Two Latest
LVI CRC Qualifier Day Two Latest
Clemson keeps charging David Barpal photo.
Here's the latest from the CRC Qualifiers at the LVI.
Top to bottom, Lindenwood won, St. Bonaventure rebounded, and Dixie State lost, but still have impressed. David Barpal photos.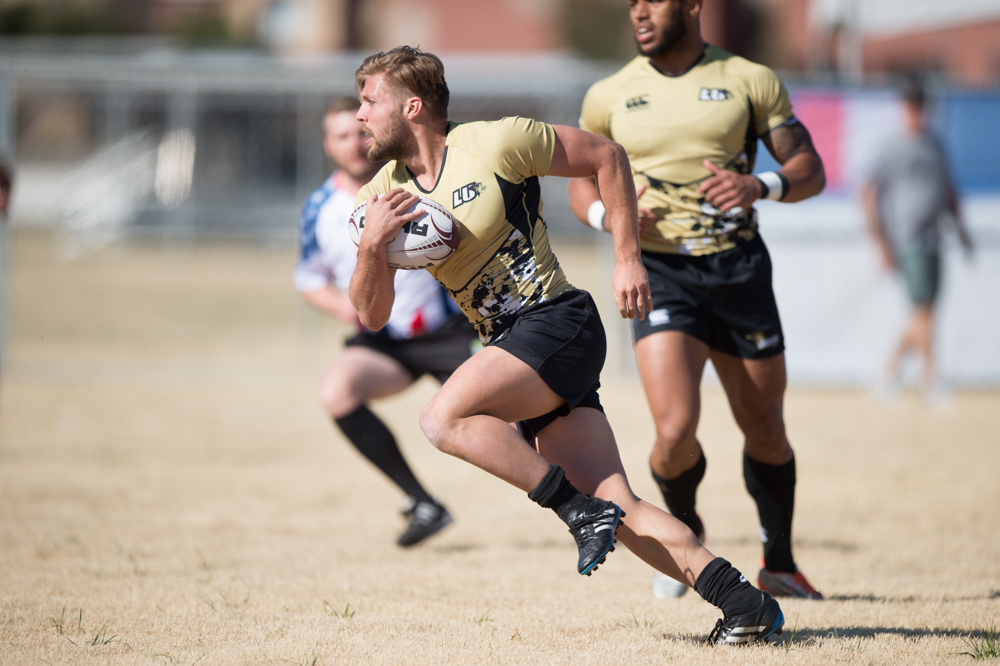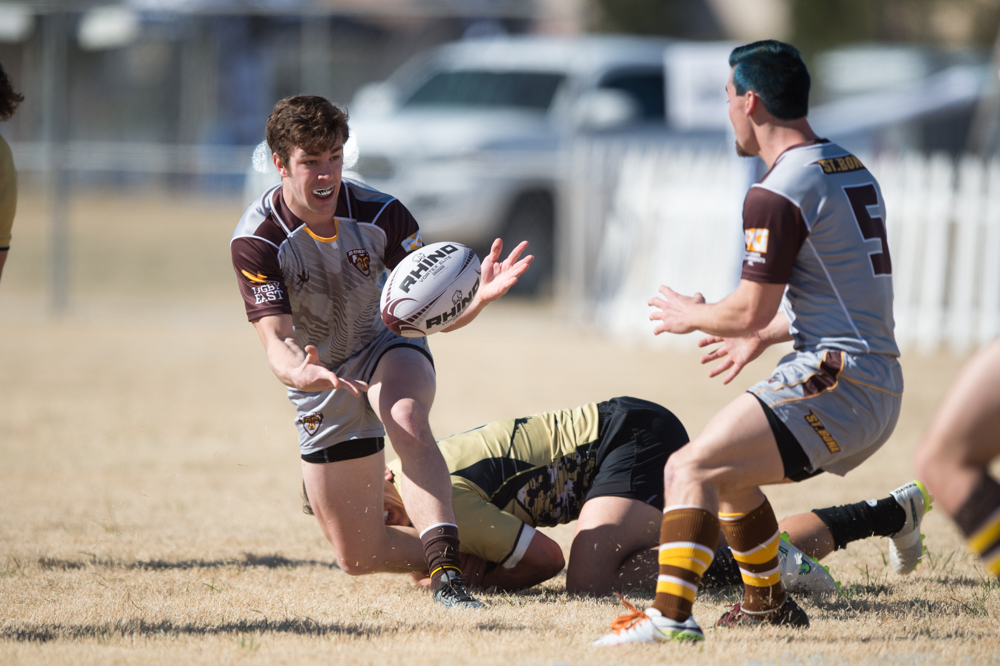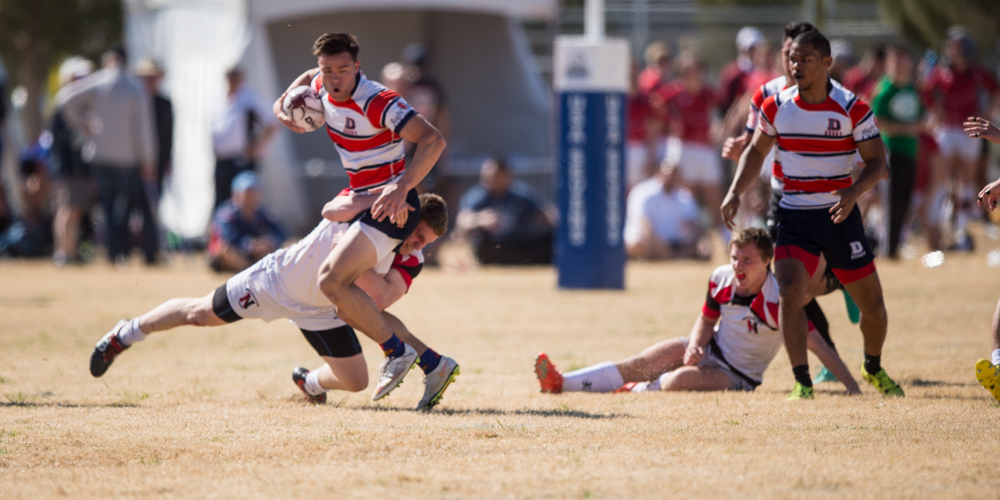 The championship will be decided from these four teams: Lindenwood (St. Charles), Notre Dame College, Central Washington, and Clemson. Of these, only Clemson hasn't really competed for this tournament before. CWU won it in 2011. NDC finished 2nd last year. Lindenwood has come close a couple of times.
Lindenwood thumped their local rivals Lindenwood-Belleville 40-15 in today's quarters. Clemson got tries from James Rogers, Liam Helstrom, and Colin Gregory, and held Santa Clara in check 21-5. Central Washington, which blew through the opposition on the first day, had to fight for it against a Dixie State that was a surprise pool winner yesterday.
DIxies State's coach Scott Moffitt laughed at the fact they were picked to finish last in their pool.
"We are just fine going under the radar," he said. "We didn't mind being in a tough tossup pool. We just hope to compete well [on Friday] and represent for our state and conference. We have a lot of new players but some of our core group come from Snow Canyon and Herriman rugby.  We are family and play for each other. So on the day it was a team effort from all individuals doing what they were supposed to do to make the next guy better next to them."
In the Plate rounds, teams that felt they'd missed an opportunity had a chance to show their stuff. JMU (after getting the confirmation that they were in the Plate and not Tulane after clarifying with tournament organizers), hammered Colgate. Western Michigan, which competed well on Thursday, beat Northeastern 19-12. Grand Canyon got tries from Maceo Brown and Ricky Wisdom to lead 14-5 but fell behind 14-15 to Buffalo before Brown and Widsom did the same in the second half to pull out the victory. St. Bonaventure had to work for it against Montana State. North Westall's try was their only scoring in the first half, but second-half tries from Matt Bergstol, Stephvan Tanner, and Chaz Schwenk won it for SBU.
Here are scores from Thursday plus updated scores from today's action. 
2017 LVI Men's College Bracket
 
March 2 Pool Play
 
Central Washington
39
Buffalo
0
 
Tulane
17
Georgetown
7
 
Notre Dame College
35
Harvard
5
 
Colgate
14
Millersville
0
 
Lindenwood
26
St. Bonaventure
0
 
Colorado
36
UNLV
0
 
Wheeling Jesuit
15
Utah Valley
17
 
Northeastern
12
Dixie State
14
 
Central Washington
50
Tulane
0
 
Buffalo
12
Georgetown
12
 
Notre Dame C.
33
Colgate
5
 
Harvard
14
Millersville
0
 
Lindenwood
50
Colorado
5
 
St Bonaventure
28
UNLV
0
 
Wheeling Jesuit
5
Northeastern
7
 
Utah Valley
14
Dixie State
17
 
Central Washington
32
Georgetown
5
 
Buffalo
24
Tulane
14
 
Notre Dame College
14
Millersville
0
 
Harvard
7
Colgate
21
 
Lindenwood
59
UNLV
0
 
St Bonaventures
20
Colorado
13
 
Wheeling Jesuit
26
Dixie State
19
 
Utah Valley
5
Northeastern
17
 
James Madison
0
Clemson
38
 
Michigan State
0
Montana State
21
 
Lindenwood-Belleville
17
Santa Clara
19
 
Western Michigan
42
Coll. of Idaho
0
 
Grand Canyon
12
NEC
19
 
Utah State
64
CSU-Pueblo
0
 
James Madison
21
Michigan State
17
 
Clemson
36
Montana State
0
 
Lindenwood-Belleville
33
Western Michigan
0
 
Santa Clara
42
Coll. of Idaho
5
 
Grand Canyon
22
Utah State
7
 
NEC
54
CSU-Pueblo
0
 
James Madison
17
Montana State
17
 
Clemson
33
Michigan State
12
 
Lindenwood-Belleville
66
Coll. of Idaho
0
 
Santa Clara
17
Western Michigan
17
 
Grand Canyon
82
CSU-Pueblo
0
 
NEC
26
Utah State
14
 
 
 
 
 
 
March 3 Knockout Rounds
QF Plate
Grand Canyon
26
Buffalo
15
QF Plate
Colgate
7
James Madison
36
QF Plate
Northeastern
12
Western Michigan
19
QF Plate
St Bonaventure
20
Montana State
5
QF Bowl
Utah State
 
Michigan State
 
QF Bowl
Colorado
15
Harvard
17
QF Bowl
Wheeling Jesuit
 
Tulane
 
QF Bowl
Utah Valley
35
Georgetown
12
QF Cup
Lindenwood
40
Lindenwood-Belleville
15
QF Cup
NEC
L
Notre Dame College
W
QF Cup
Clemson
21
Santa Clara
5
QF Cup
Central Washington
21
Dixie State
12
SF Shield
UNLV
 
BYE
 
SF Shield
C. of Idaho
 
CSU-Pueblo
 
Bowl
#33 Bowl
 
Loser #25
 
Bowl
#34 Bowl
 
Loser #27
 
SF Bowl
#35 SF Bowl
 
Winner #25
 
SF Bowl
#36 SF Bowl
 
Winner #27
 
Cup Cons
Lindenwood-Belleville
 
NEC
 
Cup Cons
Santa Clara
 
Dixie State
 
Plate Cons
Colgate
 
Buffalo
 
Plate Cons
Northeastern
 
Montana State
 
SF Plate
#46 SF Plate
 
Winner #25
 
SF Plate
#47 SF Plate
 
Winner #27
 
SF Cup
Lindenwood
 
Notre Dame College
 
3/4 Bowl
#41 Bowl 3/4 Match
 
Loser #35
 
SF Cup
Clemson
 
Central Washington
 
Shield
#23 Shield 3/4
 
Loser #21
 
Shield Final
#24 Shield Final
 
Winner #21
 
Plate Final
#48 Plate Final
 
Winner #46
 
Bowl Final
#42 Bowl Final
 
Winner # 35
 
3/4 Cup
#43 Cup 3/4 Match
 
Loser #39
 
Cup Final
#45 Cup Final
 
Winner #39