Kutztown Dominates in Chesapeake 7s
Kutztown Dominates in Chesapeake 7s
Kutztown University followed up their superb showing at the Ariel re 7s in Bermuda with a pretty dominant performance at the Chesapeake Conference 7s this past weekend.
KU enjoyed a huge day from freshman Dmontae Noble, and controlled the day, winning five games, three by shutout, and outscoring opponents 169-17. Kutztown beat Georgetown in what was perhaps the toughest game of the day in their opener, 17-0, and then put away Virginia 36-0 and VCU 47-0. In the semis they defeated Ohio 36-12 and took down Mount Saint Mary's 33-5 in the final.
Head Coach Gregg Jones said he was pleased to be able to use a lot of players - stars like Alex Faison-Donohoe and Kina Malaafu played well but rarely all game - and was delighted to see Noble step forward to pick up the slack.
Noble (#9) was difficult to contain. Colleen McCloskey photo.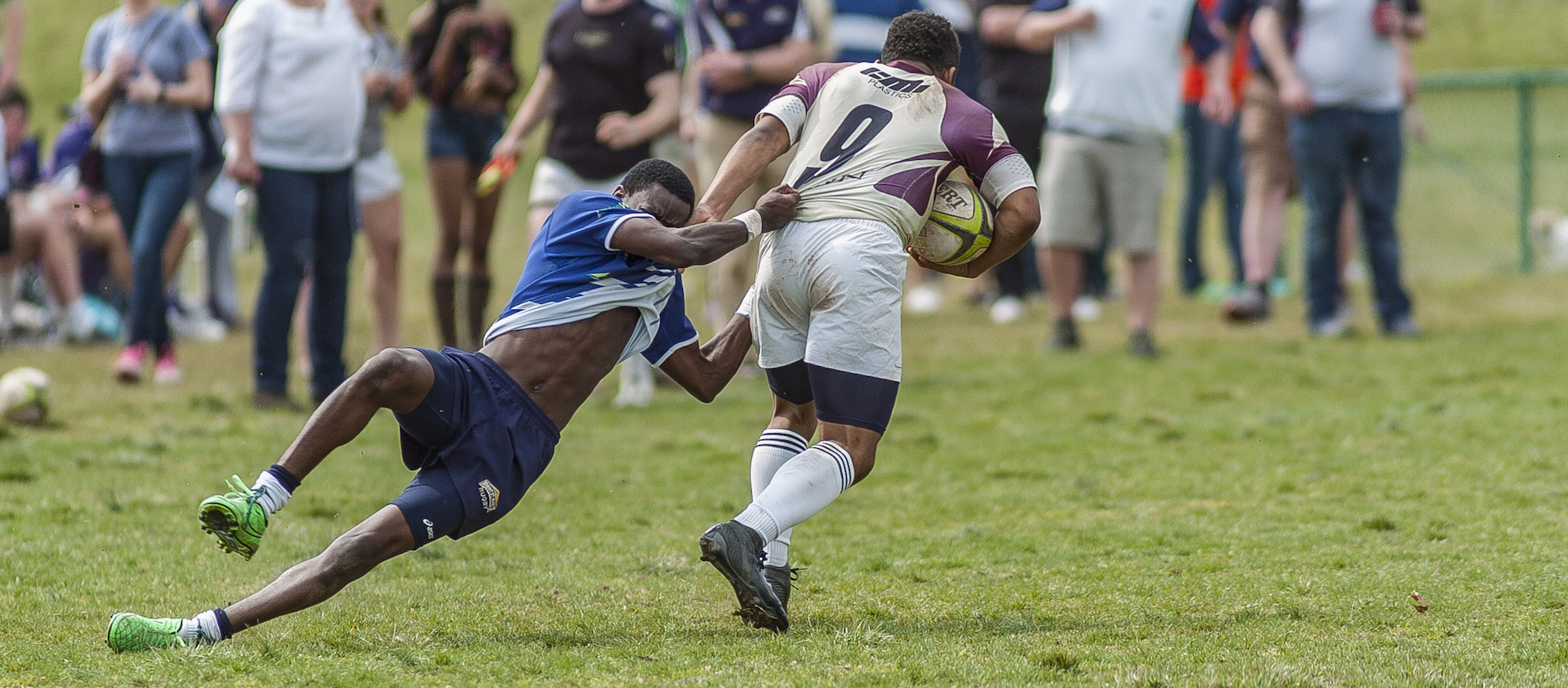 "We take a lot of pride in our defense," said Jones, who credited Associate Head Coach Larry Chester with the team's defensive success. "LC is coaching the defense and he's responsible for what they've been able to do there."
Kutztown fielded three teams in the tournament. The KU II team upset Bowling Green 17-10 in pool play and also beat Towson 24-5 to make the semis, where they lost to Mount Saint Mary's 19-17. They went on to shut out Ohio 26-0 to take 3rd. The KU III team, which is basically the programs tight five players plus some B-side backs, finished 12th out of 14.
"It's important to get as many players on the field," said Jones. "I think 7s is valuable is a development tool as well as something we want to excel at."
By finishing 2nd in this, the third tournament of five preliminary events in the Chesapeake, MSM moved to 2nd in the conference 7s standings, just behind JMU.