JMU v UMW Highlights Tight Chesapeake
JMU v UMW Highlights Tight Chesapeake
The James Madison backs work the attack together against Mount Saint Mary's. Colleen McCloskey photo.
For a new conference, the Chesapeake Collegiate has been a rousing success.
Few conferences can boast so many close games, and the conference itself is still hugely competitive, with five teams still in with a shot at a conference title.
Top photo, UMW in the rain against Virginia. Photo courtesy UMW Rugby. Below, JMU against Towson and MSM. Photos by Colleen McCloskey.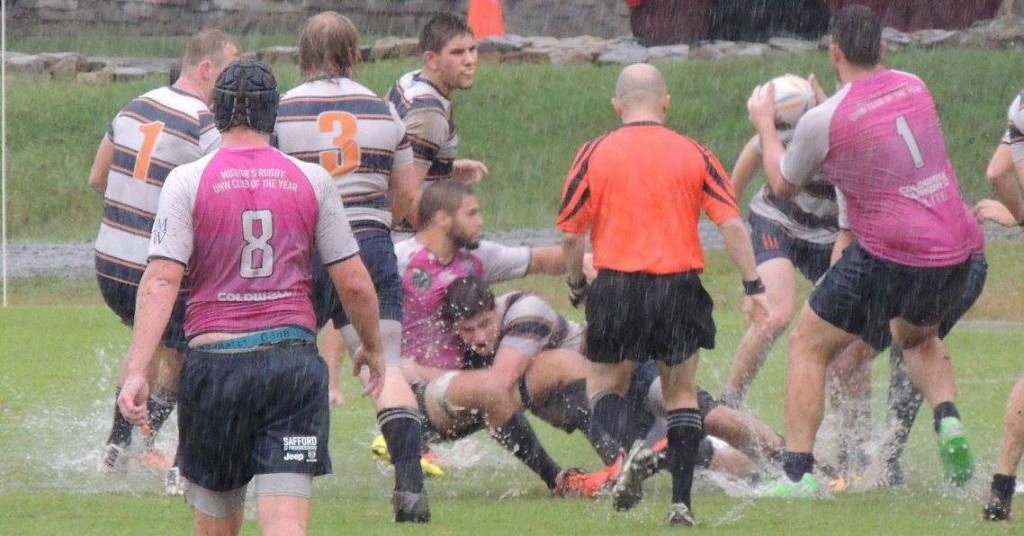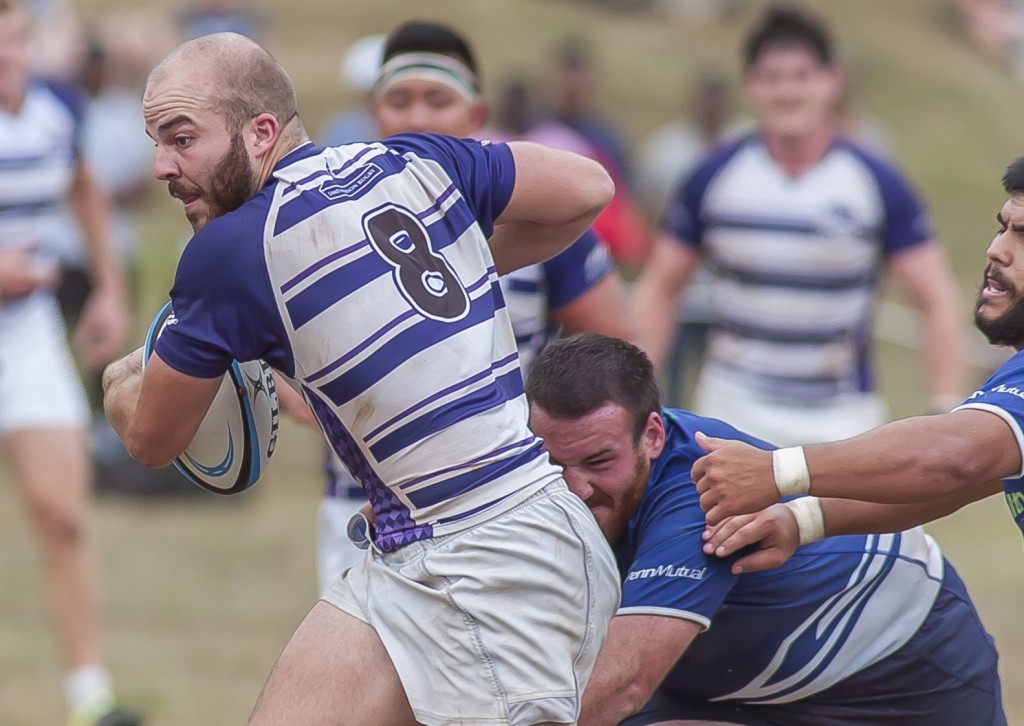 Katz charges on for James Madison.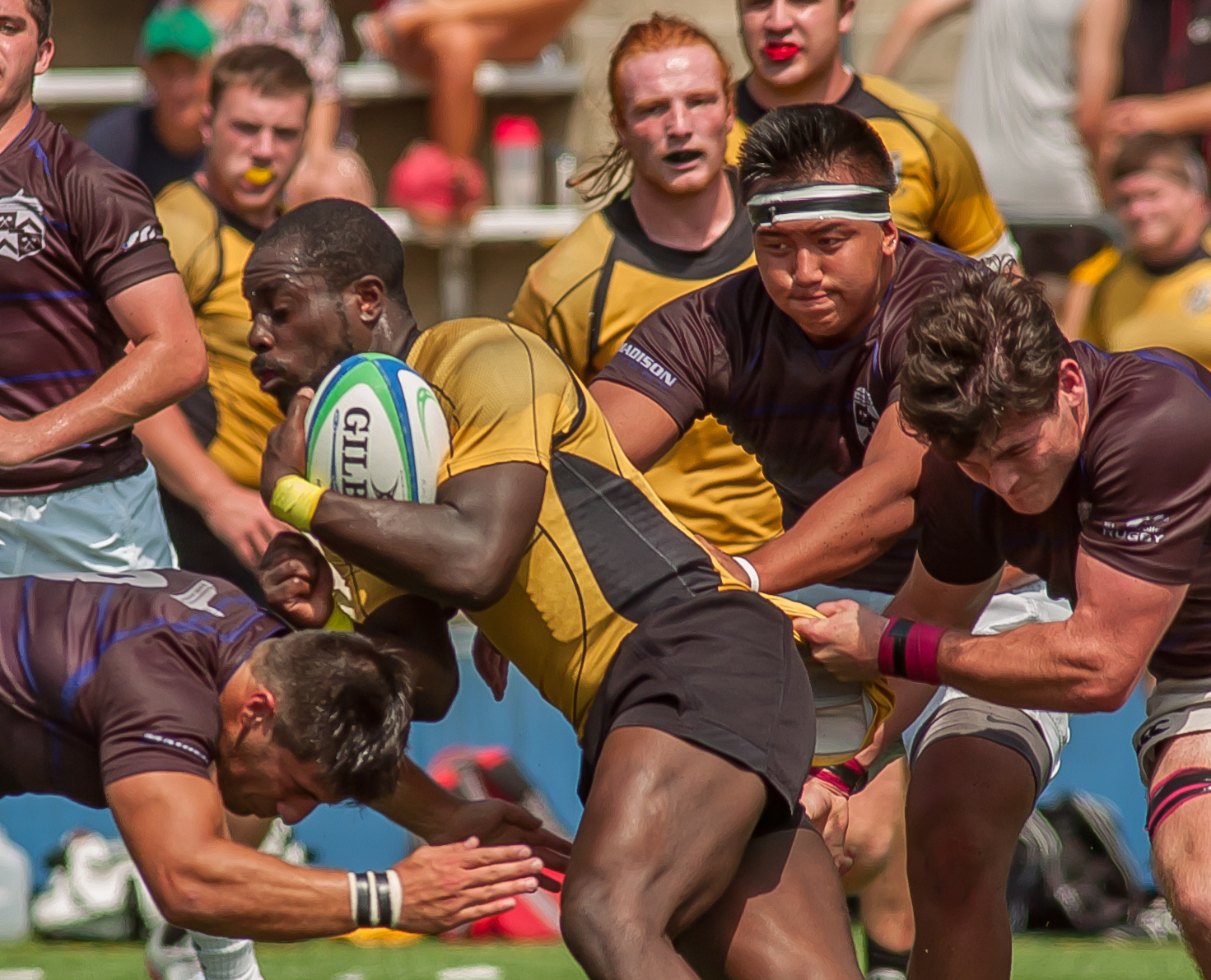 Towson, in yellow, remains in the thick of the contenders.
Sitting in 1st right now is James Madison, and JMU has a crucial meeting with Mary Washington this coming weekend. After losing their second league game of the season to Mount Saint Mary's, JMU has been on a tear, beating Georgetown, Salisbury, and Maryland by some of the bigger margins the conference has seen.
Head Coach Mark Lambourne is pleased, but added that these games weren't walkovers. 
"I think Salisbury are victims of not getting good B-side games the last few years," said Lambourne. "But they're Salisbury, and they never give up, and they are physical. Georgetown has a bunch of really strong players. Towson was tough, and Maryland very difficult for us, as well. We love those conference, because you've got a couple of varsity programs, a few programs from smaller schools where they have some on-campus support, and the some brand-name schools. It's a great mix."
JMU is starting to stir up that mix. Lambourne said he is pleased with how his squad is practicing, but adds that they could do better.
"Each team has its little idiosyncrasies that can cause a challenge," he said. "After we lost to Mount Saint Mary's I just told the guys we need to keep doing what we've been doing - just keep playing the way we've been playing, and show we're a good team."
That they've done. Mo Katz continues to be a go-to player for JMU, but fullback Michael Barry has shown himself to be a special talent, while No. 8 Matt Petrik has performed solidly week after week and has been a physical presence.
All of it could be coming together, but you never know. Marry Washington is one of those varsity-level programs (MSM is the other), and sits 3-1. With some overseas talent such as George Northwood out of England at fullback and hooker Fernando Meersohn out of Argentina, bolstered by some strong players from the Virginia area, they have beaten Towson, Salisbury, and Virginia.
Both of these conference leaders have lost to Mount Saint Mary's, who will possibly be ruing their 22-20 loss to Virginia Tech earlier in the year.
This game, then, is a big one, but not the only big game of the next four weekends. Saturday also sees Virginia Tech face Georgetown in a game where the Hokies could go to 4-1. Mount Saint Mary's hosts Salisbury, which, despite Salisbury's 1-4 record, won't be a walkover. Maryland is 1-4, but three of those losses we by a try or less, will take on Virginia.
This does appear to be a race among JMU, MSM, UMW, and Virginia Tech (with Towson lurking on the outside), but those teams have some hurdles to negotiate first.
On October 29, MSM visits Towson. On November 5, Virginia Tech is at JMU. On November 12, Tech takes on Mary Washington. Any one of those games could decide who wins the conference.
Current Chesapeake Standings:
| | | | | | | | | | |
| --- | --- | --- | --- | --- | --- | --- | --- | --- | --- |
| Chesapeake | W | L | T | Pf | Pa | Pd | BT | BL | Pts |
| James Madison | 4 | 1 | 0 | 233 | 89 | 144 | 5 | 0 | 21 |
| Mount St. Mary's | 4 | 1 | 0 | 151 | 109 | 42 | 4 | 1 | 21 |
| Towson | 4 | 2 | 0 | 144 | 128 | 16 | 3 | 0 | 19 |
| Mary Washington | 3 | 1 | 0 | 112 | 70 | 42 | 3 | 0 | 15 |
| Virginia Tech | 3 | 1 | 0 | 77 | 68 | 9 | 2 | 0 | 14 |
| Maryland | 1 | 4 | 0 | 103 | 118 | -15 | 2 | 3 | 9 |
| Salisbury | 1 | 4 | 0 | 69 | 161 | -92 | 2 | 1 | 7 |
| Virginia | 1 | 4 | 0 | 84 | 156 | -72 | 1 | 1 | 6 |
| Georgetown | 1 | 4 | 0 | 117 | 195 | -78 | 1 | 1 | 6 |