Highland Gets By Herriman
Highland Gets By Herriman
Highland powers through. Shelli Simmons photo.
Herriman and Highland kicked off their in-state seasons with a friendly on Friday evening, and gave spectators an exciting game that went down to the wire and saw Highland emerge victorious 29-27.
Highland has a veteran team, many of whom have been playing together since 7th grade, and coach Dan Berg (a Highland alum) returns the majority of his starters from a season ago.  They are big and physical, and would not look out of place on the field against most colleges.  Herriman ran out a smaller, quicker side, with the forward pack hit particularly hard by suspension.  The game, therefore, would be a contrast of styles due to the distinct personnel difference on each side.
Noah Vaea for Herriman. Shelli Simmons photo.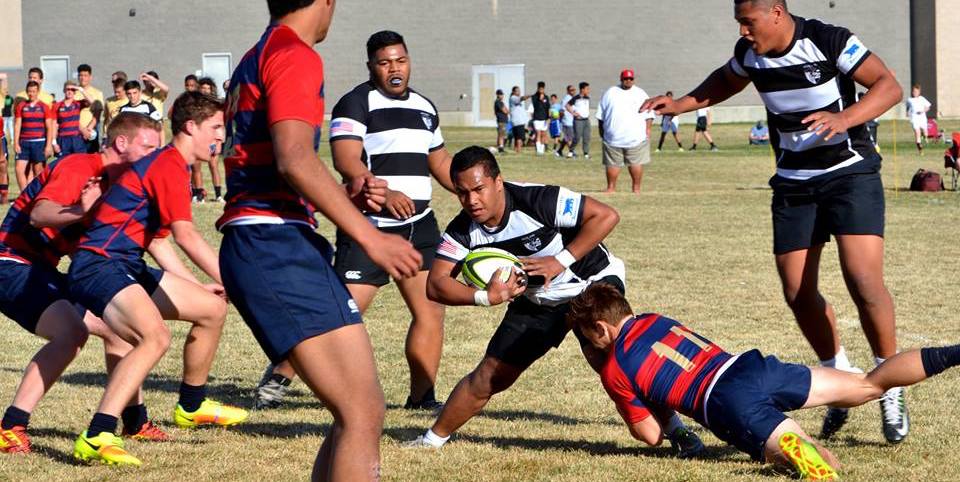 As expected for an early season tilt, there was plenty of sloppy play on both sides, with small handling errors and infractions (mostly for not releasing) at the breakdown.  Highland would get on the board early with what would become a familiar pattern on the day.  The ball found its way to Highland's massive inside center who showed unexpected pace in hitting an outside gap, followed by a relentless series of pick-and-jams that kept the smaller Mustangs on their heels.  The larger pack would push over for an unconverted try 5-0.
Herriman answered back by their game plan of getting the ball in to space and using their athleticism.  Center Noah Vaea, a four-year starter, took an outside gap and was off to the races, outpacing the opposition 50 meters for a score to knot the game at 5-5.
Herriman would continue to get chances out wide, but three straight opportunities on attack were poorly executed with bad passes, late passes, and handling errors. Twice wing Tyson Herrera could have been put away easily, but the fairly simple pass wasn't executed either time and the ball did not find his hands. Herriman's continued handling errors kept giving Highland scrummaging opportunities, and the Herriman side was giving so much weight at the scrum they struggled even to retain their own ball, much less make Highland work much at all in tight. 
Highland would move the ball down the field with patience only to have Herriman clear from a 5-meter scrum, while Herriman continued to stall their own attack with timing and execution issues.  Eventually, enough headway was made to get the Mustangs close, and center Juney Leakehe slashed inside several defenders and angled his way in to touch down for a try.  The makeable conversion was missed, however, and Herriman would continue to chase those two precious points the rest of the day. 
Another handling error by Herriman gave Highland possession from the ensuing kickoff, and patient, tight ball from the Rams paid off in a score.  The low conversion just snuck through the bottom left of the posts to give Highland back the lead, 12-10.  In what had become characteristic fashion, Herriman would make one more poor pass to miss Herrera, and the half would end with the ball in to touch.
Herriman would finally settle down enough to control possession early in the the second half, and their patience paid off with some nice phase play that resulted in a Highland penalty at the breakdown. Although Ethan Burrows was tackled into touch, sophomore Jake Barker would steal the lineout and cause Highland's jumper to get pinged for a knock on in the air. Older brother Zak Barker picked up from the back of the scrum and found Gavin Flint, who offloaded to hard-charging flyhalf Maea Leakehe for th try. Flint converted and Herriman had the lead 17-12.  Highland's restart did not go ten meters, but on the middle scrum to Herriman the ball careened awkwardly off of a Herriman foot and came shooting out the side, bouncing in to the arms of the opposition scrumhalf.  Highland would make a nice break and get a penalty near the goal line from a scrambling Herriman, who had pre-inserted their fullback for attack and was thus out of position for the change in possession. Highland powered over and with the conversion led 19-17.
Highland would continue their tight, physical brand of play, and although the Mustang defense was up to the task many times, they were unable to regain possession. But Herriman's impatience got the better of them, and two penalties got Highland close enough to pound the ball over and lead 24-17.
Herriman would continue to fall victim to their own mistakes. Several times they were able to string together phases, only to give the ball away through more poor passes, knock-ons, and other rrors. Smart poaching at the tackle by Zak Barker and Gabe Mahuinga gave them the ball back repeatedly, only to see opportunities once again squandered.  The Mustangs would finally make an opportunity count with ten minutes remaining. A Highland lineout steal was turned back over by Mahuinga, and the aggressive defense was pinged for a knock-on as they attempted to disrupt the passing channel.  Barker picked off of the scrum and drew several defenders in before finding Flint attacking on his hip, and the diminutive halfback went over in the corner to get within two. Maea Leakehe's conversion, taken almost to midfield for the angle, was well struck but fell just short and Highland clung on to a two-point lead.
The ensuing restart had to give the crowd a feeling of deja vu, as once again Highland's kick did not go 10. But Herriman botched a scrum center off of a bad bounce out the side, and Highland went on the attack. As before, and as they had done so well all game, Highland was patient and controlled possession, and continued to pound the smaller team until they eventually went over.  The Mustangs defended doggedly, but double digit phases by the bigger, more physical side took their toll and the defense eventually broke and Highland put the apparent clincher in with only minutes left, 29-22.  Herriman, however, would not give in without a fight. Zak Barker took the ball out of the opposition's hands and create turnover ball off the restart.  Vaea would marshal the troops and distribute the ball, and Barker took a quick tap and dragged several defenders with almost to the tryline. Knowing that time was up and that only a converted try would level the score, Highland smartly defended well in tight, forcing Herriman to look wide when attempts near the posts were met with a wall of opposition. They did so, and an overlap saw Jace Kener in to the corner for a try at the death, but a difficult conversion to force the game in to extra time. With the strong legged Leakehe cramping, Flint was left to attempt the difficult sideline conversion, and though he struck the ball decently, did not quite have the leg to see it through.  
Highland got tries from Ezra Dunford, Ismael Vaifoou, Lelo Clark, Isaiah Jones, and scrumhalf and captain Noah Francis in a nice win that owed much to a hardworking forward pack.   
Although the shorthanded Herriman side put in a scrappy performance against a physical opponent, Highland unquestionably played the cleaner game.  The team that makes the least amount of mistakes is generally the victor, and such was the case this day for a good Highland side that put the rest of the state on notice that they intend to improve upon their 3rd place state finish from a year ago.  They will look to keep their momentum rolling next week vs. Davis.  Herriman, meanwhile, will no doubt be happy to get back to full strength as they travel to take on the Las Vegas Blackhawks next weekend before a huge tilt looming against United on March 31st.  Players returning to the lineup or not, there is much to clean up in the way of execution and fundamentals as they look to rebound and get their play back in sync.