Good Day 1 for USA Women in Sydney
Good Day 1 for USA Women in Sydney
Ryan Carlyle surges forward. Michael lee / KLC Photos.
The USA will be in the Cup Quarterfinals of the Sydney Women's 7s after the women's 7s Eagles beat England and Spain to go 2-1 in Pool Play.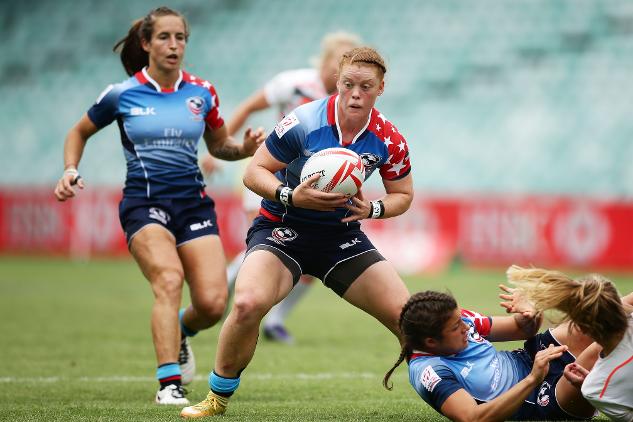 The Eagles opened the day with a 19-10 loss to Russia in a close game that was sealed with a late Russian try. Naya Tapper scored two tries, the second to put her side up 10-5 in the second half. But then the USA started to bring a little fire to the proceedings. They shocked England 22-14, holding the English scoreless in the second half while Lev Kelter scored twice to add to first-half tries from Kristen Thomas and Nicole Heavirland.
"Doing the simple things is really important,"Kelter said later. "Dubai was just getting our feet wet and now we're ready to go into day two here in Sydney."
And Day Two got a lot better-looking with an impressive 20-5 defeat of Spain. Thomas scored early, and while the Spanish tied it at halftime, once again the USA team finished the stronger. Joanne Fa'avesi, Kelter, and then Tapper all scored to put the USA at 2-1 and an assured place in the quarterfinals.