Gibbons, Boca on Collision Course in Florida
Gibbons, Boca on Collision Course in Florida
Gibbons is 4th, but the only undefeated team in Florida.
Okapi remains in 1st in the Florida HS league for the moment but the Wanderers did lost to Cardinal Gibbons this week.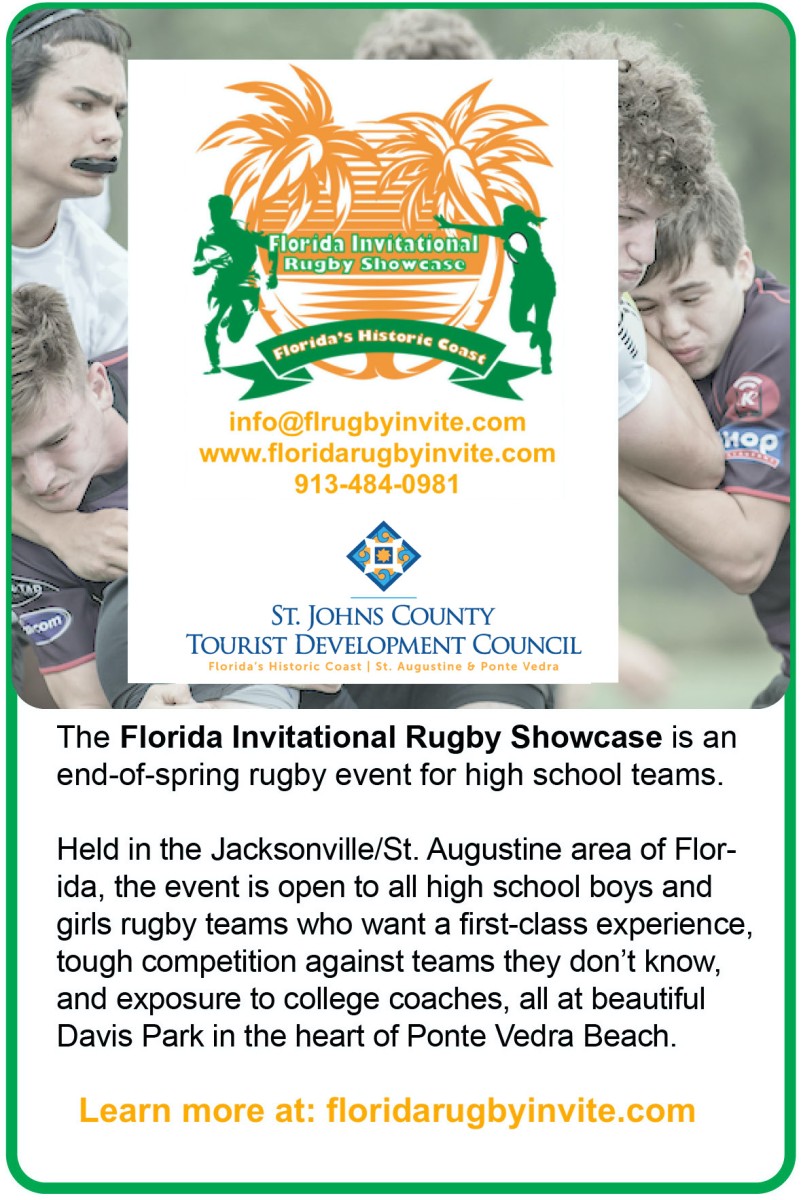 The result, along with Boca's win over Tampa, clogs up the top. The Florida standings award four points for a win, two for a tie, and one for a loss (thus rewarding teams for showing up rather than forfeiting—forfeits subtract a point). So Okapi's loss gave them a point, which was enough to keep the now 4-1-1 Wanderers in 1st place. "
Boca beat Tampe 26-5 in an impressive defensive display, with center Vicente Allué scoring a try and converting three for 11 points. Scrumhalf Cody Paholich broke a 0-0 deadlock deep into the first half with a try, and after center John Murphy equalized for Tampa, Allué sparked a second-half surge for Boca with a try that he converted to make it 12-5. Then wing Area Cartier was in—Allué's conversion making it 19-5, and moments later center Logan Ballinger was over with Allué converting to round it out 26-5. That put Boca at 4-0-1.
"Defense is mostly a buy-in and effort," said Boca Head Coach Matt Guest.
Jaxson Patterson was player of the game and was inspired on defense. Allué was effective not only in scoring but in controlling field position with his kicking from hand.
Cardinal Gibbons, at 16 points, lurks, however, having gone 4-0 and impressing with a 31-13 defeat of a skilled Okapi squad. 
It was a very physical game and in the first half there wasn't much between them. The Gibbons defense has been exellent, allowing only 18 points in their first three games. But a little string of mistakes saw Okapi burn them for a try and a penalty for an early 8-7 lead. Gibbons rebounded a bit, and while Okapi scored again, Gibbons scored twice to make it 19-13 at the break. 
It was a physical game played by both sides but we really had control of the game from the start. Although we did have a short period where we made mistakes near our try line and gave up a couple of scores. One that saw Okapi take a brief 8-7 lead. We rebounded quickly after that to go back ahead and ended he half up 19-13.
"Our defense is what has been winning games," said Gibbons Assistant Coach Eric Aumann. "If we didn't turn over the ball deep in our territory, there may have been no tries conceded. They had a hard time gaining much ground on us offensively."
That was clear in the second half, as Gibbons ran in two tries and gave up none.
Center Tray Brown was dominant on defense and also created many openings in the offense, allowing him to offload to his teammates to set up scores. Up front, Jose Olivier is a precise player who helps set the tone and the platform, and Trey Dubuc and Ricky Fasinelli were always near the action to ruck and retain possession.
Gibbons also got a breakout game from sophomore wing, Jackson Klein, who added a spark on attack.
So next week Boca plays Gibbons in a battle that could well decide the #1 seed into the playoffs.
"We are looking forward to a big matchup against Boca next week," said Aumann. "They always play us strong and the games are usually close. They have a very strong team this year that is not doubt going to test us in all areas.
Latest Scores
| | | |
| --- | --- | --- |
| Key Biscayne | 31-5 | Jacksonville |
| Boca Raton | 26-5 | Tampa |
| Hammerheads | 29-35 | Wellington |
| Cardinal Gibbons | 31-13 | Okapi |
Updated (unofficial) standings
| | | | | | | | | |
| --- | --- | --- | --- | --- | --- | --- | --- | --- |
| Florida Boys HS | W | L | T | PF | PA | PD | FL | PTS |
| Okapi | 4 | 1 | 1 | 137 | 89 | 48 | 0 | 19 |
| Boca Raton | 4 | 0 | 1 | 142 | 42 | 100 | 0 | 18 |
| Wellington | 4 | 2 | 0 | 142 | 121 | 21 | 0 | 18 |
| Cardinal Gibbons | 4 | 0 | 0 | 125 | 31 | 94 | 0 | 16 |
| Cape Pirates | 2 | 3 | 0 | 62 | 93 | -31 | 0 | 11 |
| Key Biscayne | 2 | 3 | 0 | 71 | 93 | -22 | 2 | 9 |
| Jacksonville | 1 | 4 | 0 | 52 | 135 | -83 | 0 | 8 |
| Tampa Krewe | 1 | 4 | 0 | 46 | 107 | -61 | 1 | 7 |
| Hammerheads | 0 | 5 | 0 | 53 | 119 | -66 | 0 | 5 |