Gamebreakers HS Boys Mid-March
Gamebreakers HS Boys Mid-March
Jayden Bartels for Bixby.
It's Mid-March and time for another shot at our Gamebreakers in Boys HS Rugby.
Matt Staycer, Torrey Pines
The massive body up front has skills too and he scored the first two tries in Torrey's 19-14 defeat of San Clemente in the SoCal Single-School semis.
Waisea Bainibure, Elsie Allen
The Lobos have been running in tries all over the place this season, and more often than not it's Bainibure doing them. The Elsie Allen No. 8 scored four tries in each of his team's first three games.
Sederik Saxon, Phoenix Alpharetta
Tries are one thing, and the big No. 8 for Phoenix has scored them, but it's his leadership within the team's pattern of play, his lineout work, and even his kicking that has elevated the Georgia side through a strong showing in Charlotte and in local league games.
Ryan Putka, St. Ignatius
An intelligent veteran presence on the defending national champion team, Putka is the silent assassin at fullback, effective inserting as an extra attacker and assured on defense; his play helped spark Ignatius to wins over Royal Irish and LaSalle.
Burke Carroll, Gonzaga
Young players are stepping up for the Eagles, but it's the longtime No. 8 who has made sure everything comes together. Defensively imposting and the go-forward man at No. 8, Carroll led Gonzaga to early wins over LaSalle and Sacramento Jesuit.
David Kendig, Vienna
The Vienna hooker is a powerful presence in the Vienna pack. A powerful tackler, tough on the clearout, good on scoring close-in tries, and an all-around leader, he has kept the defense focused in a series of strong opening games for the Virginia side.
Will Walker, Granite Bay
Walker put in a massive effort in his side's 49-21 defeat of Gonzaga. While GRR has cautioned against getting too worked up about the scoreline due to some open subs, Walker was massive and played hard all day lone.
Ethan Scott, Woodlands
In the Woodlands team's Connecticut tour, Scott scored key tries and made key plays in all three wins (Aspetuck, Greenwich, and 
Jason Champagne, Aspetuck
Champagne scored three tries in a close losing cause vs Berks.
Matt Cleland, Berks
Cleland led the Berks offense in a big win over Aspetuck, and made several key plays as Berks went 3-0 in a round-robin event in New Jersey.
Medhi Merah, Xavier
The Xavier HS flanker was a massive physicaly presence in Xavier's opening win ver St. Augustine. 
Blake Liddell
Liddell has been a central attacking threat for Tempe as they have won key local games and also performed well at the LAI.
Papa Matelau, East HS
Two tries from the No. 8 saw the Utah squad (not to be confused with East HS out of Colorado) in a close win over Brighton.
Noah Sanchez, Jesuit Sacramento
A scrappy showing from the Marauders' #9 helped lead the side to a close win over St. Francis.
Brady Weatherlly, 901
The center (pictured below) was a powerful runner and impressed in the Lindenwood Tournament.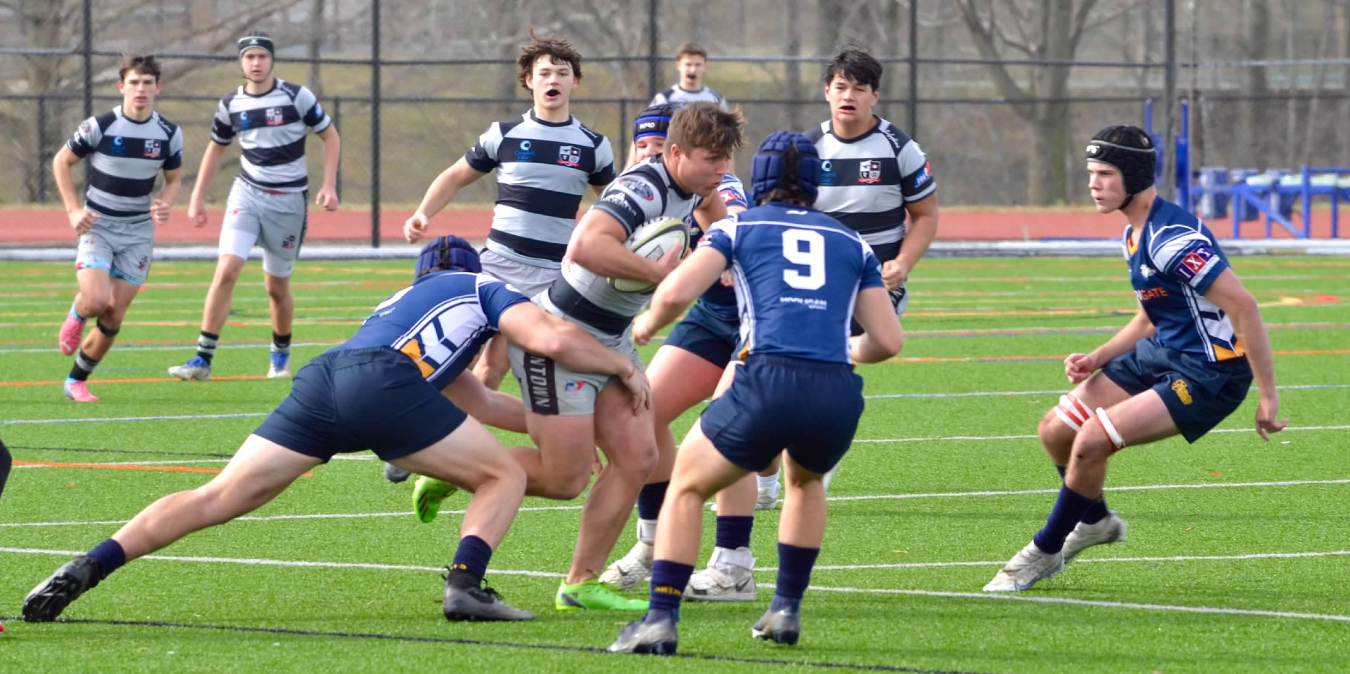 Tommy Rainsford, De La Salle
Yet another No. 8 with s scoring touch and the ablity to make a difference defensively. This time Rainsford led his side to a win over Jesuit to make the All-California Top 4.
Steven DeVault, Pendleton
DeVault was the man in the lineout for Pendleston during their successful tour of New Orleans. His ability to steal ball in that set piece gave Pendleton additional scoring chances.
Jay Murphy, SFGG
The inside center has been a defensive rock and as captain Murphy is a strong leader for SFGG.
Oliver Dugan, Marin
The Highlanders tighthead is a powerhouse and enjoyed an especially solid game against a tough Danville Oaks team. 
Jaydyn Bartels, Bixby
The Bixby center scored four tries in his team's opener and has hardly slowed down as he gives defenses fits.
La'au Maka, Rainier Highlanders
A try and good work in the rucks say Maka help lead Rainier over Camas.
Archer Fenton, Rye
Two tries from the Rye scrumhalf helped Rye beat Fairfield this week.
Conor McGuirk, St. Edward
Pulling the strings on offense for St. Ed's at the Carolina Ruggerfest, McGuirk led his side to a 3-0 day.
Travis Padilla, West Houston
In WH's win over Brazoria, Padilla, playing hooker, scored three tries, helping drive a very effective maul for the Lions.
Dawson Demoss, Olentangy
Powerful running and smart support made Demoss a key attacking threat in his team's win over Dublin