Fort Hunt Wins Virginia
Conor McManus was the MVP. David Hughes photo.
The Fort Hunt Warriors concluded one of their best season Saturday with a 36-19 defeat of Prince William in the Rugby Virginia Boys DI state final.
This was Fort Hunt's third state championship in the past five years.
Prince William, which had edged West End a couple of weeks ago to earn a spot in the semifinals, and did well to then win their semi and hang tough against a Fort Hunt team that has beaten most opponents by large margins.
This game was played in the rain and cold, and perhaps that weather contributed to the tense nature of the game. Certainly Prince William threatened many times. Fort Hunt scored two early tries, but the wind wreaked havoc with the conversion attempts. Fort Hunt's first try was pushed across by Jack McCrossin and was quickly followed by another try from Andrei Golding. Fort Hunt was on the front foot and ready to break out like that had done most of the year.  But Prince William settled into a strong pattern of defense and forward play to slow the Warriors. 
After several penalties and a yellow card to the Warriors, Prince William answered with a tough score from flanker Will Jacobs. Jacobs had a strong game and was all over the field throughout. On the following possession Prince William, playing deep in the Warrior's zone, scored again when flyhalf Caleb Strum broke through the Warriors line and scored. Scrumhalf Jose Reyes added the conversion and Prince William took the lead. 
Players piped on before the game. David Hughes photo.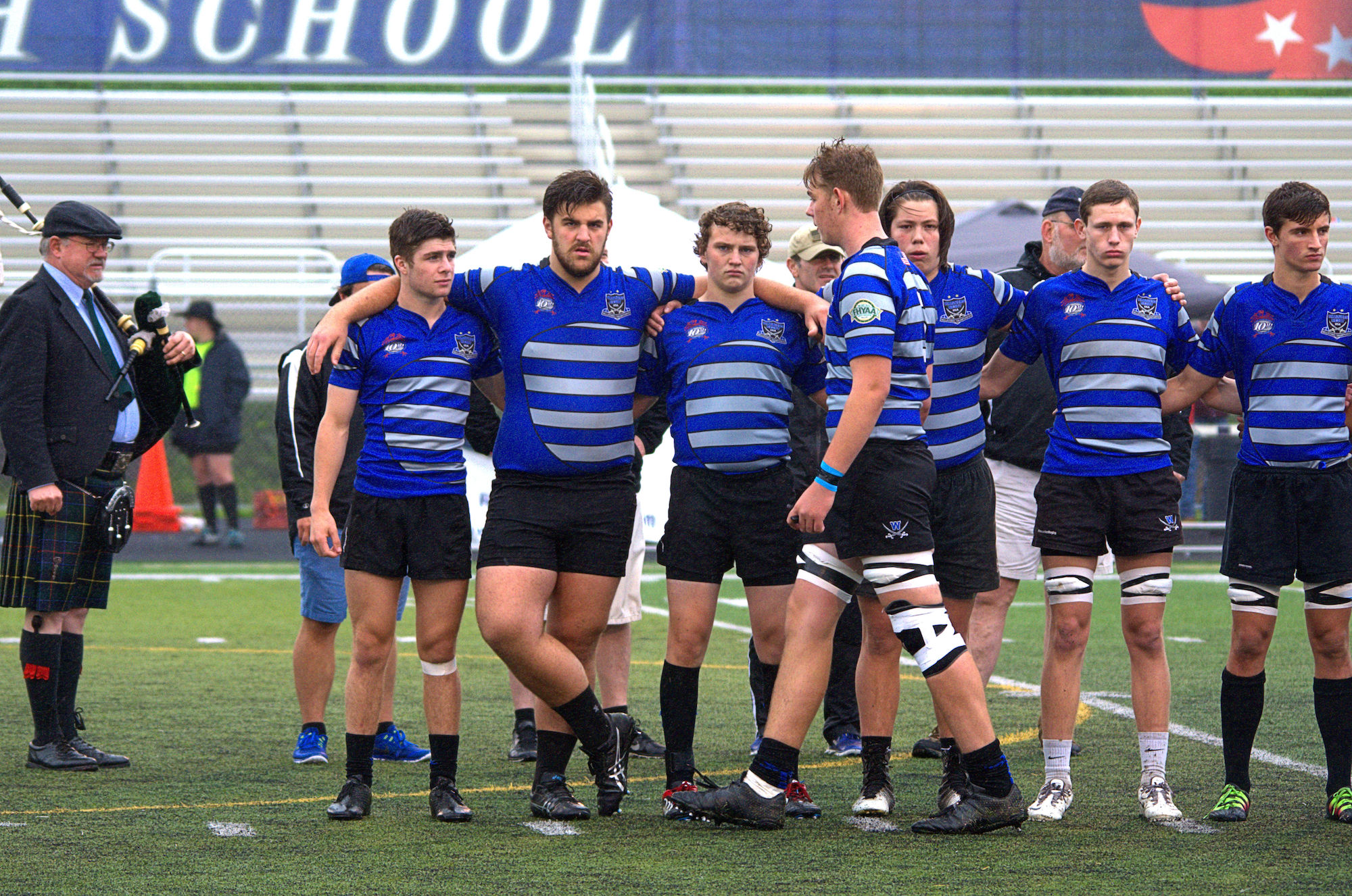 Fort Hunt had lost just the one game all season - to perennial power Gonzaga HS, and even falling behind was a rarity.
 "I was interested to see how they would respond," said Warriors Coach Dale Roach afterward.
They responded by regaining the momentum on short order. No. 8 Chad Abdalla started them off with a crashing run and ended it by stretching over the line for a try.
"He has run so strong on so many occasions in different games, he is a tough combination of size, power, and speed," said Roach. Once again the wind messed with the conversion attempt, and Fort Hunt had to settle for a 15-12 halftime lead.
Chad Abdalla scores. David Hughes photo.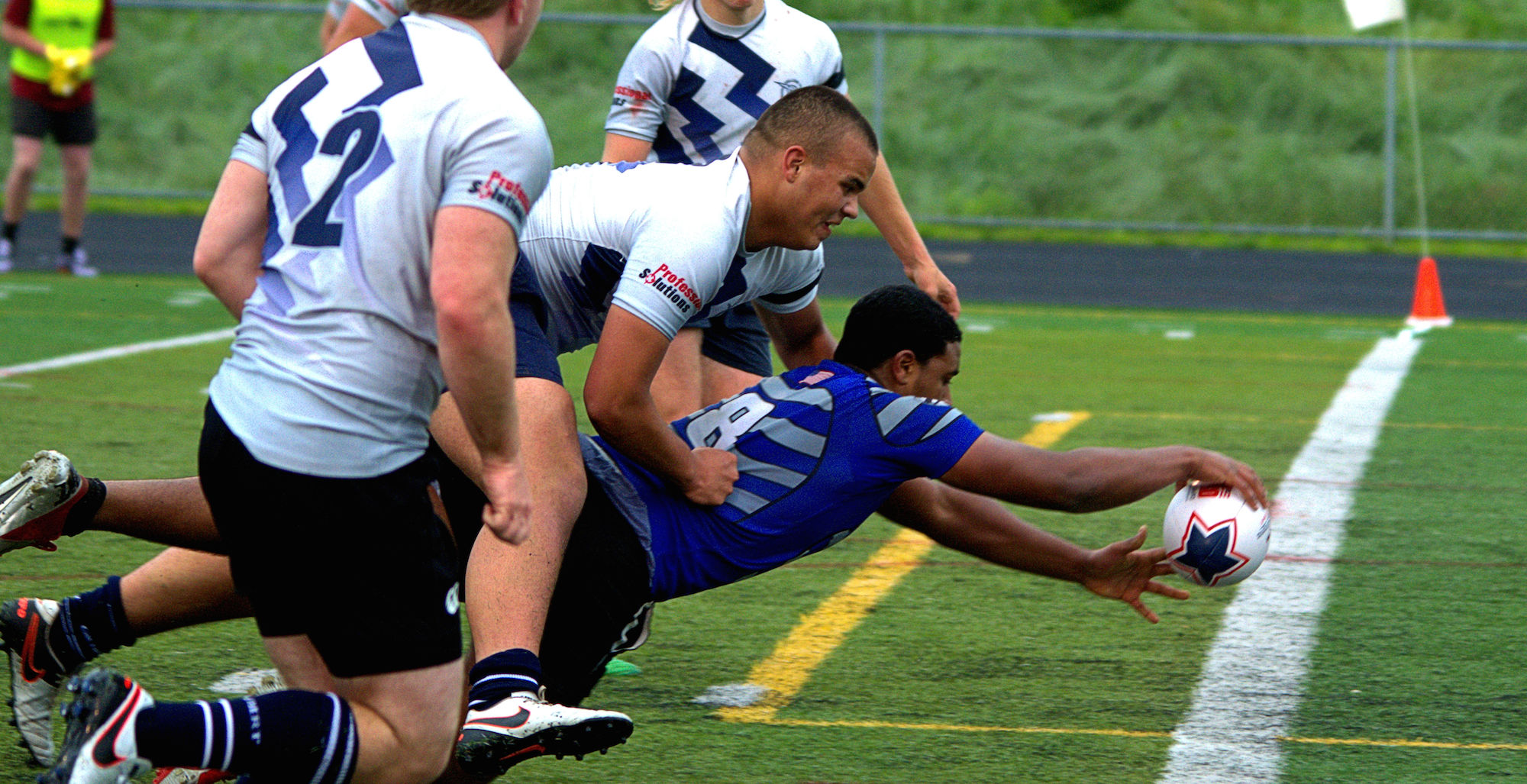 The game was nearly even and each team reloaded at halftime and came out playing strong. Prince William struck first with a nice series of passes as the backs put the ball through the hands and ended with nifty score on the outside by Cuyler McCorkindale.  Reyes, who was a steady presence at scrumhalf all day, slotted the kick and Prince William had the lead 19-15.
It was at this point that the Warriors returned to their game plan and began to move the ball inside Prince William's 22 on a consistent basis.  Prince William played strong defense but eventually the pressure was too much and Abdalla crossed the tryline again. Kicking with the wind, scrumhalf Conor McManus converted the try and the score was 22-19 Warriors. 
As the clock wound down, Fort Hunt used lineouts to launch attacks on Prince William, and tighthead prop Sean Dowling eventually pushed another try across for the Warriors. MacManus, the game's eventual MVP, converted the kick and the score was now 29-19 Warriors.
"That series of lineouts was amazing, but not entirely surprising to our squad," Roach said. "Our jumper, [lock] Leo Clifford has been dominant all season, especially in these last two, three games. He was really our unsung hero of the playoffs."
With a little breathing room, the Warriors played methodically while Prince William pushed hard to narrow the gap. As full time expired and Prince William frantically tried to move the ball for a score, Fort Hunt fullback Daiimon Cleveland stole a pass and ran 60 yards for the final converted score, 36-19. 
Fort Hunt sealed the state championship, and looked very good in accomplishing that feat. They have won the title every other year since 2012, but Roach said maybe it's time to get a streak going.
"This is a team that has achieved every goal they set for themselves back in December," Roach said.  "We only had three seniors on the field during the Championship match, so we're already pretty excited for next year."
West Potomac senior and team captain Max Dacey said, "We knew that every game would be a hard contest, but from our very first game where we dominated our opponent, we knew we had in us to go all the way.  We couldn't have done this without our B team, or freshmen and sophomores who trained with us and gave us the tough opposition at every practice.  This a great club victory."
Coach Roach summed the day and the year up by saying "I love rugby ... what a game"