Elite HS 7s Latest from LVI
Elite HS 7s Latest from LVI
Try time for EIRA in pool play. Dan Bandoni photo.
With some results still to be confirmed, here's how it looks in the Boys Elite 7s at the LVI.
James, top, and Madden in action for EIRA. Dan Bandoni photos.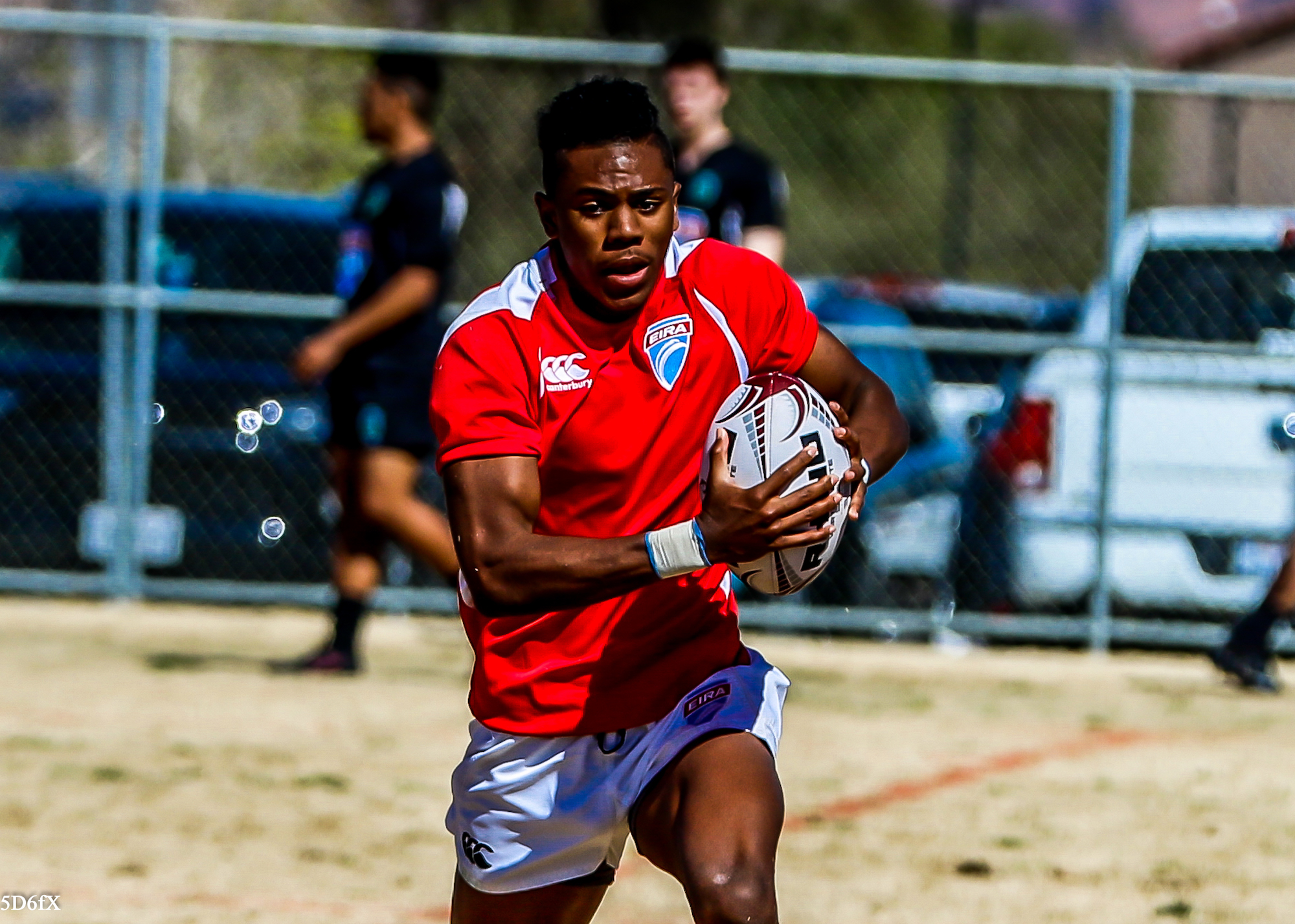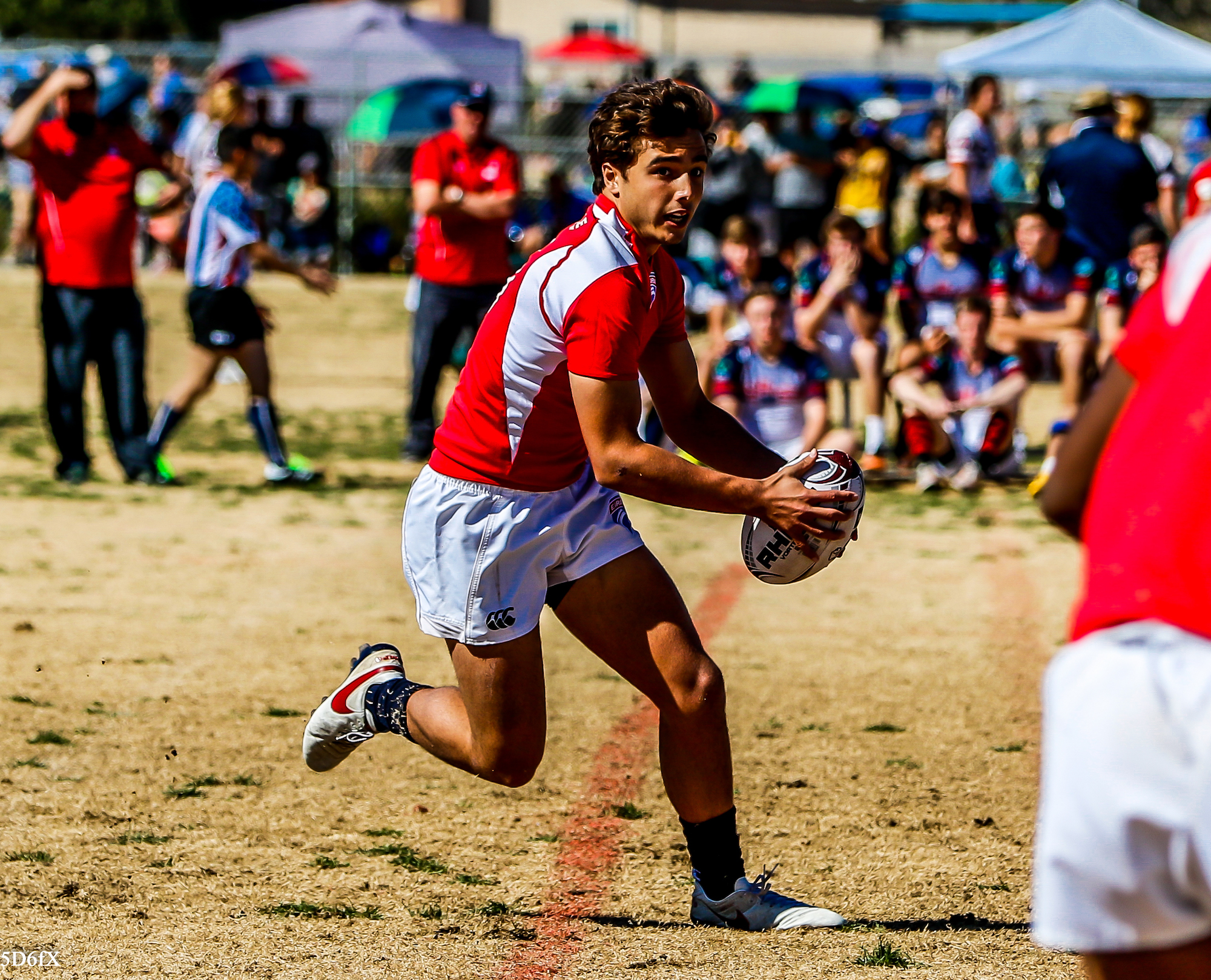 Atlantis was superb, beating their three pool opponents by a combined score of 117-7. With John Dorman, Jayden Demmy, and Tyson Lucas testing defenses, Atlantis did a nice job showcasing talent from the Pennsylvania/New Jersey area. They did attract some players from outside that area, with Lucas coming from Allen, Texas, and Californians Jon Rogers and Jeremiah Bates also showing well.
"Some might say we had an easy pool," said Atlantis Coach Greg Schor Haskin. "Maybe, but we'll take it." It was still an impressive team effort by Atlantis.
Taniwha out of New Zealand also impressed, as expected, and won all three games, although not by huge runaways. In Pool D, the Eagle Impact Rugby Academy team was solid, playing excellent defense in allowing just the one try. With Ryan James burning defenses, Ben Broselle strong in contact, and Patrick Madden leading the attack, they had a ton of talent. Garrett Kay and Jack Wendling kept the work rate high, and there were other solid efforts, too.
The USA South Panthers held on to finish 2-1 in that pool, scoring at the death to upend Danville in the last game of the day for that pool.
Many felt Pool A was the Pool of Death and perhaps it was. British Columbia and DMV out of Maryland met in the first game of the day. given no time to work their way into the tournament, both teams battled hard in a dramatic game that ended 19-17 for DMV. DMV went on to power past EIRA 2 and Atavus to win the pool. BC finished 2-1, but it was a close-run thing as they got by both EIRA 2 and Atavus by slim margins.
So the top eight look to be (this is what we think is the order):
1. Atlantis
2. Taniwha
3. EIRA 1
4. DMV
5. BCEY
6. Cobra
7. USA South
8. Upright

The next 8 for the Boys are:
9. Utah Cannibals
10. EIRA 2
11. Danville
12. Utah Academy
13. Washington Loggers
14. Atavus
15. State of Mexico
16. Play Rugby USA
HS Elite Standings
 
| | | | | | | | |
| --- | --- | --- | --- | --- | --- | --- | --- |
| Pool A | W | L | T | PF | PA | Pd | Pts |
| DMV United | 3 | 0 | 0 | 77 | 19 | 58 | 9 |
| BCEY | 2 | 1 | 0 | 41 | 44 | -3 | 7 |
| EIRA 2 | 1 | 2 | 0 | 51 | 43 | 8 | 5 |
| Atavus | 0 | 3 | 0 | 10 | 80 | -70 | 3 |
|   |   |   |   |   |   |   |   |
| Pool B | W | L | T | PF | PA | Pd | Pts |
| NZ Taniwha | 3 | 0 | 0 | 107 | 19 | 88 | 9 |
| Upright Rugby | 1 | 1 | 1 | 53 | 48 | 5 | 6 |
| Utah Cannibals | 1 | 1 | 1 | 36 | 48 | -12 | 6 |
| Play Rugby USA | 0 | 3 | 0 | 19 | 100 | -81 | 3 |
|   |   |   |   |   |   |   |   |
| Pool C | W | L | T | PF | PA | Pd | Pts |
| Atlantis | 3 | 0 | 0 | 117 | 7 | 110 | 9 |
| Cobra Rugby | 2 | 1 | 0 | 49 | 53 | -4 | 7 |
| Utah Academy | 1 | 2 | 0 | 52 | 88 | -36 | 5 |
| State of Mexico | 0 | 3 | 0 | 19 | 94 | -75 | 3 |
|   |   |   |   |   |   |   |   |
| Pool D | W | L | T | PF | PA | Pd | Pts |
| EIRA 1 | 3 | 0 | 0 | 91 | 7 | 84 | 9 |
| USA South Panthers | 2 | 1 | 0 | 47 | 59 | -12 | 7 |
| Danville Oaks | 1 | 2 | 0 | 40 | 68 | -28 | 5 |
| Washington Loggers | 0 | 3 | 0 | 24 | 68 | -44 | 3 |