EIRA U17s Beat BC U17s
The Eagle Impact Rugby Academy U17s took it to the British Columbia U17s Wednesday in Vancouver, beating the host provincial team 58-17 on the campus of the University of British Columbia.
The EIRA team was superior, for the most part, playing a wide game. They pushed the pace and showcased some impressive ball-handling and decision-making. With flanker Garrett Kay stealing ball in the lineouts and in the loose, and with flyhalf Justin Petersen making some smart decisions, the EIRA team was able to open up some gaps early. 
"We wanted to play wide but the key was to not push it but test them in the interior channels first," said EIRA U17s Coach Brendan Keane. "Jack and Quinn did an excellent job straightening the lines and getting us behind them."
That would be centers Jack Wendling of Chuckanut and Quinn Perry of Santa Monica.
With those two running straight and hard, they were able to link up with their support. Wing Christian Newby and then flanker Jack Burns scored tries. Then Wendling went over to make it 17-0 after 18 minutes.
Dan Bandoni photo.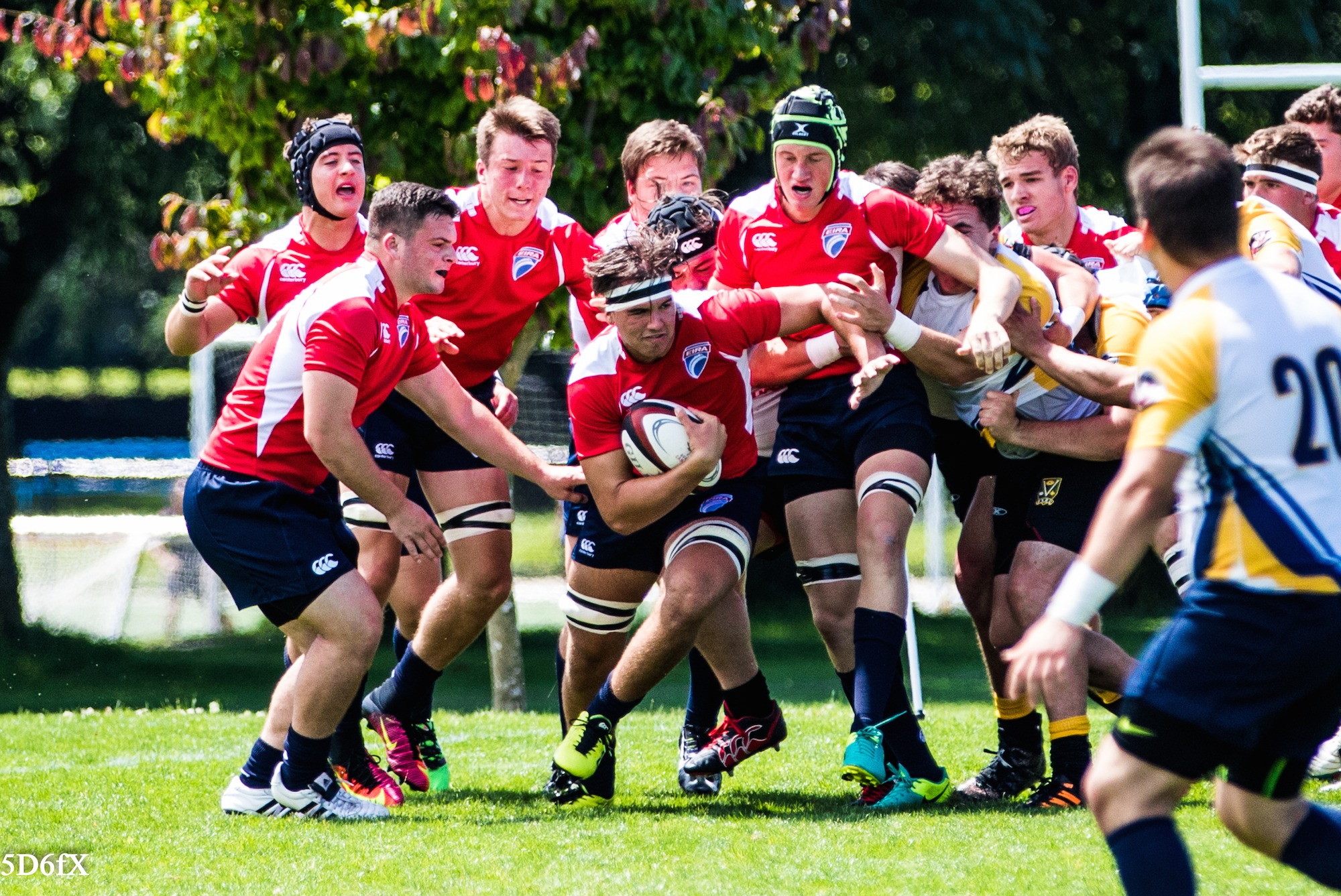 BC's defense got a little stronger as the time went on, and some EIRA mistakes scuttled good scoring opportunities. But with seven minutes left in the first half, Bailey Wilson went over and then prop Doug Mitchell to make it 31-0 at halftime. 
Almost immediately in the second half EIRA thumped the Bears again. Wendling was in perfect position as Petersen executed a 2-on-1 nicely. Moments later some more nifty ball movement set up scrumhalf Connor McManus to make it a romp at 43-0. Kay was on hand in support to make it 48-0 with 28 to go.
But BC came back, punishing some penalties to score from a lineout and then score out wide to make it 48-12. Quickly EIRA responded, once again Kay in support on some nice open-field play. He was there again on the receiving end of a slightly late, but effective pass. And then EIRA ended the game right on the BC doorstep. They had the ball and numbers, but a superb play by the BC center saw him intercept the final pass and go in untouched to end it 58-17.
It was, overall, an impressive performance where the EIRA players showed why regular concentration on skills pays dividends. If you wanted to be a bit pessimistic, you might say their tries were more from turnover ball than from constructing from first-phase. But the tries counted the same regardless.
"Our first half was good but we also got away with some stuff because we were dominant in contact," said Keane. "Our line speed was good but our defensive process wasn't exactly what we wanted it to be. We were a bit lazy on the weak side and that's where we got caught out in the second half."
The players remained at UBC to cheer on the EIRA U16s and the HS All Americans, and Wednesday night will participate in a leadership exercise, get a bit of a rest Thursday morning and then hit it hard again readying for Saturday's rematch.
EIRA U17s 58
Tries: Kay 3, Wendling 3, Newby, Burns, Wilson, Mitchell, McManus
Convs: Van Tonder 2, Petersen 2
BC U17s 17
EIRA U17s Lineup
1. Doug Mitchell (Granite Bay, Calif.)
2. Gabe Mahuinga (Herriman, Utah)
3. Xavier Doering (St. Thomas Aquinas, Kan.)
4. Asa Carter (Union, Okla.)
5. Joshua Schnell (Katy, Texas)
6. Jake Burns (Chuckanut, Wash.)
7. Garrett Kay (Jesuit, Calif.)
8. Bailey Wilson (United, Utah)
9. Conor McManus (Fort Hunt, Va.)
10. Justin Petersen (Coastal Dragons, Calif.)
11. Desi Streater (Granite Bay Calif.)
12. Jack Wendling (Chuckanut, Wash.)
13. Quinn Perry (Santa Monica, Calif.)
14. Christian Newby (Southern Pines, NC)
15. Kyle Van Tonder (Rocky Mountain, Idaho)
16. Jack Manzo (Xavier, NY)
17. Max Walding (OMBAC, Calif.)
18. Nick Zimmer (San Diego Mustangs, Calif.)
19. Alex Rayton (The Woodlands, Texas)
20. Blake Richards-Smith (Coast Dragons, Calif.)
21. Chase Schor Haskin (West Pines, Fla.)
22. Alex Evans (Granite Bay, Calif.)
23. Ethan McVeigh (OMBAC, Calif.)
24. David Hannon (Royal Irish, Ind.) 
25. Andrew Turner (Granite Bay, Calif.)