EIRA Player Spotlight - Mavaeganailetai Roberts
EIRA Player Spotlight - Mavaeganailetai Roberts
Here's how you score the winning try in a championship final: stay low, power through a gap between defenders, and protect the ball at all times. Solid form from Roberts. Jay Coulter photo.
Los Alamitos High School may have benefited from a group of kids who played with North Bay, but even so, it's quite the story that in the team's first year, they won the Southern California Varsity White championship.
It was an impressive team effort from this program, but there's nothing wrong with noticing the odd individual performance, and it's pretty hard to ignore sophomore prop forward Mavaeganailetai Roberts. All he did, in a game won in the closing seconds, was score four tries.
"It was a total team effort," said Roberts, who scored two tries in the first half and two in the second. "Everyone had to play together and we played as a team."
The  5-11, 260-pound prop is a lineman in football, but enjoys carrying the ball. He's got the skills to play in the open field, but most of his carries are in tight near the base of the ruck. That was Los Alamitos' bread and butter.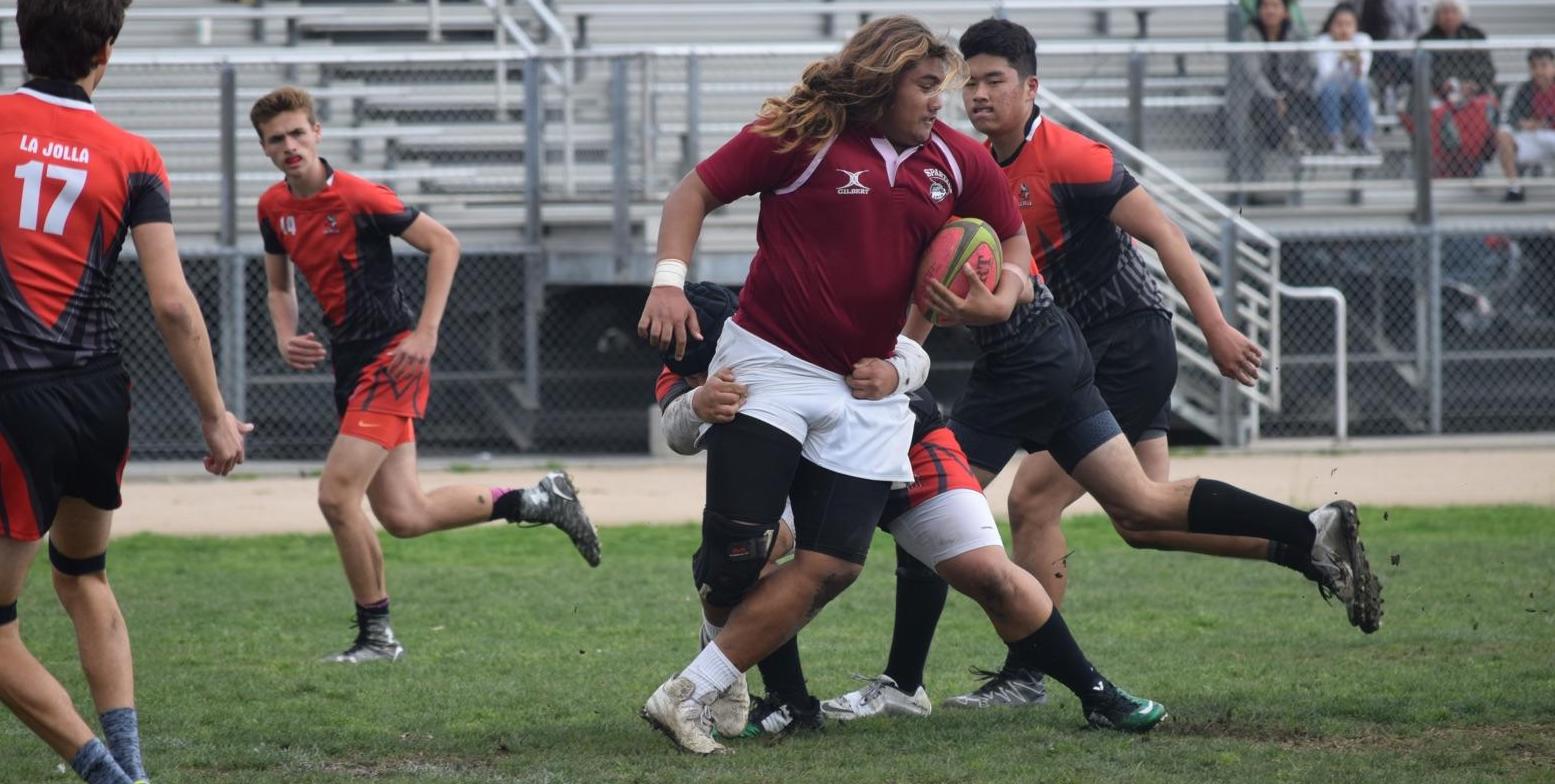 In the first half, Los Al ran out to a 24-5 lead. But indiscipline got the better of them and they started to get cards from the ref. In the end they suffered two red cards and three yellow in that half. University City responded with four tries to take the lead.
"We hadn't scored at all the second half and we were just saying, we've got to get the ball," said Roberts. "We were shorthanded, but we knew if we could just keep the ball we'd be able to score."
Roberts went over for his third, and as the game wound down, University held a slim 33-29 lead. Once again the Los Alamitos forwards put the pressure on, and once again Roberts went over.
"It was a great feeling," he said. "I just knew I could get the ball and score and we'd win. This has been awesome to be a part of the team."
Out of nowhere, seemingly, Los Alamitos has come in as champions, and that may be, but Roberts said there's been a strong sense of believe in the team regardless of whether they are new or not. Watch out for Los Alamitos as they grow ... 
and watch out for Mavaeganailetai Roberts, he's our Eagle Impact Rugby Academy player spotlight.