EIRA Player Spotlight - David Hannon
EIRA Player Spotlight - David Hannon
Flyhalf and scrumhalf are important positions on a rugby field - they're all important, sure, but these two have special responsibilities - and perhaps that's why we so often see players trained overseas fill those positions at the national, pro, club, and even college level; but there are capable halfbacks in the HS ranks coming up who need to be looked at.
One of those is part of what could be a halfback dynasty. David Hannon is the younger brother of Brian Hannon, who was flyhalf for Royal Irish when they won their last two HS Club National Championships in 2014 and 2015. David was a freshman wing on that 2015 team, and then took over at flyhalf in 2016, leading the Royal Irish to another national final (where they were defeated by Granite Bay).
Dan Bandoni photo.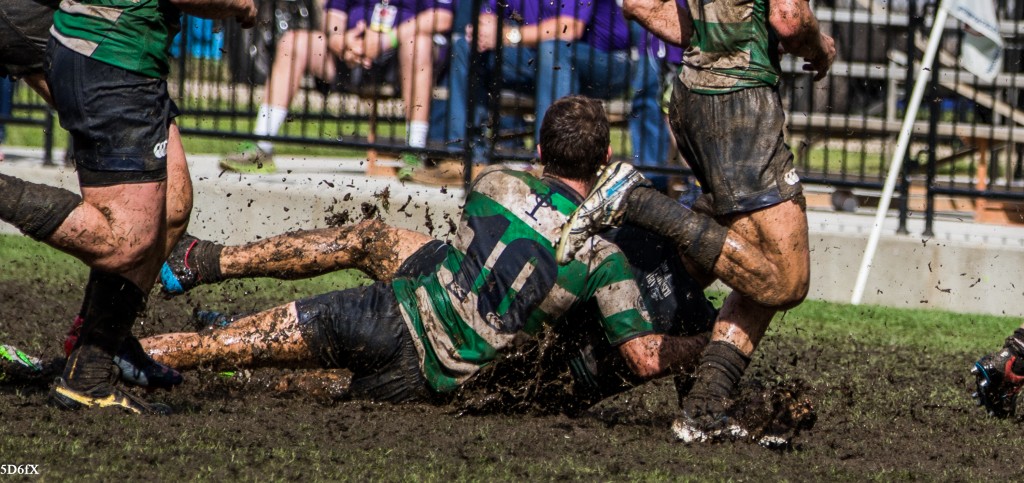 "Stepping into Brian's position was a scary thing," Hannon told Goff Rugby Report. "My brother was in town and he helped me a lot - he taught me some good strategies. I had a lot of experienced guys help me as a sophomore. Kyle Hoeper was right there with me so it wasn't just me making the calls."
David Hannon looks to be set to be the Royal Irish flyhalf for the next two years. Then what" Well Tommy Hannon is in 7th grade and a very good scrumhalf. David says Tommy will likely stay at scrumhalf.
"I really liked playing with David as a freshman, and we got to play together as well when he was in 8th grade and I was in 5th grade," said Hannon. "So I am really looking forward to when Tommy's a freshman and I will be a senior and we could play together. It would be a really cool experience."
It all started with the Broad Ripple youth program. Joe Sullivan was a neighbor of the Hannons and got David playing when he was in 4th or 5th grade.
"We fell in love with the sport, and my parents fell in love with the sport," said David. "That Broad Ripple program has produced players like Gavin Brown and Bryce Campbell, and Greg Wood, Brian, and Joe Sullivan. They've all been really successful."
David started out as a scrumhalf, and then played flyhalf before moving to wing in his freshman year. But his Royal Irish Coach, Scott Peterson, had no doubts about his ability to retake the #10 jersey.
"The transition was pretty easy for him to get where he is as a flyhalf," said Peterson. "He had the physical skills and athletic ability make all the plays. He also had a good rugby IQ from playing from a young age - and probably watching the excellent flyhalves before him. Furthering his mental game is what will take him to the next level. He still likes to make things happen on his own when it breaks down around him, which he does very well, but the ability to use his teammates and play to space in those moments combined with the skills and athletic ability he's continuing to develop is a big part of will take him there. He's just started his junior season and I would put him up against any other high school flyhalf in the country."
But it takes work to keep that position as you progress through the ranks. As we said above, too many college teams rely on overseas talent at scrumhalf and flyhalf, making it harder for home-grown talent to show it can do the job.
"It's an important position," said David. "I didn't know where I was going to play coming in as a freshman, but watching Brian while I was playing wing
helped me a lot. I know it's a position you have to fight for going forward; you do have to have a lot of knowledge of the game being a #10. I hope that my experience over time will help, but if a coach finds a better position for you, then maybe that's the right position."
Royal Irish lost the national final to Granite Bay, but bounced back a week later to win the Indiana state title against a very tough Penn HS. The season was a good one, with a Midwest club championship in there, too. But Hannon said there's more to do.
"It doesn't taste good to not win, especially after winning the last two years, but we definitely got some positive feedback out of it," explained the Royal irish flyhalf. "We came back and played in the state final and we played well as a team because of what we'd learned." 
Hannon then went on to tour with the Eagle Impact Rugby Academy U17s in British Columbia, where the EIRA squad swept the BC U17s.
Hannon said he wasn't sure it was a shock, but maybe it was.
"Re-watching those games, those guys must have been practicing for so long," he said. "We put it all together in that short little week. I had never played with those guys and it was a great experience. I definitely learned a lot and competed with guys at high level. The chemistry was there; I learned a lot about chasing ball and how to communicate and where I am and how to move them around. I love those high-level games. It's really fun to play the good teams; the feeling of winning a game when it's close the whole way through and knowing you fought for it, is a great feeling."
Maybe it's that attitude that make David Hannon our Eagle Impact Rugby Academy spotlight player.