EIRA Academies See Growth
EIRA Academies See Growth
Players go through their paces at EIRA Southern California.
Eagle Impact Rugby Academy assemblies have been ongoing throughout the fall around the country, with almost 100 HS teams sending players to six different locations for regular skill training.
EIRA runs regular academies in New York, North Carolina, Washington state, Southern California, Texas, and at Lindenwood University in Missouri.
Each chapter is run by a specific coach, with EIRA Director Salty Thompson overseeing it all. Those coaches work with assistants and also often bring in guest coaches to work with players on specific aspects of rugby play.
"We are through four of the six sessions for the current cycle with two sessions to complete before before Christmas. The athletes' commitment to the program has been good and we are seeing development in their ball transfer skills, decision-making, and tactical awareness in both attack and defense," said Brendan Keane, who runs the North Carolina EIRA program. "Their fitness levels are also improving from past years. There is still much work to be done to get our technical skills and tactical understanding up to where we want it to be."
Keane said the players have shown commitment to the program.
In Southern California, about 80 players are attending under coach Jeff Bonnett, who said that he's enjoying working with the experienced players who see EIRA as a way to get better, but he wants more.
"We need to get the younger ages, kids that moved up from U14s and U16s," he said.
In Washington, the players will participate in their fourth session this coming weekend, with participation up about 20% from 2014. Guest coaches such as Scott Bracken, Cameron Frater, Salty Thompson, and Tony Pacheco have all helped out.
EIRA WA Players.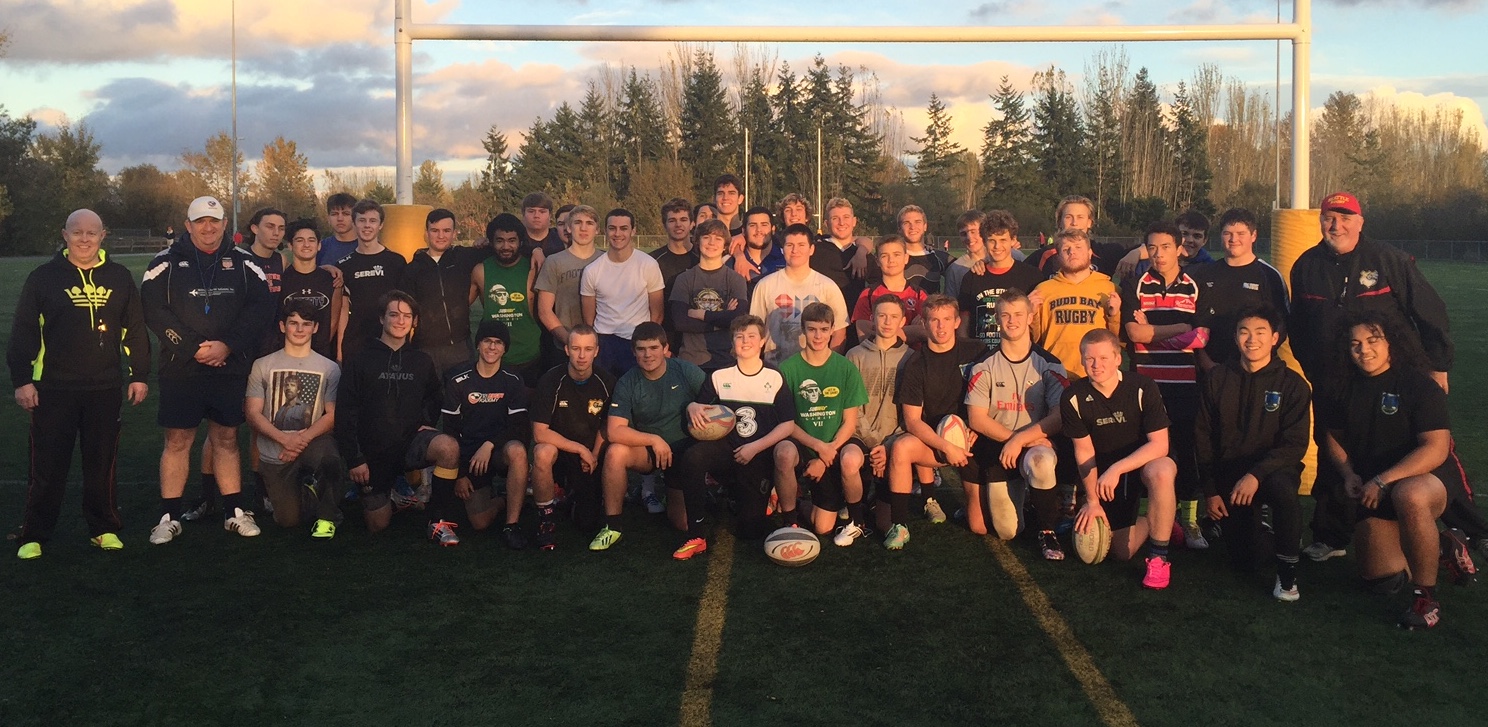 "The overall focus this year for EIRA is core skills – pass/catch mechanics, running angles, identifying where and how the defense is responding," said coach Steve Brennan. "We spent much of our last session on creating and executing 2-on-1s. It's such a basic element of the game but one that is difficult for young players to see, particularly in support. This week is more structure-focused, both in terms of defensive systems and attacking structures."
While working on skills, the EIRA coaches have also pushed the fitness demands of the game at a high level.
Brennan said his group is starting to get it, and the players who were on the Washington Loggers select side development team that went to British Columbia during the summer have helped raise the expectations.
"We have a lot we want to throw at them the next three sessions but it will continue to emphasize the basics," said Brennan. 
Numbers look good in Lindenwood thanks in large part to the work of Administrative Director Amy Hart-Doering. Despite a short buildup the new EIRA chapter has 56 players training regularly
"As we have seen in many nontraditional rugby pockets of the US, there are some athletic and eager young footballers that, when given opportunities at the next level, will excel," said coach JD Stephenson. "We are seeing very coachable, disciplined young men with a good base skill set to continue their skill and rugby IQ development on."
New York is another new chapter, with coach Matt Persanis bringing in guest coaches such as Mike Petri, Nick Discala, Thompson, and Keane to assist the staff that includes Lara Vivolo, Christian Mayo, and several other highly capable rugby people.
EIRA NY players.
Led by Pelham players Kevin Ndou and Luke Persanis, and with Greenwich standout Soh Nakayama, Staples HS center Mike Jennings, and Aspetuck lock Ryan Robb, the diverse group has improved as a whole because the experienced players are bringing everyone up, said Persanis.
EIRA NY Coaches.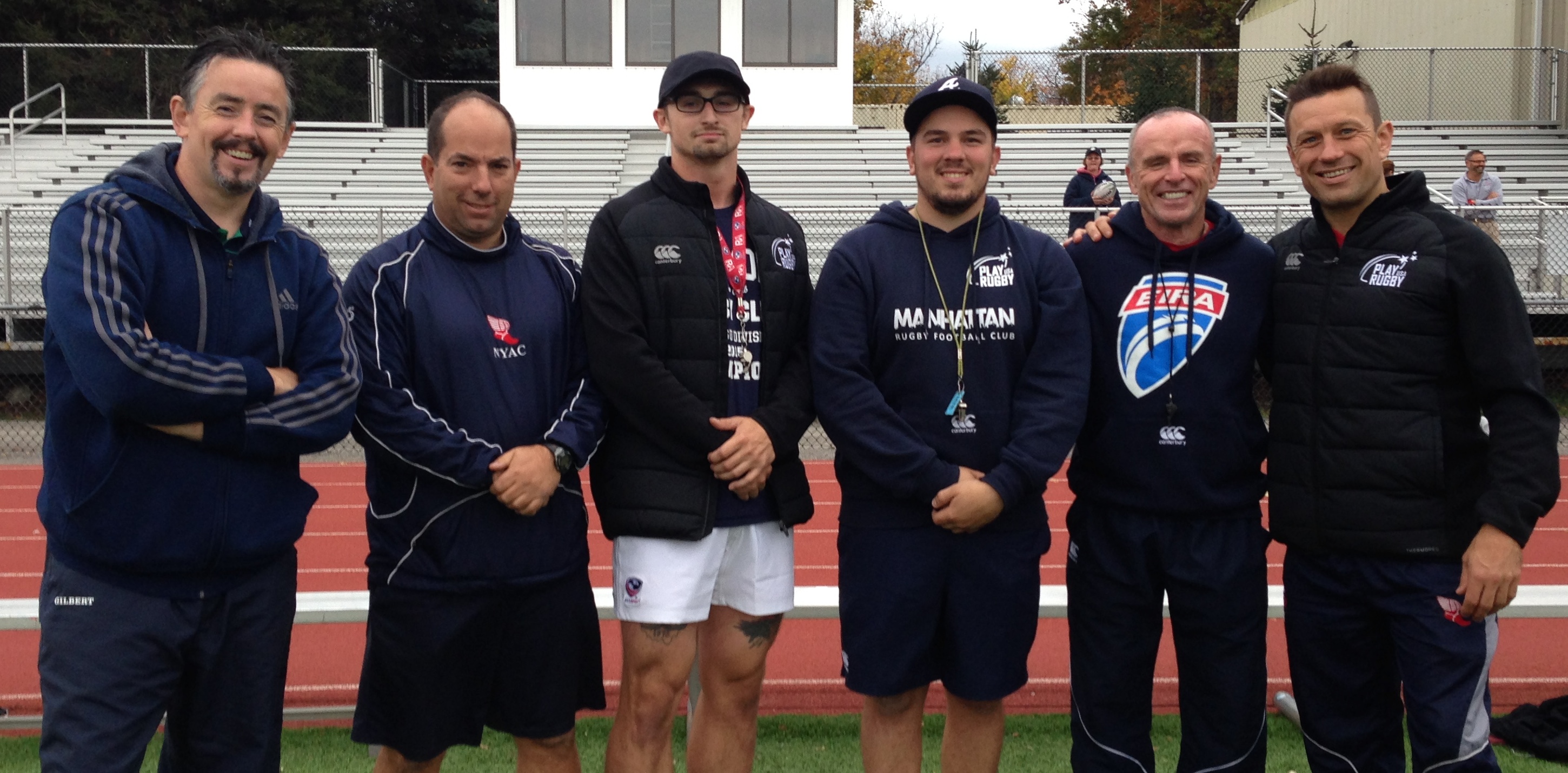 "Having the EIRA in the area gives kids a chance to improve and a chance to be seen," said Persanis. "I also think it's great having so many coaches from so many programs helping. We have a 4:1 ratio of players to coaches. That allows us to really see everyone and offer advice and coaching to just about every kid. If a kid is struggling, it allows us to pull him aside and work one-on-one."
Persanis added that having players from the NYAC men's club has been a boon as they bring a different perspective.
For more on EIRA and the one-off sessions held elsewhere in the country, go to http://www.eirarugby.org/