Eagles Hold Off Uruguay
Former Gonzaga HS All American Ben Cima made his debut at flyhallf and logged 11 points in the USA victory. Colleen McCloskey photo.
The USA Men's National 15s team has beaten Uruguay 29-23 in a tense Americas Rugby Championship game in San Antonio Saturday.
Photos Colleen McCloskey. Top to bottom, Augspurger one the run, Scully celebrates his try, Cima gets some points, Purpura and Campbell on defense.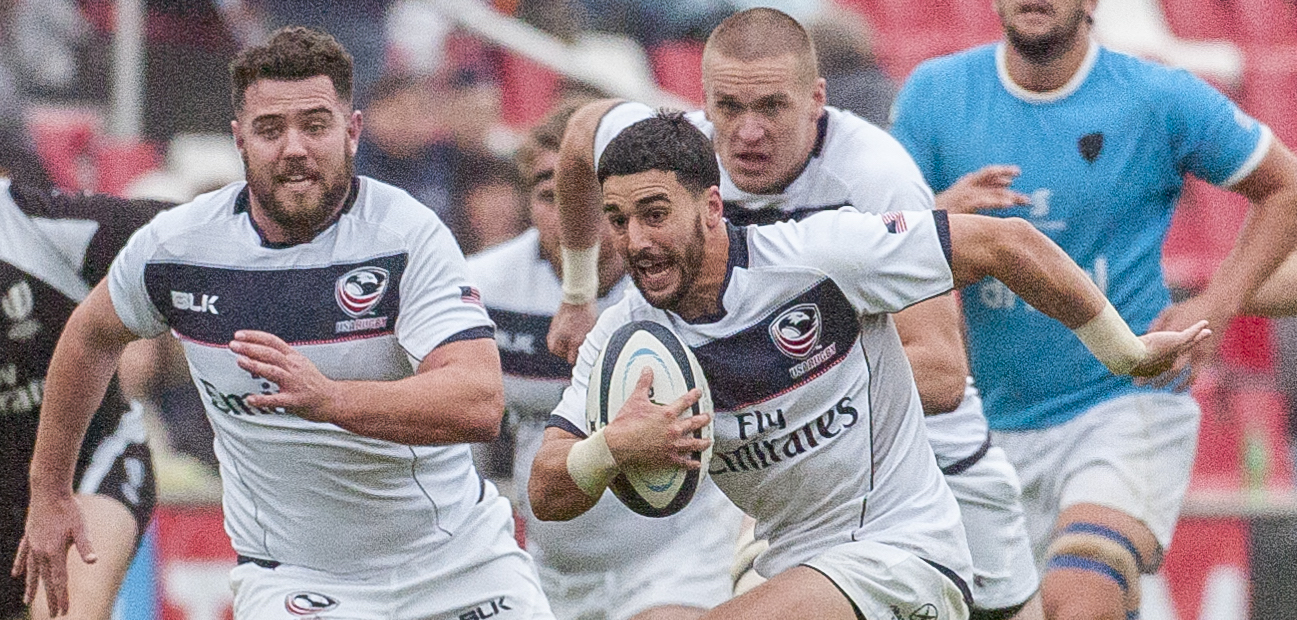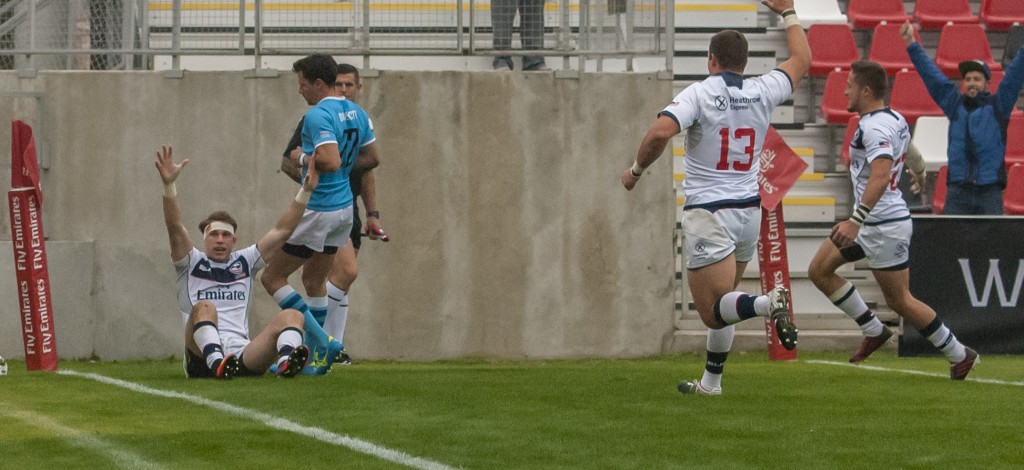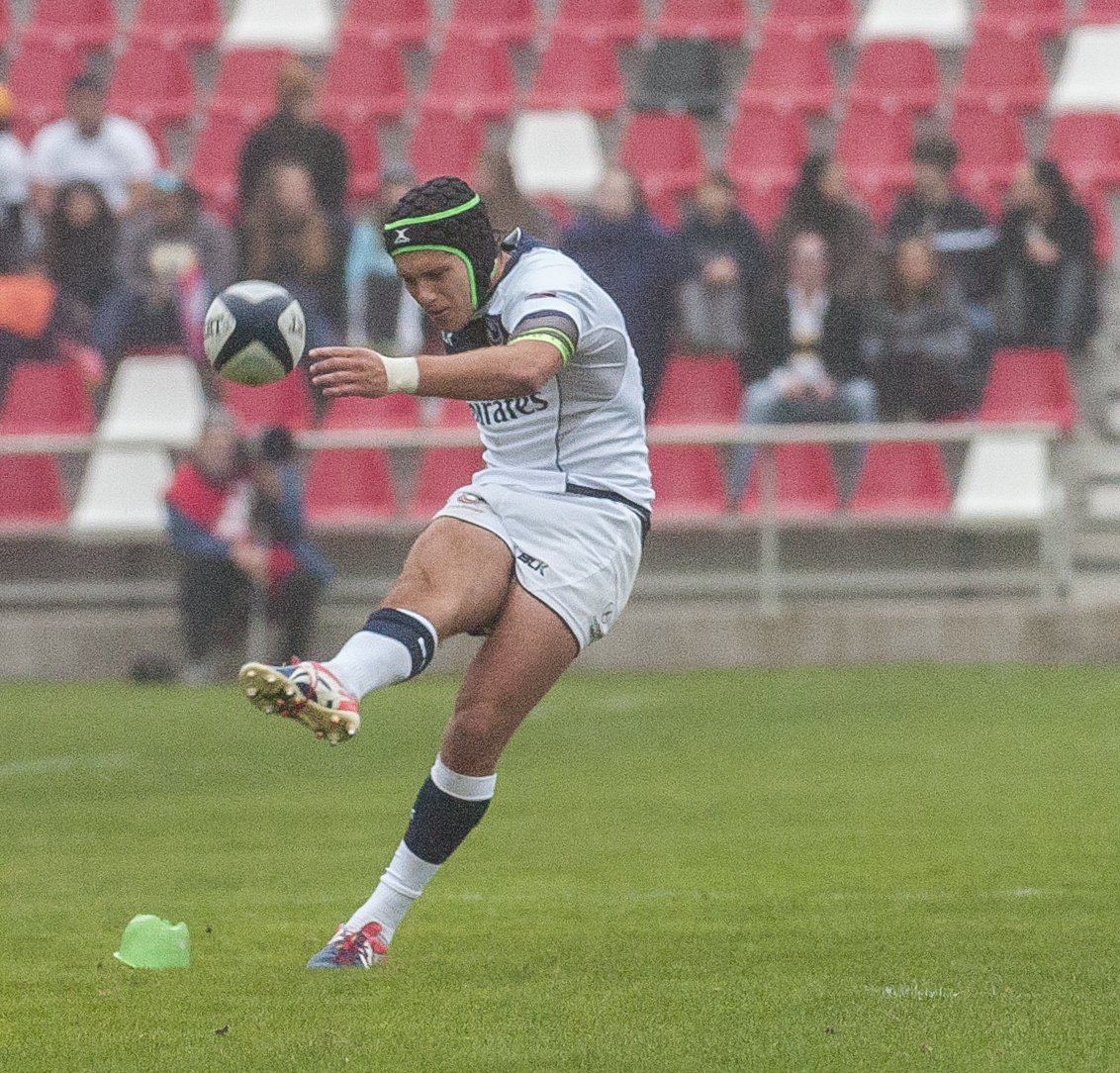 This was the opening game in the ARC for both teams, and it was a close one all the way through. Both teams had some difficulties with the new laws, especially that governing high tackles, but the Eagles came back thanks to a sterling performance by their front row of Chris Baumann, Anthony Purpura, and Peter Maclolm, with James Hilterbrand, Alex Maughan, and Dino Waldren as subs.
The game started with the Eagles not being able to control the ball in contact, and as a result found themselves on the back foot. In open play, the Americans defended well, with John Quill getting involved everywhere, but penalties hurt them and a lineout and maul eventually led to a penalty kick for flyhalf German Albanell. The USA got points back with a long-range kick from debutant flyhalf Ben Cima, who sent the kick over with distance to spare. 
But once more penalties hurt the Eagles and Uruguay got a series of penalties - one a late hit by Todd Clever that saw him sent to the sin bin - and finally sent a weak side move for hooker Facundo Gattas to go over. Albanell hit the tough conversion and Uruguay led 10-3. The Eagles were playing catchup from there, but some reason for optimism was there because the Americans were stealing some lineout ball, and holding their own in the scrum. They even got a couple of penalties in their favor in the scrum - testament to the work Baumann and Purpura were putting in.
One of those penalties led to Cima whacking over another long-range kick, and then he hit an even longer one to make it 10-9.
Finally, then, the USA got a chance to move the ball. A good lineout take set up a flat ball to AJ MacGinty - playing inside center - and MacGinty stepped around a couple of defenders and offloaded to his midfield mate, Bryce Campbell, who did the rest. Cima was good with the kick and the Americans ld 16-10. But right after, Uruguay got a penalty back, and the Eagles suffered a blow as wing Zack Test, who had started well, went off the field with a knee injury and a suspected concussion. It looked very serious for Test.
The USA didn't have to worry about lineup shakeups too long, however, as halftime came quickly. But in the second half, the Americans just couldn't get out of their own way. A series of penalties set up a maul for Los Teros, and captain and No. 8 Alejandro Nieto touched it down. The referee told the Americans that had Uruguay not scored, it would have been a penalty try and a yellow card, so they were a little fortunate. Yellow was visible a little later, however, but to Uruguayan center Juan Manuel Cat. And it seemed the Americans would make it pay off - captain Blaine Scully fielded a Uruguay kick, dodged his tackler, and set off downfield before feeding Campbell.
But what would have been Campbell's second try was called back for an infraction around an earlier maul, and Albanell was good on a tough kick to make the score 23-16 for Uruguay with about 20 minutes to go. To the credit of the Eagles, they realized they were in a dogfight and stayed patient. They took the points - MacGinty slotted a fairly easy kick in front of the posts - to make it 23-19. 
Then, a special moment. After getting a 22 dropout, the USA worked their way down the field, and showed one of their better sequences of open play. Inside the Uruguay 22, sub flyhalf Will Magie popped a perfect kick ut wide for Scully, who caught it and touched down (barely) for the try. It was a sublime piece of rugby and a crucial play. MacGinty then slotted the difficult conversion and the Eagles led 26-23. Another try seemed in the offing when the USA stole a lineout throw, and scrumhalf Nate Augspurger zipped through a hole and was almost gone from 50 meters. He sent a field-width pass to Mike Te'o on the left wing, but Uruguay made it back in time. Los Teros rescued that scary moment, but eventually gave up a high tackle penalty and MacGinty made them pay.
With the score 29-23, Uruguay now needed a try to win. The Eagles just needed a few more points to put it away, but MacGinty missed two makeable kicks.
Finally, it was down to the final minute. Lock Nick Civetta was pinged for a high tackle, and then Dino Waldren the same. That put Uruguay in with a lineout ten meters from the Eagle line, and perhaps all would be lost. But the Americans kept their defense strong and legal, and then got a penalty when a Uruguay forward joined the maul illegally. Magie tapped and then kicked to touch, and the Eagles had escaped with a crucial win.
For the USA, there were several impressive performances. The front row did all that was asked of them, and Purpura, playing in his first test match in seven years, was very good. Civetta and Nate Brakeley were active and especially strong in the lineouts; sub Matt Jensen made some big plays. Debutant Cima showed what an ice cold kicker he is, and made some additional good plays. MacGinty was special in attack. Scully, Te'o, Test, JP Eloff, Campbell, and Magie all did well.
The young players, especially, showed a lot of poise in difficult circumstances.
USA 29
Tries: Campbell, Scully
Convs: Cima, MacGinty
Pens: Cime 3, MacGinty 2
Uruguay 23
Tries: Gattas, Nieto
Convs: Albenall 2
Pens: Albenall 3
USA Lineup
1. Anthony Purpura 
2. Peter Malcolm 
3. Chris Baumann 
4. Nate Brakeley 
5. Nick Civetta 
6. John Quill 
7. Todd Clever 
8. Al McFarland 
9. Nate Augspurger 
10. Ben Cima 
11. Zack Test 
12. AJ MacGinty 
13. Bryce Campbell 
14. Blaine Scully (C) 
15. Mike Te'o
USA Reserves 
16. James Hilterbrand (for Malcolm at 55)
17. Alex Maughan (for Purpura at 60)
18. Dino Waldren (for Baumann at 63) 
19. Matthew Jensen (for Brakeley at 60)
20. Tony Lamborn (for McFarland at 65)
21. Shaun Davies (for Augspurger at 71)
22. Will Magie (for Cima at 65)
23. JP Eloff (for Test at 39)
Uruguay Lineup 
1. Mateo Sanguinetti 
2. Facundo Gattas 
3. Juan Echeverría 
4. Ignacio Dotti 
5. Diego Ayala 
6. Rodolfo Garese 
7. Franco Lamanna 
8. Alejandro Nieto (C) 
9. Santiago Arata 
10. Germán Albanell 
11. Andrés Rocco 
12. Juan de Freitas 
13. Juan Manuel Cat 
14. Leandro Leivas 
15. Rodrigo Silva
Uruguay Reserves 
16. Diego Pombo 
17. Matías Benítez 
18. Felipe Inciarte 
19. Juan Diego Ormaechea 
20. Diego Magno 
21. Guillermo Lijtenstein 
22. Francisco Berchesi 
23. Gastón Gibertnau