DIAA MVP Back - Marcus Tupuola
DIAA MVP Back - Marcus Tupuola
Marcus Tupuola has been named Goff Rugby Report's DIAA MVP Back for the fall of 2016.
The Notre Dame College fullback was a critical piece of an excellent Falcons season, during which NDC went 11-0 against intercollegiate competition and won the DIAA fall championship. 
Throughout this fall there were some very impressive performances by backs in DIAA teams. This was a hugely competitive award to give, and Tupuola gets it for the following reasons:
1. His team was a winner - he was (with apologies to Zach Forro and Cory Graham) the best back on the best DIAA team;
2. Tupuola played an integral part, sharing time (during very game mind you) at fullback and flyhalf;
3. His ability to break through lines and score or create tries out of virtually nothing was integral to NDC's success. If you weren't spending time trying to stop him, he burned you, and if you were, someone else burned you.
4. His kicking game. Too often observers dismiss the kicking game - they might say it's important but don't give credit to players who are good at it. Tupuola's ability to kick from the hand as a fullback and flyhalf is an added weapon.
This was all on display in the DIAA final against Bowling Green. On a wet, cold December 4 morning, Notre Dame College wasn't necessarily going to be able to play their wide open game in those conditions. Sure, they tried. Both teams tried. But at some point the day was going to be about field position, and that's where Tupuola made a massive contribution, pinning Bowling Green back in their 22 repeatedly. His control of his boot is impressive.
And then, finally, one more thing about the Notre Dame College back. In that DIAA fall final, Graham - certainly a candidate for this award - was sin-binned. Tupuola stepped in at flyhalf and still kept an eye on fullback. The result was that NDC extended their lead while shorthanded.
So that's our pick - a talented athlete, who also knows how to play the game.
Our Goff Rugby Report DIAA MVP Back of the Fall is Notre Dame College's Marcus Tupuola.
See more on Marcus Tupuola here.
Honorable Mentions
This was, as we said, hugely competitive. Among the players who could just as easily been selected are:
Ross Depperschmidt. The MVP of the SCRC and the main reason Alabama won the conference, this intelligent, inspirational, and hard-running center was all you could ask for from a leader and a player.
Adams in action for AIC. Kevin Mercer photo.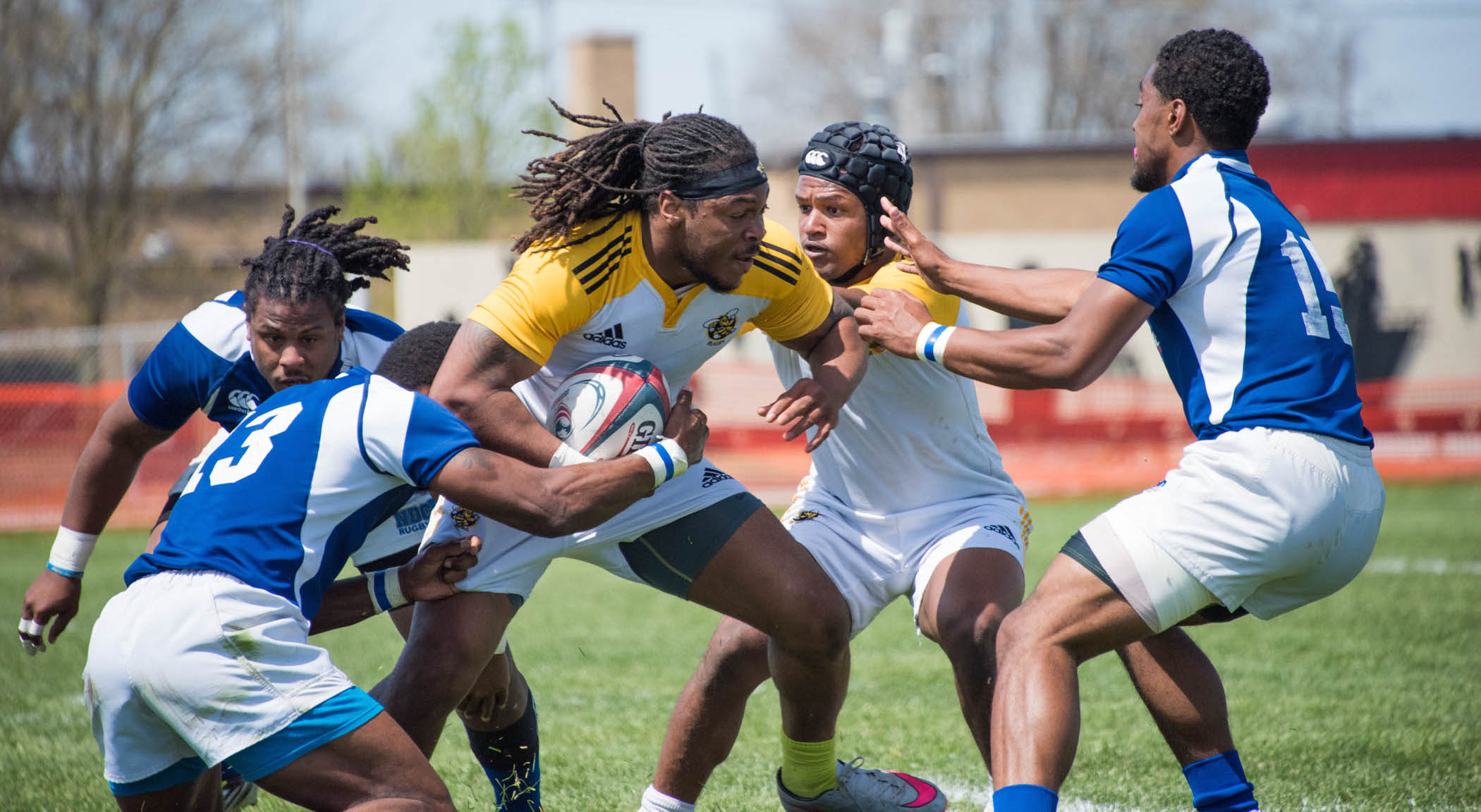 Danny Schatzman. The top try-scorer in the ECRC and one of the key reasons BC ended up with the same record as AIC (losing the conference by one bonus point), Schatzman is small, scrappy, but brave, aggressive, and talented.
Jihad Khabir. Our top back of last fall, Khabir didn't fall off. He played just as well, and it should not be considered a criticism that he's not the MVP this time around. A smooth-running flyhalf who is already on the USA 7s team radar, he's one to watch.
Christian Adams. Live Khabir, from AIC, Adams had his best season for the Yellowjackets, and his abilities were certainly on display in AIC's win over Iona on the Bowl Series. Watch the second half, and see who keeps taking AIC forward.
Jimmy Wolfer. Like Schatzman, a small (by most standards) center for a winning team. He scores tries, makes tackles, and kicks goals.
Cory Graham. Notre Dame College flyhalf. Superb attacking player.
JP Aguirre. Center and main goalkicker for Lindenwood-Belleville. A smart and experienced decision-maker.
Zach Forro. Notre Dame College center. A force.
Mitch Sora. Bowling Green scrumhalf. Excellent field general.