DIAA Fall Playoffs Bracket #1 - Preview
DIAA Fall Playoffs Bracket #1 - Preview
Ryan Steinmetz gets Bowling Green going. Photo courtesy BGSU Rugby.
Eastern Kentucky University hosts half of the DIAA playoff bracket, and a very, very difficult half it is.
Bowling Green plays Mount Saint Mary's, while James Madison plays Lindenwood-Belleville in what most would say is the tougher, one through four, half of the eight-team fall playoffs.
Top to bottom: JMU's Mo Katz (Colleen McCloskey photo). MSM powers through (Andrew McDonald photo). Lindenwood-Belleville keeps reaching, this time in a lineout against Lindenwood-St. Charles. Photo courtesy Lindenwood St. Charles Rugby.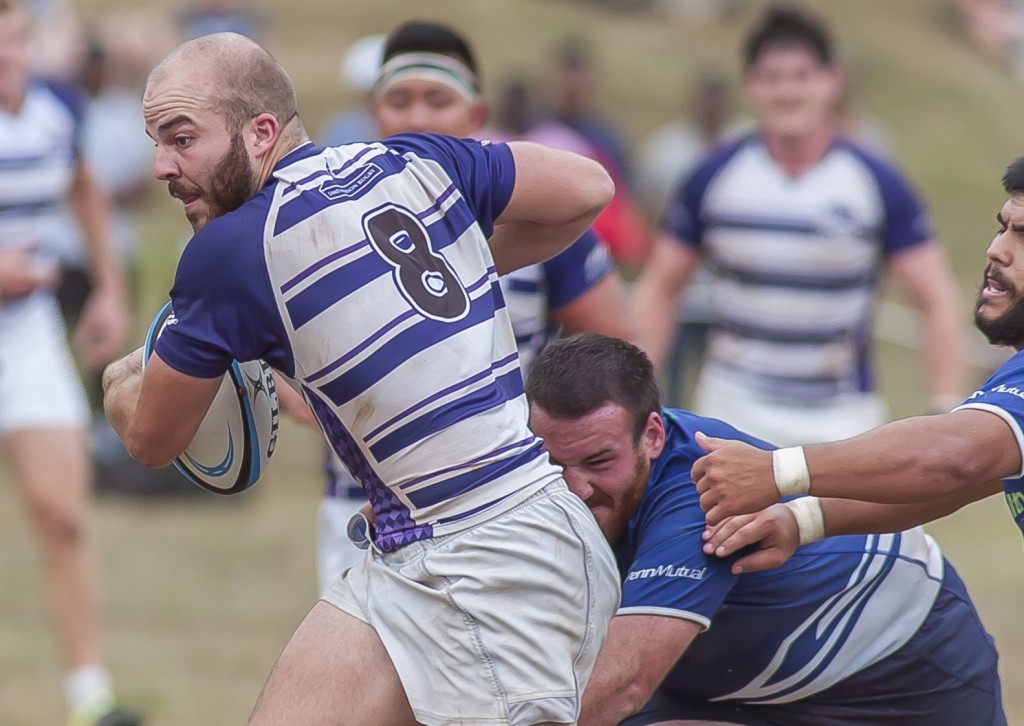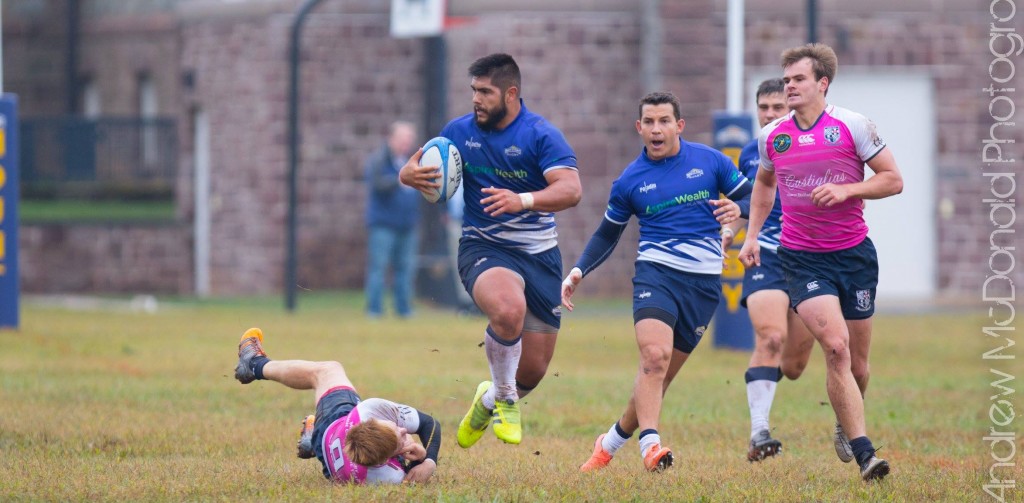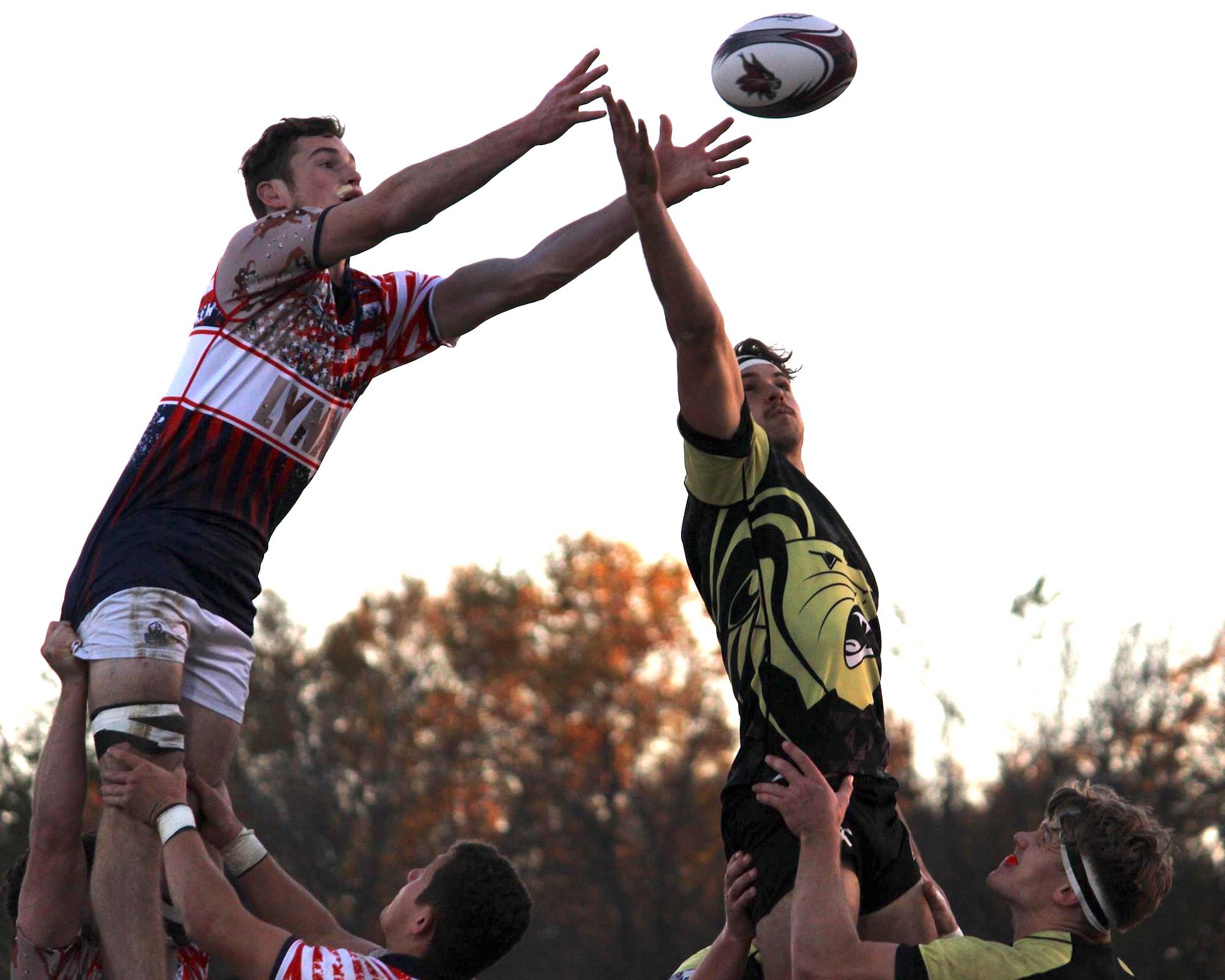 Bowling Green has emerged as perhaps the strongest DIAA team in the country - at least in the fall. Notre Dame College might have something to say about that, but BGSU has answered pretty much every question asked of them this season, sweeping the MAC without really having anyone come close, and also knocking off University of Notre Dame, Ohio State, and West Virginia. They did lose to Davenport, a team NDC beat, but overall, it's some pretty impressive rugby.
Led by Griffen Palmer, Adam Regini, and Mitch Sora in the backs, they can punish mistakes and run a tight ship out wide. And with hooker Phil Bryant and flanker Niall McNamara anchoring a solid pack, they could win it all.
But the Falcons will have to by Mount Saint Mary's. MSM has lost twice - a close one at the beginning of the season to Wheeling Jesuit, and then 22-20 to Virginia Tech, a result that basically cost them the Chesapeake Conference title. That's because they beat James Madison, as well as Georgetown, Maryland, Towson, Salisbury, and Virginia. Not bad for a team that was in NSCRO a year ago. The Mount has played some smart, aggressive rugby, and by no means backed into this game. 
They've got a nifty backline and some hard workers up front. Ball retention is key for the Mount. If they make mistakes there, BGSU will punish.
In the other half of the Eastern Kentucky bracket, James Madison plays Lindenwood-Belleville. This is a clash of teams with contrasting schedules. JMU had a good, structured league schedule that was pretty tough. However, as the season progressed, the games got a little easier for Madison, and their scores reflect that. (We're thinking specifically of JMU's 97-0 demolition of Virginia, but it's worth noting that Virginia Tech was 3rd in the conference, and JMU beat them 33-14.)
Lindenwood-Belleville, meanwhile, has played an independent schedule, and Head Coach Pat Clifton loaded that schedule with some scary teams. So while JMU was 7-1, and Lindenwood-Belleville 6-5, it's worth noting that those five losses were to four DIA teams (Wheeling Jesuit, Arkansas State, Davenport, and Lindenwood), and Notre Dame College, the top-ranked DIAA team this fall.
JMU Head Coach Mark Lambourne knows it will be a tough game.
"We want to challenge ourselves against the best and if you want to win a championship you want to know you have beaten the best possible opposition," said Lambourne. "We have played some good rugby since the Mount St Mary's game [their only loss]. We have been on a mission given what happened to us in that game and what was said. It has been powerful motivation for our guys."
JMU's offense has exploded in recent games - 58 points a game in their last six outings. Lambourne said that's because his team plays at a higher pace than their opponents.
"That being said, we are still not happy with our turnover count and also some of the mistakes we have made when looking to close out moves close to the try zone," said the JMU Coach. "We want to improve our execution rate on trips inside the oppositions third of the field and so will endeavor that."
Lindenwood-Belleville's Clifton has put his team through the wringer, but he wants them battle-tested. And they've learned. Even their 64-15 loss to Lindenwood St. Charles was useful.
"We took a step forward in terms of our handling, which has been our Achilles heel all season, but we simultaneously took a step back defensively," said Clifton. "We actually strung phases together decently well intermittently throughout the game, but didn't capitalize on our chances. And any time a team hangs 60 points on you, you didn't play particularly well defensively."
The other Lindenwood exposed some weaknesses on the L-B squad, and they are working on fixing them now. And they'll need to. As we said, JMU can score.
"We have a lot of respect for Mark Lambourne as a coach and the job he's done there at JMU," said Clifton. "We know the caliber of athlete they have, having played them in 7s last spring, and it's high. But we can't worry too much about them. If we get our systems right, continue on an upward trajectory in terms of handling and get back to applying good pressure on defense, it's going to be our best route to success, not chewing our fingernails worried about what they've got going on."
So it's a massive two-game weekend for these four teams. Any one of them has the talent and coaching to make the final. It might come down to depth, and perhaps those first 40 minutes. If one team can get a lead going in the first half on Saturday, that team can rest players for the next round the day after. It's one of those times when the coaches are thinking about the game right now, but with an eye toward tomorrow.
If there is a tomorrow.