Dartmouth Kicks Off Busy Spring
Dartmouth Kicks Off Busy Spring
Dartmouth captain Hayden Aldredge.
Spring is in the air for most of the country, grass is growing and the sun is shining; it is finally rugby season, even for northern teams like Dartmouth.
The boys at Dartmouth have a unique challenge during this time, combating mother nature and a quarter based school system. This quarter based system is different than the typical semesters which colleges across the country utilize, and it allows those members of the team who aren't away on internships or abroad work opportunities to train. While many of the juniors are away, new players are training with senior members and increasing their level of skill. Once the full team returns to campus, the Dartmouth Rugby Club is back to work. The spring season for Dartmouth is busy to say the least, splitting time between 7s and 15s, the team focuses a great deal of energy on preparing for the Varsity Cup, in addition to the Ivy Sevens tournament and the Collegiate Rugby Championship invitational in Chester, Pa. 
The Dartmouth players celebrate a win in front of their clubhouse fall of 2016.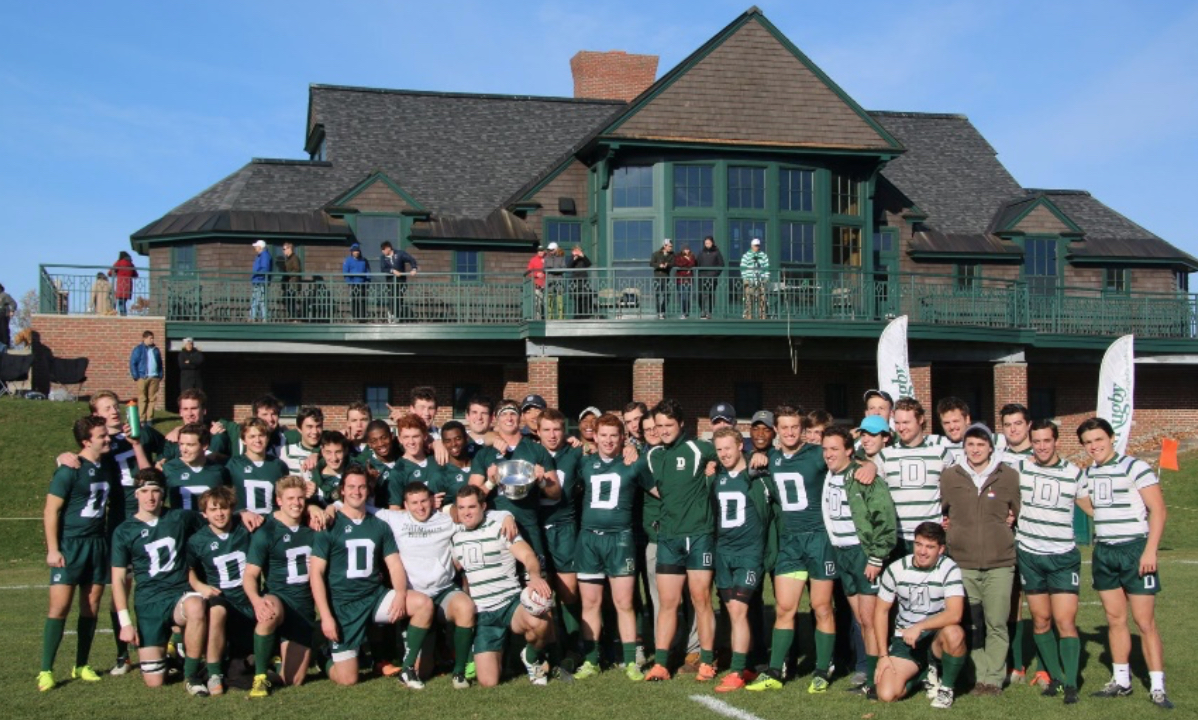 With such an intense schedule, Head Coach Gavin Hickie takes great pride in honing players skills, while instilling the core basics of the game. As a former captain of the Ireland U19s and Ireland 7s team, a former pro player with Leicester, and now also the College All American Head Coach, Hickie lives and breathes rugby. He says that there is no magic formula to rugby, and what it comes down to is "simplicity, clarity and skill under pressure."
This year's captain, Hayden Aldredge, echoes the team values of "outworking opponents while playing smart rugby." With 16 Ivy League cup wins, tem in a row since 2006, and two CRC wins in 2011 and 2012, the club has no shortage of past success. The Dartmouth boys are perpetually hungry for more championships, and with a 70-man team, they hope to showcase their play while creating history for future teams to remember.
The start of this Spring season sees Dartmouth on the move, traveling down to Annapolis this weekend to play the Navy team, this first match is used as a springboard into a chaotic calendar. After this weekend's match, the squad will use a week to recover and train before taking off on an intense and challenging four-game trip through California. Dartmouth will be competing against UC San Diego on March, the OMBAC men's club  on March 21, USC on March 24,and then wrapping the trip up at UCLA on March 25. The touring squad of 36 players will use this trip as an opportunity to test themselves against strong competition. Aldredge says that "this tour is about getting as many game reps for as many guys as possible." The plan of attack is simple, but encapsulates the Dartmouth Rugby mantra: emphasize set piece play while playing aggressive and expansive open field rugby. 
After the Southern California trip, Dartmouth will return back home to compete against Clemson on April 8 in the first round of the Varsity Cup. The following week, the team will play seven other Ivy Schools in the Ivy Sevens tournament on April 15, all while juggling what they hope will be second-round competition of the Varsity Cup on the same day. When asked about the difficult task of coaching both 7s and 15s rugby, Hickie simply said: "rugby is rugby. Skill is skill." The hardest decisions come regarding which players will go where, but the trial in California will allow rising talent to be seen, while solidifying senior members into their roles on the team.
"What distinguishes the DRFC above others is its incredible history," said Aldredge. "Every time we play we say that we're not just playing for us and our teammates, but also every single Dartmouth rugger who's come before us. It's a very special thing."
The Dartmouth Rugby Football Club, said Aldredge and Hickie, owes its continued success to a focus on leaving the club better than when they came, in both hardware and legacy. Having a beautiful clubhouse, field and support from alumni and the school are all nice physical items to have, but what it adds in morale is immeasurable. Aldredge  and Hickie both said how the clubhouse becomes a home to the team, and it is a point of pride to defend their history.
This spring's defense of history begins at Navy on Saturday.
- Luke Gerweck